Captain Hugh Munro's fame comes in many forms: his war wounds and his refusal to be cowed by them; his foundation of Teaninich distillery; and his part in an unrequited and ultimately tragic love story. Here's Iain Russell with a real tear-jerker.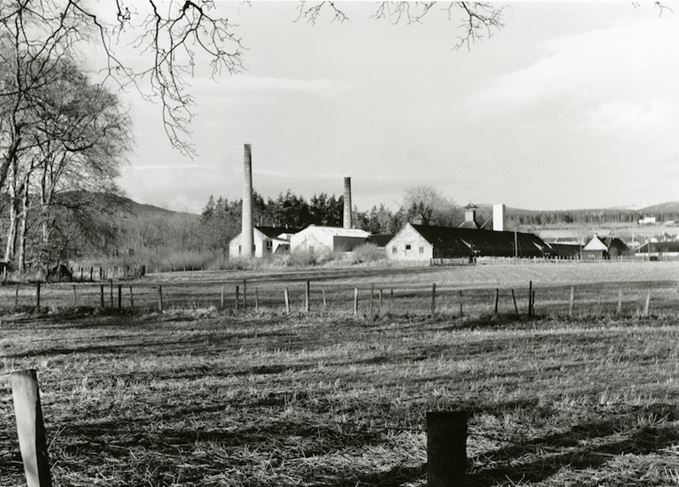 In many ways, Captain Hugh Munro (1770-1846) was a typical early 19th-century distillery owner – a landowner and agricultural improver who built Teaninich distillery in Easter Ross to provide additional income from his estate and a ready market for the grain grown by his tenants. But in one respect he was entirely atypical.
Hugh Munro was blind.
Born in 1770, Munro was the son of Royal Navy Captain James Munro, Laird of Teaninich, and inherited the estate after his father's death in 1788.
Like so many of his neighbours, he joined the 78th Highlanders during the wars with Revolutionary France, but his military career was a short one. During a skirmish near the city of Nijmegen in 1794, a musket ball struck Hugh in the side of the head, passing behind the bridge of his nose before exiting on the other side. The projectile pierced both of his eyeballs.
The loss of his sight would have been a serious blow for any young man to come to terms with, but Munro suffered further distress on his return to Scotland.
Before joining the Army, he had been engaged to Jane, the daughter of a local landowner, General Sir Hector Munro.
The General withdrew his consent to the marriage after learning of Hugh's apparently debilitating wounds, and an attempt to arrange an elopement was abandoned when Jane announced that she could not bring herself to defy her father's wishes. Not long afterwards, she married a wealthy local landowner.
To Hugh's great credit, he refused to be disheartened by disability and romantic disappointment. Instead, he set about the challenges of managing his Teaninich estate with boundless energy and enthusiasm.
One of his first projects was to demolish part of the old Teaninich Castle and to remodel it. He supervised the work personally, alarming the workmen by clambering fearlessly along planks and scaffolding, and pacing out the rooms to make sure they were built to the correct dimensions.
Hugh lived life to the full in his new home. He was, they say, 'an extremely handsome person, good-tempered and courteous', who wore large green-tinted spectacles to hide his empty eye sockets from public view.
He was a talented musician, but he also enjoyed more energetic pursuits. His groom was instructed always to go on ahead of him when he went out horse-riding, so that he could warn of any obstacles in the way of the sightless laird, who rode hard at the gallop.
Local legend also has it that he had a fling with one of the servants at Teaninich Castle, leading to the birth of a daughter.
Hugh Munro's active social life was accompanied by the tireless promotion of schemes to promote the economic prosperity of his estates. The first steps involved laying out the village of Alness and granting long leases to a variety of craftsmen and traders, to promote the development of industrial and commercial activity there.
Hugh was eager to follow other landowners in promoting whisky distilling. Distilleries provided a strong demand for local barley, and yielded high-quality animal feed and fertiliser as by-products of the distilling process.
Whisky was easier to transport to markets than was grain, and it was a 'value-added' product that fetched a cash price in an era when bartering was still common in rural areas.
And Hugh believed that the establishment of a licensed distillery would have the addiitional attraction of improving the morals of the people who lived on the estate.
Easter Ross was a hotbed of illicit distillation in the early 1800s, and landowners came under pressure to prevent their tenants from making whisky illicitly.
Hugh knew that the best way to prevent his tenant farmers from becoming involved in the smuggling trade was to provide them with an alternative local market for their grain.
So, in November 1817, he built the Teanininch distillery and equipped it with two stills of 187 and 100 gallons capacity, at the then-considerable cost of £1,400.
By the end of 1822, he had 4,000 gallons of whisky in his warehouse, more than half the total he had manufactured over the previous year, in an age when whisky was customarily sold straight from the still. Most of his customers were in Glasgow and Leith.

Open for business: An early ad for Teaninich whisky, taken from The Scotsman, 8 November 1823

Like many Highland distillers, Hugh was infuriated by the Excise laws which discouraged honest businessmen from setting up distilleries, and which effectively encouraged others to make whisky illicitly to meet the growing popular demand for the spirit.
In 1821 he complained that none of the public houses in nearby Dingwall was selling whisky from a licensed distillery.
Hugh created national headlines the following year when he told a Parliamentary Commission that not one of the 20 public houses in the town of Tain had ordered whisky from a licensed distillery during the previous 12 months – the implication being that they sold only smuggled 'mountain dew'.
He was delighted by the passing of the Excise Act late in 1823, which made it easier to set up and run a distillery business in the Highlands and was accompanied by stiffer penalties for those caught distilling illegally.
Teaninich prospered under the new Excise regime, and became a key industry on the estate. By then, however, Hugh had decided to take a back seat.
In 1819 he sold Teaninich Castle to his brother, General John Munro, and retired to live in the dower house in the castle gardens. His brother inherited the distillery when Hugh died in 1846.
Now, romantic souls will say that this is all very well, but what happened to Hugh's former fiancée after she was forced to break off their engagement? As fans of early 19th-century English literature might have guessed, there was a tragic ending to the story.
Although the fair Jane married another, she always carried a torch for her first love and watched from afar as he lived his life to the full.
She never spoke to him again but, when she fell seriously ill and knew her life was near its close, she asked to be taken to their parish church, to catch a last glance of Hugh sitting on the pews reserved for him and members of his family.
In the words of a local historian:
'When she saw the Captain being led into the Teaninich balcony, wearing his distinctive green glasses, Jane collapsed and died soon after.'