Tobermory distillery
Islands Single Malt Scotch Whisky
It is likely that in its earliest incarnation Ledaig was a peated malt, but in more recent times both peated and unpeated whisky has been made and bottled as both Ledaig and Tobermory. Thankfully, this has now been resolved with Ledaig now only being used for the heavily-peated variant. Equal amounts of both styles are currently being made.
The fermentation time is relatively short, but it is the unusually shaped stills which lie at the heart of the Tobermory style. They have both boil bulbs and a strange S-shaped kink in their lyne arms, all of which increases reflux.
Today, the single malt bottlings are non-chill-filtered and bottled at 46.3% abv.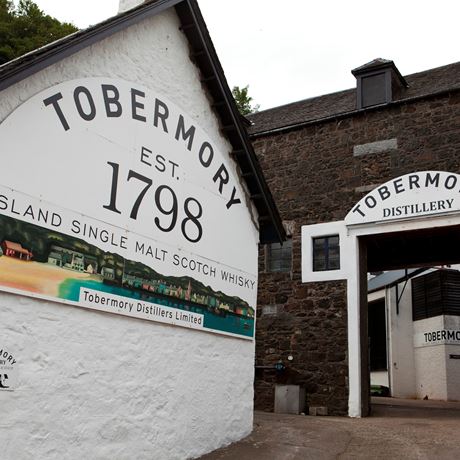 Tobermory History
Mull's capital may have been built by the Stevensons of Oban [see Oban], but Tobermory's distillery has had a more chequered career than its mainland relative and with considerably more unusual owners.
It was established, as Ledaig, in 1798 by John Sinclair but like many small sites, the business foundered and it seems to have been silent between 1837 until 1878 when, after a succession of owners, it was finally brought within the DCL estate in 1916. It continued to produce until 1930 when it fell silent for over four decades.
A belated member of a group of old distilleries which were recommissioned in the post-war whisky boom, it was brought back in 1972 by a somewhat unusual joint venture between a Liverpool shipping company, Sherry producer Pedro Domecq and "Panamanian interests". This unusual arrangement only lasted for three years, although the new owners renovated the distillery and increased capacity.
A short further period of silence ended when a property firm based in Cleckheaton, Yorkshire bought it with the intention of converting some of the buildings to holiday accommodation. Others were used as a facility for storing cheese. It closed again in 1982 for 11 years when its current owner, Burn Stewart (now part of South African giant Distell), purchased it.
In January 2017 Distell announced a major refurbishment plan for the distillery, which would force its closure for two years from 31 March. However, Tobermory's visitor centre would remain open throughout the period.
Timeline
1798

Local kelp merchant John Sinclair founds Ledaig distillery on Mull

1823

The distillery is officially licensed

1837

Ledaig distillery closes for 40 years, not reopening again until 1878

1881

The distillery is licensed to W Campbell & Co

1890

Ledaig passes into the hands of John Hopkins & Co

1916

DCL takes over John Hopkins & Co.

1930

Ledaig distillery falls silent for over four decades

1972

A Liverpool shipping company, Domecq and 'Panamanian interests' form Ledaig Distillery and reopen the site

1975

Ledaig Distillery files for bankruptcy and the site closes again

1979

Kirkleavington Property purchases the distillery and established Tobermory Distillers, reopening the site

1982

The distillery closes once more as its buildings are transformed into holiday lets and cheese storage facilities

1993

Burn Stewart purchases Tobermory and its stock for £800,000

2002

CL Financial buys out Burn Stewart for £50m

2007

Ledaig 10 Year Old is launched

2013

Burn Stewart is sold to South African group Distell
Owners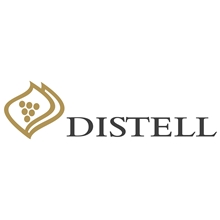 Parent company
Current owner
Previous owners
Burn Stewart Distillers

1993 - 2013

Kirkleavington Property Co

1979 - 1993

Domecq

1972 - 1975

Distillers Company Limited

1916 - 1972

John Hopkins & Co

1890 - 1916

W Campbell & Co

1881 - 1890

John Hopkins & Son

1878 - 1881

John Sinclair

1798 - 1837
Contact
Address

Tobermory Distillery




Tobermory




Isle of Mull




Argyll




PA75 6NR




United Kingdom

Phone

+44 1688 302647

Visitor Opening Hours

Monday

10am to 5pm

Tuesday

10am to 5pm

Wednesday

10am to 5pm

Thursday

10am to 5pm

Friday

10am to 5pm

Saturday

10am to 4pm

Sunday

Closed