Ledaig Profile
Islands Single Malt Scotch Whisky
Peated and unpeated whisky from Tobermory – Mull's only whisky distillery – was once used for both Ledaig and Tobermory. Now Ledaig is a purely peated malt, and a heavily-peated one at that.
The portfolio consists of just two permanent expressions, a 10-year-old and an 18-year-old, both of which are non-chill-filtered and bottled at 46.3% abv in the same fashion as their Tobermory siblings.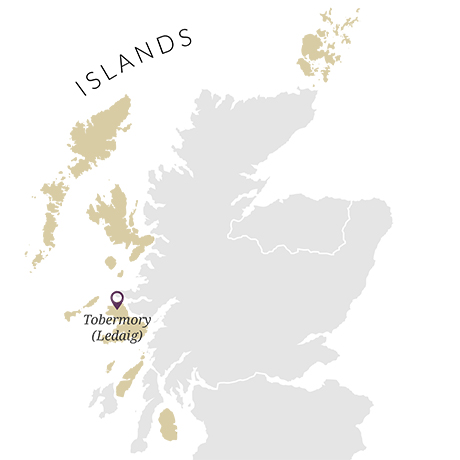 Region

Islands

Production type

Single malt

Produced at
Ledaig History
Although the modern incarnation of the brand did not surface until 2007, its history dates back to 1798 when John Sinclair established Ledaig distillery on the Isle of Mull.
At the start of the 19th century Ledaig had a good run, but by 1837 fell on hard times and was subsequently mothballed for 41 years. It reopened in 1878 and operated under a succession of owners until it was purchased in 1916 by Distillers Company Limited. Just 14 years later it was closed again.
An unlikely consortium comprised of a Liverpool shipping company, Sherry producer and other overseas interests, purchased and renovated the distillery and renamed it Tobermory. The Ledaig name, it seemed, was destined for the history books.
Another period of silence ensued, this time where several of the buildings were transformed into holiday lets – with some used as cheese stores – but the site was eventually saved in 1993 when its current owner, Burn Stewart Distillers, stepped in.
Prior to Burn Stewart's involvement, the distillery had gone through periods of producing both peated and unpeated whiskies, but after taking control – and ridding the site of any remaining cheesy residue – the company made a concerted effort to separate the distillations, producing peated spirit for six months of the year, and unpeated for the remainder.
In 2007 Burn Stewart reignited Tobermory's original name under the Ledaig brand, which was launched as a heavily peated 10-year-old single malt in contrast to the unpeated Tobermory. It was followed a decade later by the introduction of an 18-year-old with a more fruity, Sherried profile than its younger sister.
In 2015 the limited edition 42-year-old Ledaig Dùsgadh was released for £3,000 a bottle. With a name meaning 'awakening' in Gaelic, the expression contains some of the first spirit distilled when Tobermory was reopened in 1972 by the odd consortium.
Timeline
1798

John Sinclair founds a brewery-distillery on Mull he names Ledaig

1837

The distillery foundered and lay silent for 41 years before reopening in 1878

1916

Following a succession of owners, the site is bought by DCL who mothball it in 1930

1972

Ledaig distillery is reopened, but for three short years before its owner files for bankruptcy

1979

The site is purchased by Kirkleavington Property and reopened under as Tobermory

1982

Three years later and the distillery is closed once more with its buildings transformed into holiday lets

1993

Tobermory distillery is acquired by Burn Stewart Distillers for £800,000

2007

Ledaig 10-year-old is launched as a peated expression

2013

Burn Stewart is bought by Distell

2014

Ledaig 18-year-old is launched

2015

The 42-year-old Ledaig Dùsgadh is released
Owners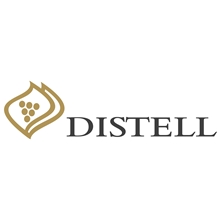 Parent company
Current owner
Previous owners
Burn Stewart Distillers

1993 - 2002

Kirkleavington Property Co

1979 - 1993

Domecq

1972 - 1975

Distillers Company Limited

1916 - 1972

John Hopkins & Co

1890 - 1916

W Campbell & Co

1881 - 1890

John Hopkins & Son

1878 - 1881

John Sinclair

1798 - 1837
Contact
Address

Tobermory Distillery




Tobermory




Isle of Mull




Argyll




PA75 6NR




United Kingdom

Website

Phone

+44 1688 302647

Visitor Opening Hours

Not open to the public
Missing Information?
We strive to provide the most up-to-date and accurate information possible, but if you think we have missed something or you have an image you'd like to share, then please let us know.
Get in touch