Timorous Beastie Profile
Highland Blended Malt Scotch Whisky
Malt whiskies selected from Highland distilleries including Dalmore, Glengoyne and Glen Garioch are brought together, without chill filtration or caramel colouring, to create Timorous Beastie. Bottled at 46.8% abv, the whisky is described as being an oily, chewy spirit.
On the nose, you'll likely notice floral, barley and honeyed notes, with raisins and a sweet fudge flavour on the palate. The finish is subtle, with more sweet flavours, oakiness, cereals and meringue.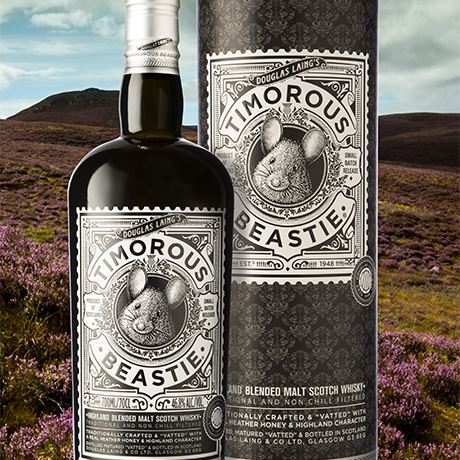 Region

Highland

Production type

Blended malt
Timorous Beastie History
The Timorous Beastie brand was first let loose on the world in 2014, becoming the Highland representative in Douglas Laing's Remarkable Regional Malts collection.
The original Timorous Beastie was immortalised in Robert Burns' poem To a Mouse – but Timorous Beastie the whisky is said to be nothing like its namesake timid field mouse.
In 2016, Douglas Laing released the first aged Remarkable Regional Malts bottling: Timorous Beastie 40 Years Old. Later that same year, the range was joined by Timorous Beastie 21 Years Old.
The whisky is also available as a 10- and 18-year old, and as a 12-year-old cask strength edition.
Owner