Johnnie Walker Profile
Blended Scotch Whisky
Johnnie Walker is one of the most instantly recognisable whisky names in the world, and the brand is the global best-selling Scotch, retailing in excess of 20 million cases per annum, and even being declared the most valuable premium spirit brand on the planet.
For many years Johnnie Walker offered Red Label and 12-year-old Black Label variants, but more recently the portfolio has been significantly expanded, and now also boasts Double Black (richer and smokier than Black Label), Gold Label Reserve, the 18-year-old Platinum Label and Blue Label.
Johnnie Walker Blue Label is the rarest and most expensive expression in the range, and a number of variants have been produced, including a King George V edition and Blue Label 2015 Limited Edition Design. Exclusive to the global travel retail arena, is Johnnie Walker Explorers' Club Collection, which includes The Spice Road and The Gold Route.
Johnnie Walker also has 'Houses' in a number of key Asian cities, such as Shanghai, Beijing, Mumbai, Seoul and Taipei, described as "multi-sensory embassies for luxury blended Scotch whisky."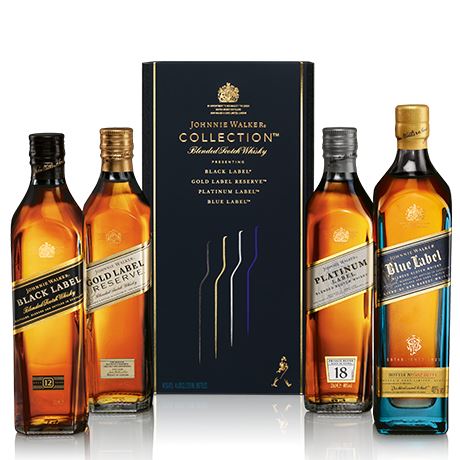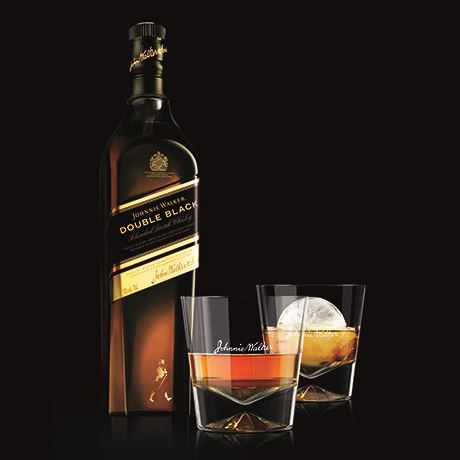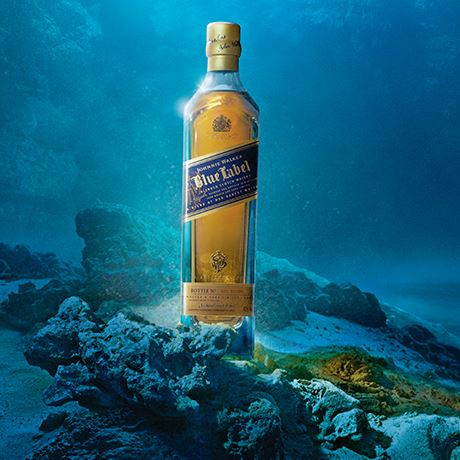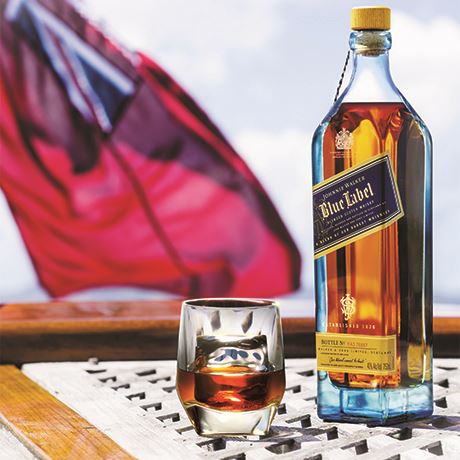 Production type

Blended malt
Blended Scotch
Johnnie Walker History
Taken at face value the much-used advertising strapline 'Born 1820 – still going strong,' implies that the whisky originates from that date, but it was actually a year earlier that 14-year-old John Walker made his first steps toward building an iconic whisky brand when he sold the family farm.
Walker opened his first grocery business in Kilmarnock, Ayrshire with the proceeds and eventually began to sell and make whisky, but it wasn't until 10 years after his death in 1857 that his son Alexander introduced the company's Walker's Old Highland Blend, the whisky that was the forerunner of Red Label and Black Label, created in 1909. By that time the unusual square bottle, introduced by Alexander Walker in the 1860s, and slanting label were already familiar with consumers, and it was in 1908 that cartoonist Tom Browne drew the 'striding man' figure which through various incarnations has remained a key piece of the brand's imagery.
John Walker & Sons acquired Cardhu distillery on Speyside in 1893, and the firm became part of the Distillers Company (DCL) in 1925, with DCL being acquired by Guinness during 1986. Guinness subsequently merged with Grand Metropolitan to form Diageo in 1997.
During the mid-1950s Johnnie Walker took its place as the world's best-selling whisky, a position it has occupied ever since thanks in part to major investments in marketing. These have included the £100 million 'Keep Walking' campaign.
Blue Label was added to the Johnnie Walker line-up in 1992, with Blue Label King George V being introduced in 2008. Double Black was released in 2011, followed a year later by the Gold Label Reserve and Platinum Label variants. Having been absent from UK outlets since 1977, Red Label made a return to its home market in 1983, and was relaunched in 2013.
Johnnie Walker had retained a link to its 'home' town by being bottled in Kilmarnock, but Walker's bottling plant there closed in 2012, with production switched to Diageo's bottling facilities at Leven in Fife and Shieldhall in Glasgow.
In September 2015 Diageo unveiled Johnnie Walker's biggest global marketing campaign to-date. Named 'Joy Will Take You Further', the campaign is based on months of commissioned research into consumer behaviour and builds upon the brand's long-running 'Keep Walking' message.
Timeline
1805

John Walker is born at Todriggs Farm near Kilmarnock

1819

Walker buys a grocery store in his home town at the age of 14 after his father dies

1843

The railway arrives in Kilmarnock, allowing Walker to begin trading across Scotland

1857

Walker passes away and the business turns over to his son, Alexander

1877

The Johnnie Walker label is registered as a trademark

1889

Alexander Walker passes away and the business is adopted by his sons, Alexander II and George

1893

The brothers purchase Cardhu distillery

1908

The Striding Man is drawn by Tom Browne on the back of a menu card

1909

The brothers rename their whiskies after the colours of their labels

1925

John Walker & Sons joins Distillers Company

1934

John Walker & Sons receive its first Royal Warrant

1992

Johnnie Walker Blue Label is launched

1995

Johnnie Walker Gold Label is released

1997

The company releases a blended malt named Johnnie Walker Green Label

1997

John Walker & Sons becomes part of Diageo

2012

The Johnnie Walker plant in Kilmarnock closes, and blending is moved to Leven and Shieldhall

2012

Johnnie Walker announces the release of the travel retail exclusive Explorers' Club Collection

2015

Diageo unveils the biggest global marketing campaign for Johnnie Walker, named 'Joy Will Take You Further'
Owners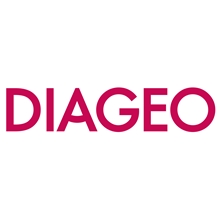 Parent company
Current owner
Previous owners