Live music, Speyside gin and a smugglers tour via Argocat – with so much to see and do at The Spirit of Speyside Whisky Festival, its no wonder Martine Nouet lost track of time.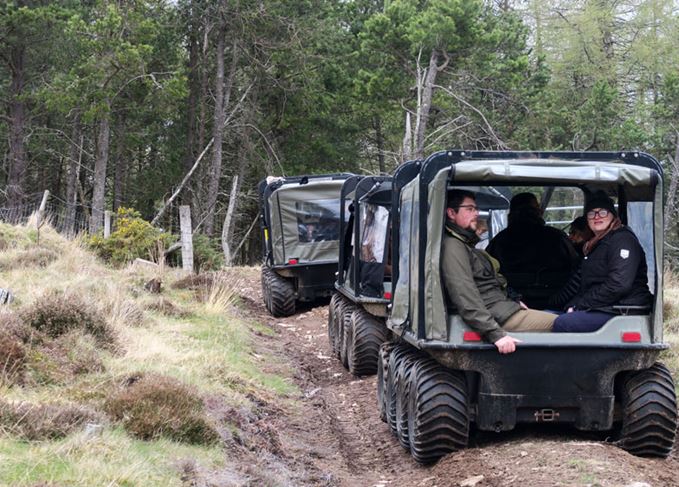 Oh dear, we have already reached the penultimate day of the Spirit of Speyside Whisky Festival. Time has flown quicker than the tranquil River Spey. From enjoying a lost treasure at Gordon & MacPhail's superb tasting room – it was a Dallas Dhu 1971 – and hosting an intimate but warm and distinguished whisky dinner at Knockomie Hotel in Forres, to witnessing a raging battle between Rothes and Dufftown distillers at Craigellachie Hotel to exploring the smugglers' trail in an Argocat above The Glenlivet distillery, I must say I never looked at my watch. I checked my mobile phone though (the addiction is severe) and was so surprised to have a signal in the middle of the moor. It seems that modern day adventurers are on a lead, I mean, the social media one.
Anyway my programme on Sunday allowed a healthy spell of outdoor activities. I joined the 'Off Road Smugglers' Trail by Argocat'. Puzzled by the title, I was expecting a kind of spatial ship driven by some Mad Hatter who would take us to a mysterious cave where we would find the remnants of illicit stills. Well my imagination had been slightly overproductive. The Argocat is in fact a super quad bike with an air of Landrover. With its eight wheels, five seats and open windows, that low and loud vehicle can apparently run on grounds where a Landrover would get bogged down. Certainly not the most comfortable transportation but a fun way to yomp on heather and roots. The tour was organised by Glenlivet Hill Trek which leads tailored whisky or wildlife tours and picnics all-year long.
Before meeting Glenlivet Hill Trek owner Charlie Ironside and his team, I popped into the Glenlivet visitor centre as today was Glenlivet Open Day. The coffee shop was full of festival-goers who were indulging themselves in the Glenlivet BIG breakfast. Big indeed, judging by the generous servings of scrambled eggs, haggis, black pudding or bacon and mushrooms. I resisted the appeal of the full Scottish breakfast and contented myself with an espresso. Ironside came and took a large group of us to the Argocats: 20 people, wrapped up warmly, cameras in hand, were divided into four Argocats and off we went.
The scenery above Glenlivet distillery is spectacular. You get a panoramic view over the whole valley. Unfortunately, the persistent haze and low clouds did not enable us to see the Cairngorm mountains in the distance. Even on top of the hill, it was dark and somewhat eerie. The biting wind added to this sensation of dramatic solitude. A dreich day as they say in Scotland. And what do you want on a dreich day? A dram. But it was a bit too early for the reward. Ironside took us to a cairn (a heap of stones) which does not have the dramatic meaning of the cairns left on battleground (this was the way to count the dead as each Highlander had to come and take a stone back after the battle. The remaining ones obviously testified to the lost lives). No, the cairn on the moor has just been erected by hikers who thus indicate they passed by.

Moor marker: cairns are common sights in the hills of Glenlivet, often built by trekkers and passers-by

On the way back we were taken to Glenlivet Hill Trek bothie, a kind of replica of the smugglers' shed. And yes, the dram was awaiting, with a slice of fruit cake. Time to tell a few stories of the past, when each croft had an illicit still in the hills. When you are in Glenlivet you have a precise notion of illicit distillation. How could the excisemen, the gaugers, be able to search the vast area and seize the hundreds of stills hidden in the moor? Impossible.
Back to the distillery, the Open Day was in full swing with a diverse offering of food, music and craft. A great performance was put in by Footerin' Aboot, a young local ceilidh band from Fochabers, while an interesting cooking demonstration was offered by Mike Knowlden, a London food designer who specialises in foraging. His company, Blanch and Shock, works with creative food projects, including whisky. At The Glenlivet, Knowlden worked with The Glenlivet Nadurra and 18 Year Old, combining them with herbs and flowers he had foraged from around the distillery. An innovative and popular experience.
Next to him, Ghillie Basan introduces herself as the 'original spice girl'. A former journalist, Basan runs a cooking workshop in a remote location 20 minutes from Glenlivet. She is fascinated by spices and has written several cookery books on Middle East cuisine. For the Open Day, she offered visitors the possibility to create their own spice mix, which they made under her guidance crushing nuts, cardamom, chillies in a big mortar and mixing them in an aromatic oil. From there, guests could be tempted to add whisky, but many infusions included garlic, which would be an absolute no-no for me. Ghillie's passion for food found an attentive listener with me and we could have talked for hours. But Dufftown Whisky Fair was on the agenda.
Before leaving, I took a quick must-look at the Sma'Still which was running outside, and mingled with the visitors.

Experimental cooking: The crowds gathered at Blanch and Shock's stand at the Glenlivet Open Day

Dufftown was pretty busy on this Sunday afternoon. The quiet and sometimes sleepy village is not used to such a buzz. The Memorial Hall was full with whisky lovers who were huddling around the stands, tasting local whisky, gin and beer. The day would finish, as always in Scotland, with a ceilidh, hosted in Knockando distillery. Many visitors will go back home on Monday but the distilleries will still welcome the last aficionados.
This year was another great vintage for the Spirit of Speyside Whisky Festival. Here's to 2018.