Heavy snowfall in the week leading up to the 2017 Spirit of Speyside Whisky Festival (27 April – 1 May) didn't stop visitors enjoying a wide range of whisky-themed activities, as Martine Nouet discovers.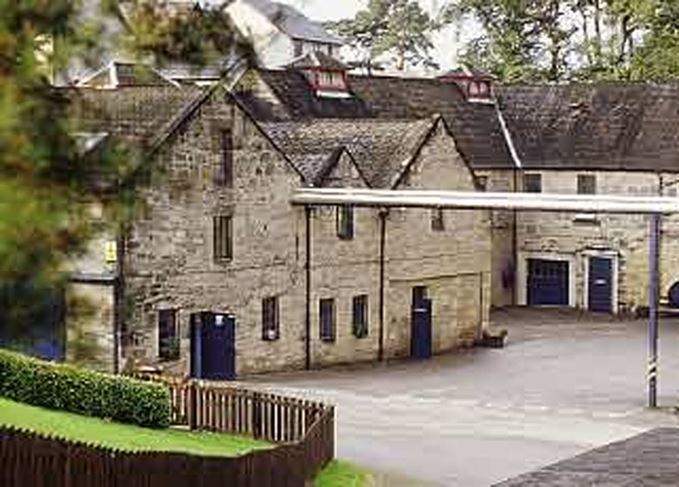 If snowflakes welcomed guests for the 2016 Spirit of Speyside Whisky Festival opening dinner at Auchroisk distillery, the weather was markedly more hospitable for this year's event. When the 300 guests joined the tastefully decorated warehouse at Glen Moray distillery on Wednesday evening (26 April), it was only raining. But the weather did not affect the friendly and cheerful atmosphere of the festival's kick-off party, which doubled up as one of Glen Moray's 120th anniversary celebrations.
Amid the festivities on the evening were the presentation of three Speyside Ambassador awards, which went to Graham Coull, Glen Moray distillery manager and host of the evening, Hans Offringa, a whisky writer from the Netherlands whose heart definitely belongs to Speyside, and Jim Walker, owner of the world famous Walker Shortbread company.

Speyside ambassador: Jim Walker (left) receives his award from last year's recipient, Richard Forsyth (photo: Annabel Meikle)

On Thursday morning, the scene had not changed: low clouds, persistent rain and a wintery temperature. Nothing to deter the festival-goers from wandering within the 'golden triangle' (Dufftown - Rothes - Aberlour) and beyond, chasing their drams from one distillery to another. The festival has become so popular that most events sold out earlier in the year.
I started my day with a visit to Craigellachie Hotel where Hans Offringa was signing his new book A Field Guide to Whisky, which has been published in the US as a comprehensive overview on whisky making, whisky tasting and whisky enjoying. A dram in hand – an excellent Craigellachie 10 Year Old selected by Offringa for Zwolle whisky club in his native town, this was the opportunity to catch up with old friends from the industry.

Field guide: whisky writer Hans Offringa signs copies of his new book at the Craigellachie hotel (photo: Martine Nouet)

Next stop was just two miles away in Aberlour – a special tasting at Aberlour distillery with a puzzling title – Chronicles of the Cask – awaited me. Hosted by Rikkie Scott, the passionate visitor centre supervisor, the tasting took us through the intricacies of an American oak barrel, a traditional hogshead and a Spanish Sherry butt. After a sniff of the three casks in the warehouse dedicated to the distillery tours, we were taken to the cosy lounge of the Fleming room.
A first for Scott, this Chronicles of the Cask event will run everyday during the festival and might become a regular tour offered to visitors later in the season. Designed as a relaxed introduction to the impact of maturation on whisky's aromatic profile, this event is as educational as entertaining, thanks to Rikki's open-minded style and to the limited number of participants. A small group of eight people, comfortably seated in leather armchairs in front of three dark glasses, may seem a bit intimidating at first, but soon questions and comments were quickly forthcoming.
'We want to keep the number to eight,' Scott explains. 'This is not a lecture but a conversation. We all have personal opinions and emotions when we taste whisky. To me, the most important thing is enjoyment.'

Nose-diving: sniffing out cask aromas during Aberlour's Chronicles of the Cask (photo: Martine Nouet)

I noted that designated drivers were given a driver's kit to take their samples home (a genius idea concocted by Scott himself). All the festival events apply a strict responsible drinking rule.
A short stop at Le Petit gourmand, Eric Obry's French bistro for a quickly-swallowed croque-monsieur and I was ready to head to Forres after my fix of French cuisine (or rather fast-food).
By this time, rain had ceased and the day kept timidly sunny. Benromach distillery appeared dashing and spruce under the sunshine. A gardener was busy working on flower-beds, a never ending task. The reason I was invited to Benromach was the launch of an exclusive single cask bottling for the Spirit of Speyside Whisky Festival. Exclusive is the word: only 32 bottles of this 1976 vintage will be available and at the distillery visitor centre only. The whisky bottled at 53.5% abv has matured in a refill American hogshead (cask 2393). To present the beautiful whisky alongside distillery manager Keith Cruickshank was Tom Anderson, a former brewer who took part in its making. Tom also worked as a distiller at Laphroaig and a brewer in Lagavulin, and still lives in one of the distillery cottages.
This exclusive Benromach epitomises the rich style of the distillery, with a complex array of fruit and smoke, underlined by a touch of incense. The price is also exclusive, unfortunately, at £1,250. Keith Cruickshank is confident that a happy few buyers will step into the shop during the festival.
After a busy day, one needs a relaxing break. Pour me a refreshing G&T please.

Festive dram: Keith Cruickshank and Tom Anderson raise a toast to the festival with the new Benromach 1976