As has become the tradition over the past 17 years, the Islay Festival of Music and Malt drew to a close with Ardbeg Day, where the atmosphere is always more one of funfair than whisky geek conclave. The Kelpie theme gave a maritime twist to this year's event, as Martine Nouet discovered.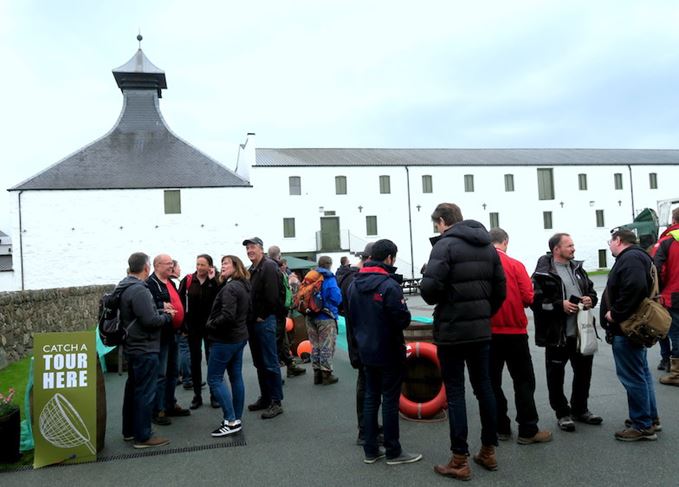 With Ardbeg Day, the Islay whisky festival comes to an end. This has been the tradition for 17 years, and it has also been the tradition that Ardbeg surprises its visitors every year.
Unlike most distilleries which offer more or less the same programme, Ardbeg organises its activities around the theme of its festival bottling release. Last year celebrated the smugglers with Dark Cove, this year was dedicated to the sea with Kelpie.
Another originality with Ardbeg is that the day takes more an air of funfair than a whisky nerd-targeted set of tastings. A day to have fun with family and friends, which explains why locals join the tourists.
So what about the Kelpie? This mythical figure of Scottish folklore is said to live in lochs and pools, and to appear as a horse or a human figure covered in seaweed (or kelp), grabbing the unfortunate travellers and drowning them. Not a creature you would be keen to meet. But the dram is one to look forward to.
Welcomed by mermaids dressed in lovely aquamarine dresses, we made our way through the different activity points. I got 'mermaidised' at the deep-sea beauty tent with some flashy make-up, then I went to the shape-shifting kelpie storytelling shed to hear, dram in hand, Jess Smith tell the spine-chilling story of poor Maryannah Campbell, kidnapped by a terrible sea horse.
An excellent raconteur, Smith belongs to a Scottish traveller family and has published several books. While on Islay for the festival, she also went to local schools to tell stories to children.
A little further on, visitors were invited to guess the weight of a huge lobster, while they could also demonstrate their dexterity in games of skill and try to win a bottle of Kelpie. The more daring could take a ride on the Gus Newman Sea Explorer, a very fast RIB but with very little chance of meeting a Kelpie.

Time for a smoke: Fresh Arbroath smokies were in strong demand at Ardbeg

Festival-goers arrived in a steady flow, after a rather slow start. And so did the clouds to finally burst out into an insistant rain which was to clear out only in the afternoon. Dressed as Neptune, distillery manager Mickey Heads may have tried to intervene with Jupiter, but he certainly was not heard.
Never mind: people found shelter in the filling store and could try their luck with 'Mickey Heads' locker': for £3, you draw a number. If you get the chance to open a lucky locker, you are poured a special dram, but you may also open an empty locker!
Music was not forgotten either. Excellent rock band Callanish carried on performing in spite of the persistent rain.
Queuing is part of the game on distillery open days, when people try to get their hands on a festival bottle. Not at Ardbeg: 6,000 bottles of Kelpie have been released, so the mad 'malt fever' was not expected here. But people did queue though... for a smokie. Every visitor was given a token for an Arbroath smokie with their entrance ticket.
The day went by in a friendly atmosphere, where children and dogs were entertaining themselves as much as whisky aficionados did.
The other originality of Ardbeg Day is that it goes global, with all the 'Ardbeg Embassies' celebrating Kelpie. South Africa's Embassy has been given over to Wild about Whisky, an extraordinary whisky bar located in the middle of nowhere between Johannesburg and Kruger National Park.

Global reach: Ardbeg Day is celebrated around the world, including this 'Embassy' in South Africa

The passionate Ardbeggians turned the small village of Dullstroom, Mpumalanga, into a Scottish hub, with a Kelpies parade and 124 enthusiasts celebrating their favourite dram. This was the Embassy's fifth Ardbeg Day, and described as the best one.
A restorative lunch offered mussel soup, sushi, poached pears in an Ardbeg caramel sauce and cheese and biscuits. Isn't it extraordinary to think that a small Hebridean island is, for one day, the heart of a global event?
The sun was back later in the afternoon. The last visitors made their way to the ferry. I decided to end the day with a visit to Michiel Mestdagh's pop-up bar in Port Ellen. Owner of The Green Man in Ostend, Mestdagh has converted his beautiful conservatory into a bar which he opens during Fèis Ìle.
He offers a selection of 200 single malts. But this time, I will try the Nogi, a Belgian gin. The Green Man overlooks Carraig Fhada lighthouse, with a spectacular view over Port Ellen Bay. We watch as the CalMac ferry sails away.
Time to say goodbye. The week has passed in a flash. Islay will return peace and quiet... until the summer holidays.
See you next year. Haste ye back!
Watch our video report from the Ardbeg distillery open day on day eight of this year's Islay Festival…