Historic tastings and world-famous distillers, but also new friendships and fresh discoveries. There's much more to whisky shows than the liquid, as Jonny McCormick discovers at this year's Whisky Show.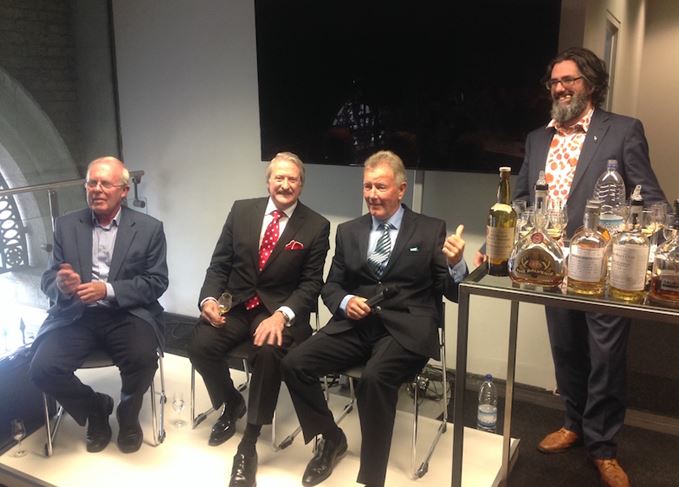 'This is a moment in history,' began Dave Broom. 'This will be unrepeatable. These guys might never be on stage together again and the whiskies they are showing will never be shown again in this order. You are witnessing an absolute one-off.'
For me, these experiences are exactly what makes attending whisky shows so worthwhile – and The Whisky Show 2015 certainly delivered.
Sitting beside Broom for the Legends Masterclass were three gentleman who have collectively given 154 years of service to the Scotch whisky industry: David Stewart, Richard Paterson and Jim McEwan.
The nine-whisky extravaganza was perfectly matched by the humility of Stewart's craft, the joyful entertainment of Paterson's tastings* and the uncompromising call-to-arms of McEwan's Highland toast.
This year, the show transferred to Old Billingsgate, a spacious event space beside the Thames. The layout was exemplary: attendees appreciated the opportunities to question and learn from the producers while gaining ready access to their wares (every brand had ample space). Unlike some shows, there was never a feeling you had to bypass a stand because the queue was six-deep.
Word-of-mouth drams are often the best discoveries at whisky shows, so thank you to whoever pointed me towards distiller David Fitt's impressive 3 year old grain whisky for the English Whisky Company.
As this suggests, there was much more to the event than Scotch, with a noticeably strong Irish presence including Bushmills, Jack Ryan, West Cork Distillers and The Dubliner. Irish Distillers showcased its new Bordeaux-finished Green Spot and Midleton Dair Ghaelach.
The Dream Dram system offered a delicious dilemma for the serious imbiber. Do you go vintage and opt for the Ardbeg Very Old Guaranteed 30 Year Old, an ancient Macallan Anniversary Malt – or cash in your chips for a shot of the unreleased Karuizawa Gold Samurai 1980? I think I know your answer.
In the masterclasses, Charlie MacLean joined Stephen Rankin for a tasting of Mortlach 75 Years Old by Gordon & MacPhail, and the historic dram impressed everyone with its vibrancy and freshness.
In Gone but Never Forgotten, Colin Dunn's energetic closed distillery class included the St Magdalene Waterloo Street bottling, Brora 30-year-old 2010, and Convalmore 1977 36-year-old.

Energetic: Colin Dunn with a selection of 'closed' bottlings (Photo: Jonny McCormick)

John Campbell shared his highlights from the Islay distillery's bicentennial year in celebrating Laphroaig: 200 Years of Peat and gave many guests their first taste of Laphroaig 32-year-old.
His natural, easy-going style fostered a sense of shared discovery as we contemplated two Laphroaigs distilled in the 1960s; a 1970s bottling of 10-year-old (one of the last of the Bessie Williamson era), and compared it to the Laphroaig 30-year-old 1997 bottling.
The landmark event was the sold-out Karuizawa Charity Tasting for Nepal, raising over £250,000 to support redevelopment after this year's devastating earthquakes.
Dave Broom led 45 guests through a five-dram Karuizawa tasting, each whisky showing a different facet of the closed distillery's character. This was a global event, with whisky lovers flying in from Taiwan, South Africa, Sweden and Germany.
Broom's recurring themes of accident, chance and good fortune in the existence of these bottles was tinged with sorrow that five more irreplaceable bottles were removed from the planet's remaining stocks.

Irreplaceable: the Karuizawa charity tasting was a show highlight (Photo: Jonny McCormick)

Many a finely tuned palate surrendered to the assault of Karuizawa's mighty personality over the hour, concluding with a tasting of the Karuizawa 1983 Nepal bottling.
Guests were called out individually to collect the prized bottle included in the price of their admission. I wouldn't be surprised if the deal-making started as soon as they left the room.
You see, it's about much more than just tasting whisky; shows like this are about conviviality and friendship, crossing borders to be awe-struck by new flavour discoveries, and the enrichment to life of learning first-hand from titans of the whisky industry. This was an event for connoisseurs and explorers alike.
* My highlight of the nine? The Richard Paterson Blend, an assemblage of Invergordon 1961 54 years old, The Dalmore 1964 51 years old, The Dalmore 62 years old including 1868, 1870 and 1926, Glen Scotia 1972 and a blended malt from 1957 originating from Scapa and Fettercairn.