From a first visit more than 20 years ago, Marcel van Gils' love affair with Laphroaig blossomed, leading this Dutch dentist to amass a remarkable collection of the Islay distillery's bottlings. He tells us how it all happened – and why it would be next to impossible to build a similar collection today.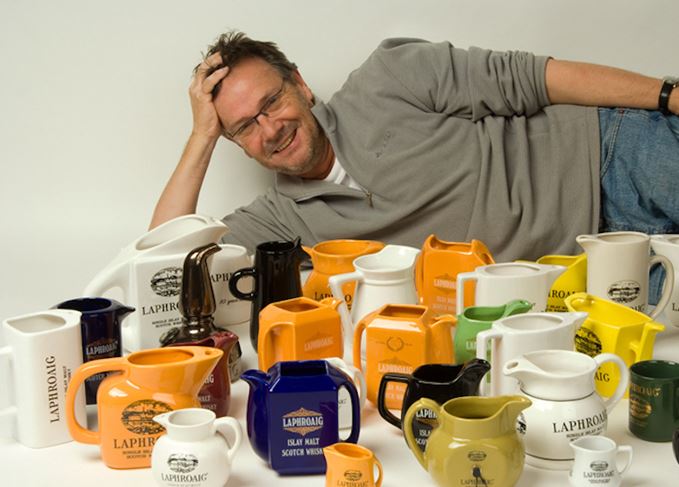 Who are you?
'Marcel van Gils, 62; married to Leonoor, no kids; one dog called Pien. Dentist who just sold his practice.
'Hobbies: waterskiing, whisky, Scotland, photography, golf.'
What whisky do you collect and why?
'Laphroaig collector. The reason is rather disappointing. All my friends collected something in the 1990s. Michiel Wigman collected Springbank, Bert Vuik: Ardbeg, Hans Dillesse: Longmorn etc. No-one collected Laphroaig. I had visited Laphroaig in 1994 and fell in love with the distillery, so Laphroaig it was.'
How did you come to appreciate Laphroaig?
'First time I was at the distillery was in 1994. Leonoor and I entered the visitor centre, which was just a small counter. Iain Henderson was there (he ran Ardbeg and Laphroaig simultaneously).
'Iain greeted us as we were the first visitors he saw that year and gave us a private tour. Afterwards we bought a 30yo Ardbeg. I was duly impressed by the man and till this day we stayed friends. He misses work and his friends very much.
'Bunnahabhain was my first single malt ever, and I enjoyed it so much. I only remembered whisky from my days as a dental student – tremendous headaches and hangovers. This was different and I was hooked.'

Treasured spot: Marcel van Gils' love affair with Laphroaig has lasted more than 20 years

How did you become a collector?
'I met Michiel Wigman in 1996 at a Bowmore tasting at the late Harrie Verhaar's shop in the Netherlands. I was a customer there and Harrie had invited me to join a special and spectacular tasting. Jim McEwan was tutoring the tasting as it was a Bowmore tasting, and my first proper tasting ever.
'A 1955 40yo Bowmore came to the table and I thought: "Ok, nice," thinking that a 1955 whisky was quite ordinary at a tasting. Like swimming into a whale shark on your first ever scuba dive and thinking they are there every time.
'Michiel was there and we got to talk, and he invited me to his home, little over 10 miles from where I live. Michiel was good friends with the guys from [Limburg whisky store and tasting venue] MARA, Roland Puhl and Carsten Ehrlich, so together with Bert Vuik, Hans Dillesse and Jeroen Koetsier, we drove to Limburg every few weeks.
'They had these wonderful tastings with stuff you can only dream of today. It was all there and, by today's standards, ridiculously cheap. This is how it really started.
'Michiel, Bert, Roland and Carsten had so much knowledge, without being cocky. Before long I was very busy with collecting. Checking eBay every day, going to fairs, bidding at auctions etc. My house was crammed with bottles.'
But Laphroaig impressed you most?
'I really like old-school Laphroaig; today's Islay whiskies are not my cup of tea. Old Laffies weren't smoky. They were medicinal, full of iodine, and oily, as were old Lagavulins and Ardbegs.
'I do enjoy modern-style Bowmores – David Turner is doing a good job there. I do not have a favourite whisky generally, though. My taste went from Speyside and Springbank to Islay whiskies and back to Speysiders again.
'I love 1960s and '70s Benriachs, Glenfarclas, Longmorn, Glenglassaugh etc. I have two octaves at Glenglassaugh: one is doing great, the other one is disappointing.'
So it's more to do with how you feel about the distillery itself?
'Yes, Laphroaig is my favourite distillery by far. I love Islay, I love its history and I love the distillery. The people are wonderful – quite some characters – and, because of the two books I did with Hans Offringa, I got to know them well and learned so much about the history of the place.
'Takes some time to get to know the Ileachs, but once you become friends it's for ever. For a long time I thought the slogan "Whisky is about the people who make it" was rubbish and just a PR thing. Now, after 25 years of enjoying and studying whisky, I can honestly say it's true.'
You've co-written two books with Hans Offringa: 'The Legend Of Laphroaig' and '200 Years Of Laphroaig'. Tell us about that.
'Yes, it took me almost 14 years to figure out Laphroaig's history. Spent weeks going through old files and archives at Glasgow University and the Mitchell Library.
'Had a lot of help and support from my research buddy Robin Brilleman, a geek in every sense of the word. He's an even bigger nerd than I am when it comes to detail and history.
'The history often was confusing, especially of the 1960s and '70s. Not everything was recorded and people's memories tend to fade. Fortunately, almost every manager since the 1950s is still alive. Evidently, Laphroaig is a healthy place, a good prospect for [current manager] John Campbell.
'Laphroaig is lucky having all these old files preserved so well. Fortunately, Long John and Allied sent it all to the Glasgow University, where everything is being kept in an air-conditioned, dry climate.
'Laphroaig had a legendary secretary, Rachel MacAffer, who had kept a file of her own, which she donated to the Scottish Brewer Archive (SBA), which was of tremendous value too. One of today's junior managers at Laphroaig, Barry MacAffer, is her cousin. It shows how distilling is still very much a family thing on the island. Ileachs are very clannish.'

Management material: six Laphroaig managers (l-r) Murdo Reed, Colin Ross, John McDougall, Iain Henderson, Denis Nicol and John Campbell

How did writing the books influence you as a collector?
'The first book in 2007 really helped my collection. Because of the book, I was offered quite a few extremely rare bottles at reasonable prices. Today that's more difficult, since everybody knows their way on the internet and can easily make more than one inquiry about prices.
'But from time to time I am still lucky, as with the recent 1940s/early 1950s 10-year-old Laphroaig I was able to buy privately. It's one I'm looking forward to cracking open later this year in Scotland.'
So, given the way prices have soared, has the way you've acquired your bottles changed over the years?
'In the early years, it was very easy to get your hands on rare bottles at decent prices. It was all there and we collected and drank them all. Hard to imagine these days.
'Nothing hysterical as with today's Karuizawa madness, PR hype and marketing-driven nonsense. I drank several bottles of 1967 Karuizawa, I liked them, but at these prices? Insane.
'No whisky, not any drink is worth €5,000, it's crazy. People aren't very much aware of history these days, I'm afraid. It's a bit like the Tulip Crash in the 17th century in the Netherlands. I suggest you Google that.'
So, you think the upswing in prices, online auctions, whisky as an investment – it's all temporary?
'Whisky has always had its upswings and downturns, and it will happen again. We are witnessing the start of the downturn right now, as quality is going down and prices surge. An economical mortal sin.
'Question is when and how fierce the correction will be. Customers are whimsical. NAS is as old as whisky itself and I have nothing against NAS, but today it's an excuse for getting rid of mediocre whisky.
'Most distilleries are owned by multinationals, who care about stock markets and shareholders, much to the dismay of distillery managers. On the other hand, it provides much employment and brought a great deal of prosperity to Scotland – and Islay in particular.'

Old times: Laphroaig distillery in the Edwardian era (c. 1910)

Has the value of your bottles changed how you feel about your collection?
'In a word: yes. I sold the best part of my collection recently. I had a good offer from a reliable and nice French buyer, and I felt it was time to part from my bottles.
'As most of my collection is depicted in the two books Hans and I did, I don't miss them very much. In fact, my wife misses them more than I do. I am not the sort of person who looks back – that's useless.
'Besides that, I am enough of a businessman to know when it's time to sell; collecting is dangerous. I took pictures of every bottle of Laphroaig I ever had and I will probably do a final book, just showing the bottles with a short description. Plans are in an early stage as we speak.
'It would have been nice if my collection had ended up in Laphroaig's little museum, like Hans Sommer's collection in Bowmore. We had some talks, but unfortunately it didn't work out. I had always felt the bottles should be at Laphroaig for people to see them…'
Will you still keep your website: laphroaigcollector.com?
'It will stay where it is. I started the website in 2005 and, although I stopped updating it a while ago, with over 100,000 annual visitors it's still rather successful.
'The website offers good reference too and, because of the response I got through it, it enlarged my knowledge immensely.'
What's your favourite Laphroaig for everyday drinking?
'My everyday dram would definitely be the standard 10yo Laphroaig "Unblended" from the 1980s, still being reasonably affordable with lots of Sherry influences and much older whisky.
'A wonderful dram – Sherry and peat go well together; the Sherry mellows the peat. Again, these whiskies were not smoky at all. I never had girlfriends who smoked and I hate ashtrays.'

Atmospheric: Laphroaig's stillhouse pictured pre-reconstruction (c.1967)

What would you say are the pinnacles of Laphroaig's bottled output, and what was the highlight bottle in your collection?
'Laphroaig produced legendary stuff. For me the highlights were the 1974 for La Maison Du Whisky, the Samaroli 1967, the Bonfanti imports and the Intertrade 1966. Bit weird that the best Laffies were bottled by, or for, foreigners.
'My showstopper in the collection was a 1930s OB Laphroaig, don't think there's an older one around. The seller sent a handwritten letter to Laphroaig making inquiries about it.
'Laphroaig scanned and forwarded it to me and, with John's approval, I approached the sellers. They turned out to be very nice people in the south of England, we agreed on a price and with my wife I went to collect it.
'I was absolutely stunned by it and there's a full-page picture of it in the 200 Years book.'
Did you ever find problems with fakes or refills?
'I encountered several fake bottles over the years. In one case, it was a former Allied employee who got sacked and who had nicked sheets with 40yo labels. He glued them to bottles of 15yo, but left the neck tags on. Allied had a counterfeit manager at the time.
'But generally I feel this thing over fake bottles is largely exaggerated. Of course there are fakes, but not so many as some like to think.
'I get these questions if a bottle is fake because the capsule is a few millimetres longer or the colour is a bit off. Rubbish – in the bottling plants they often just took whatever was available.'
Would it be possible to put together a collection like yours today?
'As far as starting a collection today, I think you're too late. That is, from a business point of view. We're at the summit and, in my opinion, the only way is down. Unless you are very emotional about it and are loaded.'
Any 'Holy Grail' bottles that eluded you?
'The Holy Grail would be a genuine Mackie's Laphroaig bottle. I think the 1903 Mackies you see today are "inventions".'
How do you see the future for Laphroaig?
'My wish for the future would be that things go back to normal. Prices at a decent level, emphasis on core business and good quality, making good whisky and less PR and marketing.
'I am happy to see start-up distilleries with this philosophy. I sincerely hope these distilleries make it and don't get greedy and find quantity more important than quality.'
What's been the highlight of your whisky adventures so far?
'Highlight of my "whisky life" was without a doubt the Islay Odyssey of 2015. I consider myself privileged to have been part of it.
'I don't think there will ever be anything like it again. The friendship, the jokes, the whiskies, it was just amazing. I am sure that all those who were there will feel the same.'