This is the age of the Master: Distiller, Blender, of Wood, of Copper. Where will it all end? The Whisky Virgin doesn't care and, if you can't beat 'em…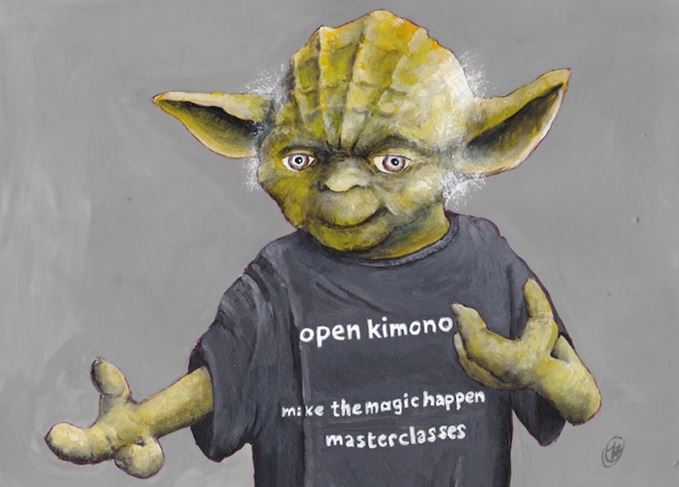 I am personally and speechlessly delighted to see that the word 'Master' is being prefixed to more and more occupations in the world of Scotch whisky-making. The following, my darlings, is both a kiss on the lips of our American friends, who are more than anyone responsible for this marvellous craze, and also a garter's-worth of thoughts on where we could take it next.
For me, the word 'Master' functions more like an aide-de-plaisir than it does a unit of meaning. I don't think of guilds and journeymen and teachers and those things.
When I hear it, and depending on where I am, or who I'm with, I am immediately somewhere else. Sometimes, I am Grasshopper sat at the feet of Master Po, blindfolded and learning how to feel pleasure with my ears:
Master Po: 'What do you hear?'
Me: 'I hear the grasshopper.'
When not honing my senses, then I am sat at an altogether different set of feet, those of Meister Eckhart, working hard on my powers of instant self-gratification:
Meister Eckhart: 'There exists only the present instant... a Now, which always and without end is itself new. There is no yesterday nor any tomorrow, but only Now.'
Me: 'Yes, Meister. May I have a piece of bread and some butter and honey and cream? Now, please.'
And if not ensuring that I am full-up with the world, then I am learning how to separate myself from it, using masks, oranges and other useful things.
Master X: 'Put this on.'
Me: 'Yes, Master.'
Master X: 'Tightly.'
Me: 'Yes, Master.'
See, some words have a power beyond themselves. They are shiny. They are magical. They are triggers. Master is one such word. Say 'Master' to me and special things happen.
I blush wildly. I can't breathe. My pupils dilate. I feel sick. If a real one is in the room, I am dragged into his or her orbit, where I flit uselessly, unable to speak.
It's never happened, but if a Master Distiller should deign to talk directly to me, I imagine I would self-combust, or turn to dust, or go out into the world and do something useful.
This is not a joke. Once I stumbled into a masterclass hosted by Richard Paterson, Master Blender. He told us the story of the Shackleton whisky, which was thrilling and involved ice and handcuffs and syringes.
Most exciting, however, was how Master Paterson threw whisky on the floor – and threatened to slap us. I could barely look at him.
The same thing happened when I ended up at a tasting given by Master Distiller Jim McEwan. He told us all about Islay, about local barley, about the way they made the whisky at Bruichladdich, long and slow, but all I could think about was him jetting around the world, that and the deftness with which he poured whisky, handled the bottle, fielded questions. Master of the Still and of nearly everything else. I was a silent and overjoyed human, made entirely of putty.
Now, I've no idea whether they or any of the other Masters enjoy their titles as much as I do. I certainly hope so. I can't think of anything better, and thank God for whoever it was in America that got the Master ball rolling.
Apparently, some distillers met for breakfast at a festival. Someone called it the Master Distillers Breakfast and, bang, you can't move in America for a Master. My idea of heaven.
If Scotland took a while to properly catch on, then it's making up for lost time: the Master count in Scotch whisky is rising – and quickly.
We have, of course, Masters of the Still and of the Blend. Masters of Wood and of Copper too, old titles revived, and no doubt I will quite soon – hope against hope – be invited to something held by a Master of Grain, or of the Washback, or of the Warehouse.
Personally, I'm looking forward to our first Master of Market. Me, for example, though don't get me wrong: I'd love to be a Paterson or a McEwan, and could be, if I really and truly wanted. I just don't have the time for all the training and practising and knowing the difference between a pot and a cask – plus I don't want to have to live in the north.
To become a Master of Market, you need to live in the capital or on the Equator. You must drink every day and attend branded parties. Most importantly, you need to talk the talk: photo-call, POS, top of the funnel, mousetrap, six-sheet, vox pops, drawdown, drip, long tail, peak.
I am all these things. I know the drill. I fit the bill. I own the deck.
Of course, being a Master means having an apprentice, maybe five or 10 or 100 apprentices. I can't wait:
Master of Market: 'Look. Let's work the creative now. Product'll just have to catch up as and when. Forget the brief – there isn't one. People, we're building the plane as we fly it. Questions?'
First Apprentice: 'Master. We could re-skin...'
Master of Market: 'Good thought and 110% agree, but client's hat on... If it smells of recycled rat, it's a recycled rat. We need to open our kimonos on this one, folks.'
Apprentices: 'Yes, Master.'
Master of Market: 'Good. Let's bang it out by EOD, but make sure everything ladders up for first thing Monday.'
Watch this face, darling reader. Master's coming.