Whisky Live London was a show to discover exciting drams and new distillery newmakes, as well as a time of self(ie) reflection, writes Becky Paskin.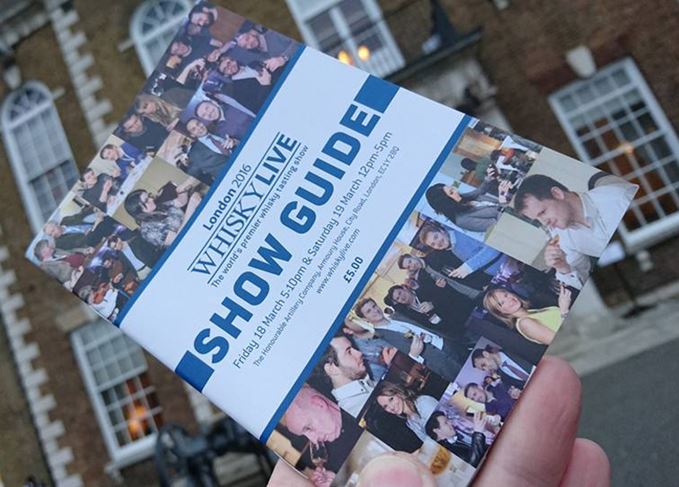 It's a sign of the times when the most talked about exhibit at a whisky show isn't a rare, limited edition bottling or previously undiscovered gem, but a dedicated selfie space.
Of course Whisky Live London, held at the Honourable Artillery Company in Shoreditch, was the place to be last week (18-19 March), so thankfully show organisers granted visitors their very own area – penned off with handwritten signs stuck to the floor – to take a memorable snap of the day. How thoughtful, particularly when the booze-fuelled World Whiskies Awards took place the night before.
Joking aside – I'm not really, it truly was the most talked about exhibit of the show – there were plenty of fascinating pours dotted around if you knew where to look for them.

Let me take a selfie: encouraging social snaps at Whisky Live London.

For starters, Whisky Live London saw a rare outing from independent bottler Murray McDavid, which was in town to show off its new colour-coded range of Scotch whiskies. Within the latest collection are a 1989 Bowmore, a 1996 Loch Lomond single grain and a 2009 'Peatside' vatting.
Elsewhere around the show were a number of new releases given their first outing at a UK whisky show – Ailsa Bay, the new 'peaty-sweety' single malt from William Grant & Sons; Elements of Islay Peat – the first permanent expression in the EOI range; and Arran 18 Year Old, the oldest expression from the island distillery.
After several years of world whiskies taking the limelight at Whisky Live London it was a pleasant surprise to see Scotch whisky back at the fore, and representation from new distilleries like Kingsbarns in attendance at the Wemyss Malts stand. Visitors to the stand could, if they asked nicely, grab a sample of the new Lowland distillery's newmake.
A boom in the number of distilleries popping up worldwide meant possibly the most amount of newmake spirit was available to sample in London than ever before. There was a showdown between Irish whiskey distilleries Echlinville and Teeling Whiskey Company, both of which had brought along poitin and single pot still spirit. This wasn't a contest to see which was 'better', rather the vast difference between the two styles is evocative of the direction the Irish whiskey category is headed. With so much diversity in style already, whisky lovers will be spoiled for choice within a few years' time.

Fraiser Liqueur was one of the popular pours of the show.

That said, one of the most popular pours of the show was not a whisky at all, but a strawberry liqueur. Fraiser Liqueur by Leith Liqueur Co, a first-time exhibitor at the show, was one stand consistently drawing the crowds. The liquid itself – a blended whisky macerated with fresh strawberries and no added sugar – was delightful but perhaps the offer of a simple, refreshing cocktail demonstrating the liqueurs mixability is what really drew the crowds in. Such a rarity is it to see cocktails at a whisky show that Leith Liqueur Co. may have just set a precedent. Future exhibitors, take note.
The focus of the show, like many other Whisky Lives around the world, is certainly on the VIP experience. As it is such a small show in comparison to some of its global counterparts, VIPs were not given early access and first dibs on exclusive pours. Instead, organisers arranged 'added value' exclusives, such as special VIP-only rooms where ticket holders could sample whiskies with brand ambassadors. The majority of masterclasses were even VIP-only, with talks and tastings on the World Whiskies Awards winners and Whisky Cocktails. Nevertheless there were still plenty of engaging presentations for general admission ticketholders (who had also bought a masterclass ticket) with the likes of Girvan, Glen Moray and Loch Lomond.
At least the selfie space was open to all. Now, anyone want to share their snaps with us?