The 12th Milan Whisky Festival offers the perfect opportunity to take the temperature of Scotch whisky in Italy: historically strong, recently fragile, but on the cusp of a renaissance? Marco Zuchetti reports.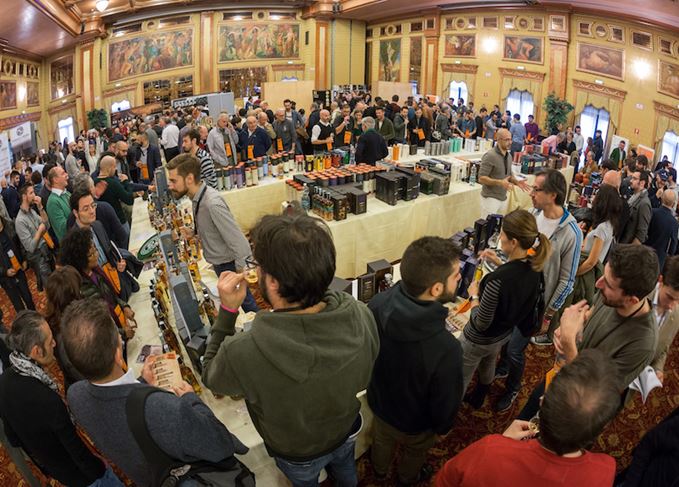 During the hot Mediterrenean summer, it's not uncommon to witness a phenomenon called Fata Morgana. It's a mirage that distorts images on the horizon: the environmental conditions won't allow you to see reality. So is the whisky scene in Italy: a curious Fata Morgana, an incongruous world where illusions and prejudices could easily mislead foreign observers.
Anyone who is trying to figure out where the Italian whisky market is sailing might find some answers in Milan, where last weekend (11-12 November) the 12th edition of the Milan Whisky Festival took place: one of the two main malt events in Italy, along with Rome's Spirit of Scotland.
With double the exhibition space – 15,000sq ft in a baroque hall of the Marriott Hotel, complete with carpets and golden chandeliers – and with a perfectly respectable panel of international guests, it was both a complete success in terms of attendance (almost 5,000 visitors) and a not-to-be-missed opportunity to debate Scotch's future in this nation of wine drinkers.
It's not unusual here to see Jim McEwan bringing two drams to Bar Metrò's Giorgio D'Ambrosio, dribbling teenagers with hipster beards, and even fathers with strollers, or Ken Lindsay of Chivas Brothers joking with Nadi Fiori.

Strictly whisky: Giorgio D'Ambrosio and Jim McEwan take to the dancefloor

In a humanist country like Italy, numbers don't tell the whole story, but they still deserve a look: 90 exhibitors, 220 brands, 1,200 different bottles, 17 masterclasses.
McEwan still remembers the days when only 300 people met to taste whisky, in rainy days in Italy for Scotland's national drink. 'An incredible job has been done,' he says. 'Here you have exceptional taste, coming from food and wine. You only need to create a new generation of whisky lovers, communicating that malt is not just something their fathers or grandfathers used to sip.'
That's exactly what Andrea Giannone and Giuseppe Gervasio Dolci have been trying to do for years with Milan Whisky Festival and their tasting evenings: rekindle the old fires of a nation that used to be the biggest single malt importer.
Again, the stats are useful: half of the visitors were in the 25- to 35-year-old age range, and 25% were women. Two swallows do not make a summer, but they're clues: something is changing on the Italian front, considering that imports of Scotch were up 25.6% to 9m bottles in the first six months of 2017.

Talking whisky: Nadi Fiori and Giorgio D'Ambrosio deep in discussion

A Fata Morgana or the beginning of a renaissance recalling the past glories of Samaroli and Giovinetti? It's hard to answer, but something is definitely happening.
But what's the Italian way with whisky? First of all, it's a way where smoke never fades. Talking to the guys at the whisky shop desk is an eye-opening experience: they reckon that 70% of customers ask for 'the peatiest whisky you have – something that really breaks you'.
Yes, peat in Italy is the fourth of the Three Kings' gifts, even if Italian food isn't smoky at all. McEwan has a clever theory: 'Peat can be found only in whisky, so peaty whiskies are recognisable for you.'
Others look for a different explanation: the first single malts imported were peaty. Anyway, a Facebook survey that asked for visitors' favourite distilleries placed Lagavulin, Laphroaig and Ardbeg on the podium. Yes, we love Sicily and Capri, but we love Islay the most. In a country of sun and sea, we appreciate dark and ashy malts.
The second peculiarity, remarked upon by Gordon & MacPhail export manager Juliette Buchan, is this: 'Italians should collect less and drink more.' It's our original sin: last in terms of consumption, but first when it comes to being owners of vintage bottles sold in the Far East.

Intent faces: The Milan crowd is famed for being curious and inquisitive

Max Righi, independent bottler and one of the biggest collectors, could perfectly explain the Italian obsession for collectable items – and Jim McEwan hopes that casks of his upcoming Islay distillery Ardnahoe will be our next investment.
But there's another sin: we tend to drink 'with the eyes, instead of drinking with the mouth, nose and pockets.' This observation from Wemyss brand ambassador Francesco Saverio Binetti sums up something you can easily find at the festival: great interest in single malts, official bottlings and brands (Macallan, Ardbeg, Springbank, Benromach, emerging distilleries such as Kilchoman, and of course every Japanese whisky from Nikka to unexplored new bottles).
But not just this: also a snobbery towards blends, particularly the cheapest and least-known; a curiosity about independent bottlers like Veneto-based Wilson & Morgan (winner of two medals here with a heavily-peated Beathan and an 18-year-old Glenrothes cask strength) and Cadenhead, whose stand was one of the most crowded thanks to Jacopo and Giacomo of whiskyfacile.com and their tasting trios.
Why this love for single malt? Somebody talks about a wine-focused interpretation of terroir, others about the Italian preference for a more distinctive taste. Indeed, the first Milan Whisky Festival blend – created during a Wemyss workshop – was a vatted malt, without any grain spirit…

Latin passion: Well, it is Italy, after all…

Another trend is represented by food and cocktails. The organisers know that food in Italy is the second religion (the first is football, by the way), so they always invite Sapori Solari, a bistrot well-known for its platters, and this year you could also buy 'drunken panettone', a traditional Italian Christmas cake, Bourbon-infused with Craigellachie raisins. Balblair 1990 with panettone is like Kilkerran 12-Year-Old with burrata and anchovies: pure ecstasy.
Great success also for Casa Mia's cocktails (above all, the Yellow Muzzle's Punch, with Jim Beam, mango, maple syrup, lemon, black chocolate tea, maraschino, absinthe and orange bitters).
But what really stands out at Milan Whisky Festival is the approach. Nicola Riske, European brand ambassador for Edrington, smiles: 'You are incredibly passionate and talky. You don't just drink, but you want to know and learn: it's a real pleasure to have tastings with you.'
Yes, that's Italy's sense for Scotch: quality instead of quantity, culture instead of massive purchases, and a lot of people talking about malt, playing games such as 'LIS' (a hangover simulator) and reading Davide Terziotti's new book, My Name is Whisky.
Unless it's a Fata Morgana, Italian whisky lovers are raising their heads in Milan.