A sense of relative calm descended on this year's Islay Festival on Monday, as the spotlight turned on shy, secluded Caol Ila. But don't be fooled – there was plenty going on, from explorations of oak maturation to musical interludes. Martine Nouet reports.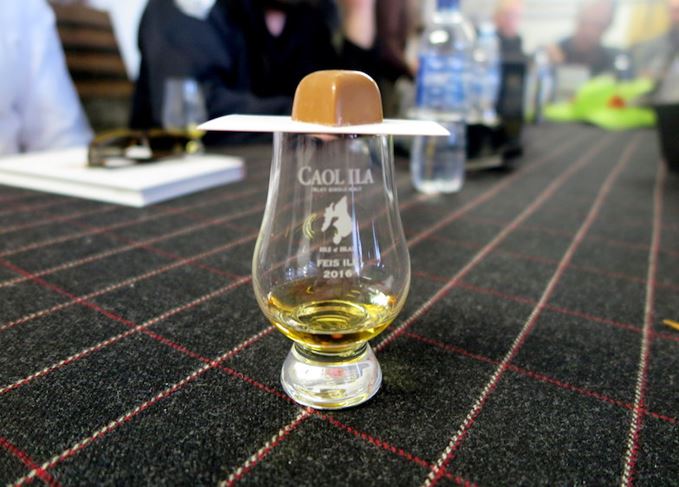 Is it because the festival-goers needed a break after the excitement of Bruichladdich, or is it because Caol Ila distillery lies off the track, nestled down in a secluded cove?
The small yard was not packed with patient whisky geeks ritually queuing up for their festival bottling. No, there was no queue, just relaxed people eating and listening to the Gulf Extreme band (last seen on Lagavulin Day), or wandering into the warehouse. Calm, cool and collected – if not a little bored when nothing was happening.
And yet the open day offered a full programme of activities, apart from the usual tours. Visitors had the choice of attending a manager masterclass repeated four times in the day, as were Caol Ila warehouse tastings. Colin Dunn was hosting the same cocktail sessions as at Lagavulin, and Dennis Mulder the same food and whisky pairings.
A Caol Ila whisky music pairing session led by writer Neil Ridley concluded the day. This was not just any musical entertainment. The accompaniment was provided by Prince Adewale and the Endeavours, a very special band, including in its number both Ridley and Dr Nick Morgan, Diageo's head of whisky outreach. The passion for whisky uncovers hidden talents!

Take it easy: The atmosphere at Caol Ila's open day was very relaxed

The manager's tasting was conducted by Heather Wall, the young distillery manager who arrived at Caol Ila on a dreich, misty day in January. 'I could not enjoy the fabulous views on the Paps of Jura at the beginning,' she recalled. 'We were plunged into a thick fog for three weeks!'
Can you imagine how hard it must be to conduct a whisky tasting when you are six months pregnant? 'I can only nose and talk about the whiskies from memory,' she said. This is what you call a blind tasting!
Heather took us through five drams, after a quick nosing of the new make, each dram matched with a nibble. The 12-Year-Old was accompanied by smoked salmon pâté, a pairing I would not personally recommend as I never match smoked food and smoky whisky. The two clash in my opinion.
But it was delightful to taste the 12-Year-Old again. This unassuming malt is often ignored, if not despised, by whisky connoisseurs. What a pity! I like its balance and cheerfulness.
I have a very personal image of this whisky. Years ago, I came to Caol Ila for the first time and took a tour. It was almost a private visit. The pier was empty and I sat down with my glass of Caol Ila. The sun was peeking out from behind dark clouds and suddenly a magnificent rainbow drew a colourful arch over the Sound of Islay. My vision of Caol Ila 12-Year-Old...
Heather continued her presentation with the 18-Year-Old and Stilton cheese wrapped in bacon, a nice combination. I especially liked the 25-Year-Old with a milk chocolate heart filled with salted caramel sauce.
The 17-Year-Old (unpeated) was quite delicate and oily. It was served with a delicious lime and lemon balm dark chocolate, which tended to overwhelm its subtle, citrussy profile though. The tasting ended with the Festival bottling, a 56.2% 12-year-old combining refill American Oak hogsheads and European Oak ex-Bodega Sherry butts.
Time for an insight into maturation with Ian MacArthur, aka Pinkie, the legendary warehouse guardian for Lagavulin and Caol Ila, and Douglas Murray, process development manager at Diageo. Douglas took the audience through the subtleties of European oak maturation versus American oak, while Pinkie was doing the pouring and playing his usual tricks. One gentleman was thus offered a free shampoo with new make, said to help hair grow, Pinkie assured him.

Room with a view: The best view of Caol Ila distillery is from the sea

The sky was clearing out and the last visitors gathered at the pier were waiting for a Caol Ila by the sea tour in a RIB. Another recommended 'Caol Ila moment', as you get a beautiful view of the still house from the sea – much more attractive than the prospect from the road.
Caol Ila jetty is also used by fishing boats, and one was just unloading pots full of velvet crabs which would be shipped to Spain or France in the night. Seafood is a very popular attraction during the festival. The Seafood Shack lady reckoned she had already cooked 80kg of scallops in three days.
Enough, anyway, to make me hungry at the end of the day. I had decided to have an evening off. I was invited to 'Casa Italia' in Port Ellen by my Italian friends, who come to the festival every years and are Laphroaig devotees.
Did we nose, taste and talk whisky? Not at all. An amazing dry Marsala and a rich Brunello took us through the evening, with Paolo's excellent risotto, made with carnaroli rice brought especially from Italy.
Ciao, les amis, see you at Laphroaig!