Bowmore offers not one but three Fèis bottlings, the most exclusive of which sparks outright fervour among the distillery's devotees. But festival time is just as much about sharing – whether it's great whisky or great experiences. Dave Broom reports.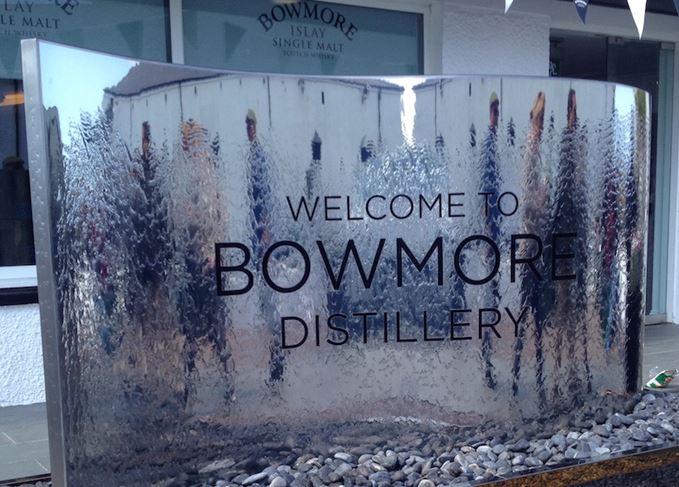 Some said the queue had started at 8pm, others said it was 2am. I heard tales of tents being pitched (presumably inadvertently) in people's gardens, of folk in sleeping bags swigging whisky through the night – behaviour which, on the mainland, would see you thrown into jail. On Islay at Fèis time, it's simply a sign that the 200 bottles of this year's Bowmore Vintage Edition were going on sale when the gates to the distillery opened at 8am.
Golden tickets were issued to the first 100 people in the queue, guaranteeing them a bottle. The rest had to hightail it to the shop to grab one. Quite what the truth was about numbers and length of the queue will always remain a mystery.
Stories on Islay have a remarkable ability to get lengthened to outrageous proportions. It wouldn't surprise me that tonight in the bar I'll be told that 1,000 people had queued for a week to get their hands on one. Anyway, by the time the bus dropped me off at the distillery, the shelves were empty.
Distillers have an almost impossible task with these Fèis bottlings. On one hand they have to be special, or rare, but certainly limited. At the same time, they can't be so exclusive that the folk who don't get their hands on a bottle end up resenting you.
Not that there seemed to be any deep resentment in the crowd. They appeared content with the two dram tents (though some did mutter about not being able to sample the Fèis bottlings even if they had sold out).
'The Fèis isn't about bottlings,' said one American visitor, 'it's the people. You can come to Islay at any time and taste great drams. This is about the whole experience, the fact that people you've never met will be sharing their drams with you.'
There was music, food – including pizza – and seven different tasting experiences including, in the malt barns, the legend who is Ginger Willie holding court with the equally ginger Gordon Dundas, while manager David Turner hosted a trio – one of which showed the Fèis bottles.

Typically tropical: The sunny weather at Bowmore matched some of the whisky on offer

On the Sunday there had been a charity dinner to celebrate living legend Eddie MacAffer's 50th year in the industry, which had included a stellar selection of drams going back to the 1960s and a Black Bowmore Final Edition which had been seized by the police when the former postmaster at Port Ellen was found to have been snaffling bottles from the mail. He's now in jail.
'The police were going to destroy it,' said David, 'but we persuaded them that we could open it at the event. It would have been wrong to sell it. Much better to give folk something special.'
We sneaked into Warehouse No 1 to try this year's Fèis offerings. Bowmore has in recent years offered three Fèis bottlings at different price points – starting with a 1,500-bottle run of a vatting of three virgin oak barrels and an Oloroso butt at the bargain price of £55, which went on sale last Saturday. It was sold out.
This year's hand-filled was a 17-year-old from a PX cask, the first time Bowmore had released a 100% PX-matured whisky. At £100 a pop, it too had gone.
The Vintage Edition was a 25-year-old which had spent 12 years in first fill Bourbon, and 13 years in claret. It would have set you back £350.
There was a fourth glass. 'I always like to give people a wee treat,' said David, 'and I found this cask from 1968.' It was, as you might expect, extraordinary – passion fruit, pineapple and nectarine on the nose, a silky texture with a little touch of what seemed like peach fuzz on the mouth.
Its tropical nature matched the weather outside, where people were heading down to the beach, schoolkids running about, a seaplane buzzing the crowd. David looked around.
'It's about sharing great whiskies,' he said. 'Not just making money.'