Ten years after Katrina, the world's capital of cocktails and jazz is now buzzing with more restaurants, bars and bad-ass music clubs than ever before. Alice Lascelles gives her tips on how to spend 48 hours gorging your senses in The Big Easy.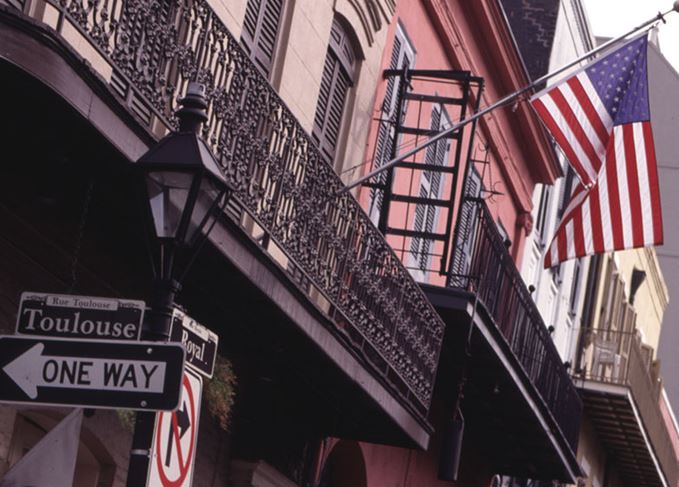 DAY 1
You're going to need energy in New Orleans, so make sure you kick off with a good breakfast at Café Beignet, the no-frills French Quarter café famous for its take on the beignet, a local speciality of crispy golden fritter piled high with icing sugar (buy a 'beignet-done-that' t-shirt if you must).
If possible, nab a table in the courtyard so you can watch the good, the bad and the completely wacky of New Orleans go by, and possibly enjoy one of the many (excellent) buskers too.
Once you've acclimatised, it's time to explore. Start by taking a wander up Royal Street, where you'll find an array of antique furniture and jewellery stores to nose through, as well as many lovely examples of the city's famous colonial architecture, including the 300-year-old St Louis Cathedral, which is the oldest cathedral in north America.
If you want to get deeper into the city's architecture then the Friends of the Cabildo do really great walking tours, which are full of interesting anecdotes.
Sazerac lovers should also take a moment to pay homage to 437 Royal Street, the site of the apothecary where Antoine Peychaud created his famous bitters in the 1830s.
Then, for a dramatic contrast, cross over one block and head down the French Quarter's notorious main drag Bourbon Street, where you'll find Nola's seamier side out in full force, as neon-lit porn shops, tacky bars and voodoo stores absolutely heave with tourists wielding slushy cocktails in giant go-cups. You may not stay long, but you have to see it once.

Begin the day with a traditional coffee and beignets from Café du Monde in Decatur Street or Café Beignet in Royal Street.​ Photo: David Richmond and NewOrleansOnline.com.

Before you abandon Bourbon Street for good, stop on the corner of Bienville for a sharpener at the dog-eared Old Absinthe House – it's touristy as hell, but this 200-year-old copper bar has propped up everyone from Mark Twain and Oscar Wilde to Frank Sinatra, and you can't argue with that.
For lunch, seek fortification in the form of another local speciality, the po'boy, a kind of overstuffed, French bread sandwich oozing with roast beef, shrimp or fried oysters – the po'boys at Rampart Food Store just on the edge of Marigny are legendary.
After lunch, take advantage of the fact that New Orleans is as flat as a pancake (it's built on swamp land) by going on a bike tour – the Confederacy of Cruisers do the best tours, taking in the sights of Marigny, Bywater, Esplanade Avenue and the Tremé for US$45 apiece. Excellent for working off all those beignets.
After a dip in the hotel pool, you're probably ready for a sundowner. A good place to start would be Latitude 29, the hot new bar from Tiki guru Jeff Beachbum Berry.
Clad in miles of bamboo, and stocked with all sorts of original Tiki ephemera, this is the sort of place that's not afraid to serve you a drink garnished with a cocktail parasol, an ice cone and several varieties of tropical fruit.
For something more sleek and futuristic, try Ursa Major in the fast-developing South Market district, a zodiac-inspired cocktail bar and restaurant that's all polished concrete and plate glass.
Cocktails are supposedly chosen to appeal to different star-signs, but you don't need to be a believer to love these drinks, which are big on fresh juices, local spirits and quirky touches like white balsamic vinegar and lavender bitters.
The food – a grazing menu of spiced stews, breads and salads – is delicious too. In fact, most of these bars do great bar food, so dinner really isn't necessary, particularly if you've stocked up on po'boys earlier on.
From here it's also not far to the more boudoir-like Bellocq bar at the Hotel Modern, where they do a great line in ice-laden Cobblers made along traditional lines with Port and Sherry, as well as more modish twists using Chartreuse, vermouths and amari.
The nearby Balise – which has a slightly more tavern-like feel – is also great for a platter of oysters, a glass of wine and a warm welcome.
If you're not burnt out by now, round off the night by jumping in a cab and heading over to the legendary Maple Leaf – a motheaten, low-down, dirty jazz club with some of the best bands you'll find anywhere in the city.

The Museum of the American Cocktail on Oretha C. Haley Boulevard is a spirits and bar tool collector's paradise.​

DAY 2
If you're up bright and early, then steer clear of the hungover partygoers in the French Quarter and take a walk north through the Woldenberg Park on the banks of the Mississippi before stopping for a breakfast of chicory coffee and more beignets (well, they are pretty delicious) at the waterside Café du Monde.
If you're feeling energetic, then follow the river round to Bywater, a fast-developing hipster enclave of multi-coloured clapboard cottages, cavernous thrift stores and foodie joints that have gained the area a reputation as the Williamsburg of Nola. The streetfood joint Booty's is particularly popular with Macbook-wielding locals.
Serious cocktail scholars should also pay a visit to the Museum of the American Cocktail, an institution which boasts some real gems, including examples of long-lost spirits (for instance, the fabled Kina Lillet), as well as historic bar tools, menus and books.
If you want to see a bit more of 'local' New Orleans, then it's worth making the trip uptown to Magazine Street, where you can spend a whole afternoon browsing a three-mile stretch of hip shops, art galleries, vintage stores and elegant architecture that a lot of tourists never get around to visiting.

A visit to New Orleans wouldn't be complete without a stop by French 75 for a French 75.

For lunch, head to nearby Freret Street, where you'll find an array of comfort food favourites, including Dat Dog, High Hat Café and The Company Burger. This is also where you'll find Cure, the celebrated craft cocktail bar which many credit with reviving Freret Street's fortunes after it set up shop in this derelict part of town in the wake of Katrina.
Housed in a low-lit converted firehouse, and blessed with a huge spirits selection, this is the place to come for really serious cocktails showcasing a mouthwatering array of unusual and intriguing ingredients.
If you didn't manage to make it out of the French Quarter, however, no matter –you can head to one of the Vieux Carré's elegant old-school bars instead, such as the recently-refurbished Broussard's with its whirring fans, chandeliers and splendidly grumpy veteran bartender Paul Gustings.
A French 75 (made with brandy, rather than gin, as is the way in Nola) at the French 75 bar at Arnaud's is also essential, as is a Vieux Carré at the ultra-camp Carousel bar at the Hotel Monteleone.
Then grab a table in the courtyard at the hip Cane & Table on Decatur Street, and feast on crab claws, peas and beans, ribs and shrimp washed down with an ice-laden rum swizzle before heading over to the jazz clubs of nearby Frenchman Street. The locals' favourite is the tiny Spotted Cat, where you can enjoy beer, shots and steamy, screaming jazz bands all night long.

GETTING THERE
The quickest and easiest way to make the 10-mile journey from Louis Armstrong International Airport into town is on the shuttle, which costs US$20/38 one way/round trip per person.
WHEN TO GO
February to May is traditional tourist season as this is when temperatures are still bearable and many of the big festivals, including Mardi Gras, take place – rates are high, though, and you'll need to plan ahead as hotels quickly book out.
If you can bear the heat (and the hurricane threat) then summer is a quieter and cheaper time to visit. The annual Tales of the Cocktail festival takes place in July.
WHERE TO STAY
The Hotel Monteleone, the French Quarter's most famous hotel, may be a little on the chintzy side, but that doesn't stop it being sumptuous in the extreme. Right in the heart of the action and complete with a rooftop pool (and of course, the legendary cocktail bar on a carousel), this is the way to see Nola in style.
If you feel like a change from the usual tourist hotels, then the Inn The Quarter website lists a range of alternative accommodation options, ranging from one-room apartments to picturesque Creole cottages complete with gardens. There's plenty of info on cultural stuff here too.
The hip and boutique Q&C Hotel on the edge of the French Quarter has been created by a team who love food, drinks and great music – so you can be sure to get the inside track on what's hot in Nola during your stay. The bar is great, too.
W New Orleans
When the mercury hits 100 in Nola you need a pool – fast. The stylish Nola outpost of the fashionable W hotel chain has one of the loveliest in the French Quarter, as well as quirky interior design that makes every one of the five-star rooms and suites unique.
Alice Lascelles is the author of Ten Cocktails: The Art of Convivial Drinking (Saltyard 2015).