Day one at the most hedonistic and indulgent drinks festival, Tales of the Cocktail in New Orleans, delivered breakfast cocktails, peat geekery and a Stormtrooper DJ.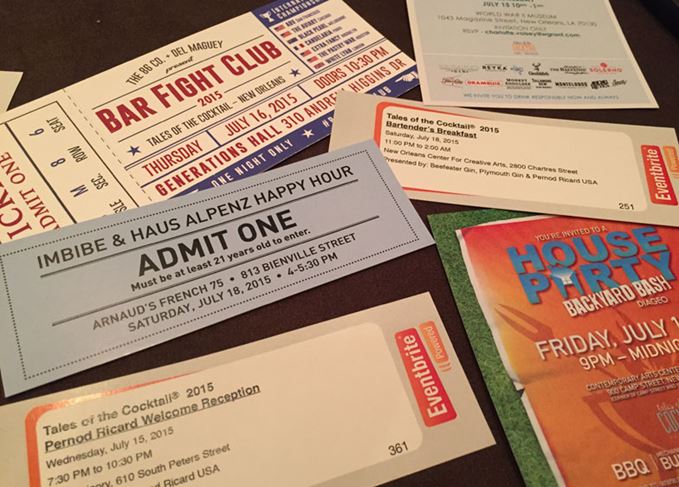 Things to remember when you arrive at the Hotel Monteleone on Day 1 of Tales of the Cocktail:
Avoid the free 'breakfast' cocktails. It's not breakfast. It's alcohol. At 9am. You will regret it later.
Do the sensible thing and grab a free bottle of water, if anything to rehydrate after sweating uncontrollably on your 5 minute walk over in the sticky New Orleans heat.
Give yourself an extra 15 minutes to fight through the crowds and say hello to all the familiar faces you vaguely remember from previous years but can't recollect their names.
Get to the event registration room early to avoid the longest queue on earth.
Luckily media and presenters (I'm both this year) have a shorter line than regular attendees, so I cheekily skip right to the front to pick up my collection of wristbands and portfolio party tickets. There are so many I'm actually a bit terrified of just how many complimentary booze-fests I agreed to attend. Immediately after registering I bump into Dr. Nick Morgan of Diageo and Alice Lascelles, Scotchwhisky.com contributor, both looking rather impatient in the queue behind me. Guess they didn't remember point number four.
The first seminar for me today, a short sweaty stroll away at the Royal Sonesta, is 'What's the Right Deal to Take?', led by Dan Gasper of Distil Ventures – an idiot's guide to gaining valuable investment for a new business venture and not squandering the cash away before you start (which was the case for Simon Ford, panelist and founder of The 86 Co who decided spending $500 on dinner at the three-Michelin starred The French Laundry before selling any product was a good idea).
Lesson learned and notes taken, I spent the afternoon listening to a series of TED Talks-style presentations, aptly named #SEDTalks (Spirits, Education, Development). Dr. Nick, having finally secured his own wristbands, delivered a characteristically controversial historical lecture into the hole the Scotch industry has dug for itself in leaning on age as a sign of quality, using pretty archive material to prove his point. Diageo's whisky team followed his rant up with a somewhat less provocative presentation by Mortlach ambassador Georgie Bell on the role grain whisky plays in the Scotch industry. Having tasted some fabulous grain whiskies of late I wholeheartedly agree with her and secretly wish for more experimentation in this area from the industry.
Of course the highlight of the day has to be Dave Broom and Ryan Chetiyawardana's talk on peat, which anyone who's read Broom's prelude to the seminar will already understand was a complete geek fest. Some interesting facts about peat raised by the pair:
Evidence exists that proves smoke was used to preserve produce around the same time humans began to cook food.
Sheep dung is burned to smoke whisky in Flocki, Iceland. It has a 'sheepy element to it,' says Broom.
Peat can be around 3,000-5,000 years old, which 'puts a new perspective on no-age-statements,' quips Broom.
There are several words for moss and peat in Gaelic, just as many as there are for rain (and it rains in Scotland a lot).
The chemical composition of peat is different all over Scotland – in Orkney the peat is heathery, mainland peat is more woody, and Islay peat has a marine quality.
In 1667 Sir Robert Murray wrote an essay on malting and claimed the best fuel to dry the barley is peat.
Perhaps the most striking point made by Broom and Chetiyawardana – aside from the likely prediction that cannabis-smoked whisky will one day be a thing – was the notion that the use of the term PPM (parts per million) to denote the peatiness of a whisky is completely misleading. According to Chetiyawardana: 'PPM is not a useful indicator as the scale is so large.' Most producers take this reading at the drying stage, prompting the pair to also argue that as the cut points in the distillation process also determine how much of the smoky character remain in the final liquid, PPM is irrelevant.

The Darth Fader: a Stormtrooper spins the decks at William Grant & Sons' portfolio party.

After a tough day of absorbing so much information, there was only one thing for it – kill off a few brain cells. First stop was at Beachbum Berry's new tiki joint, Latitude 29, for some light rum refreshment, before taking on the William Grant & Sons portfolio party at the World War II Museum, which was set in some kind of futuristic Secret Garden Party rave with electro funk spun by a Stormtrooper.
Suitably perplexed it was on to the Monkey Shoulder after party at the Bourbon Orleans Hotel, where William Grant & Sons' typically 'curious' creativity continued. By the end of the night I found myself in a secret 'cool box' bar out the back of the Bourbon 'O' that could only be accessed by crawling on hands and knees through a fridge door. As you do.