While other cocktail festivals have recently put Scotch whisky on the back burner, Scotland's native spirit was very much in the thick of the action at Tales of the Cocktail 2016. From seminars and masterclasses, to parties and brand ambassador showdowns, Becky Paskin recaps this year's effervescent event.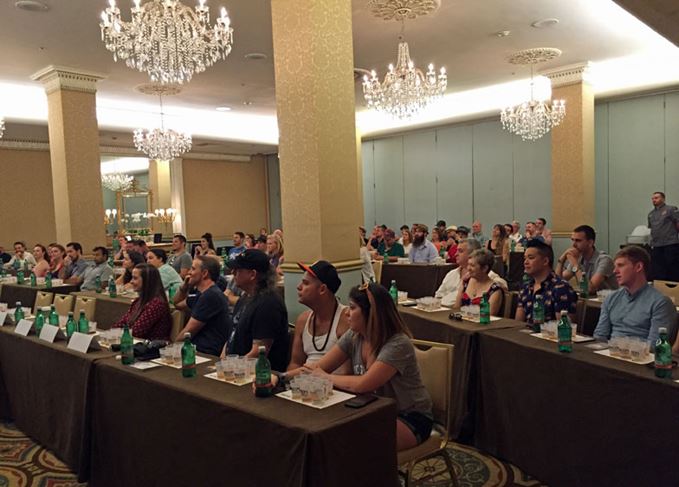 There are two breeds of visitor to Tales of the Cocktail in New Orleans – the world's most hedonistic and humid drinks festival, open to both trade and consumers. There are those on a mission to improve their technical knowledge of spirits production, develop their cocktail slinging skills, discover new ingredients and meet new faces. Others are simply out to party.
Tales is an everyman's festival – there's something for everyone, though you really do only get out of it what you put in. Put the hours into attending seminars and you can fly out of New Orleans with greater virtuosity. Spend more time visiting Bourbon Street's vibrant insomniac bars and Tales' decadent parties, and expect to leave with an intense hangover and regret. I like to believe most Tales regulars have by now honed the art of balance, but this festival is the adult equivalent of Disneyland, and to anticipate complete sobriety is to expect a hyper child to ignore all the rides.
Unlike some cocktail festivals attended recently, Scotch whisky plays a prominent role at Tales (19-24 July 2016) – both in and out of mixed drinks. Here, despite the growing popularity of Bourbon and Irish whiskey in the States, organisers have ensured it shares the limelight with its whisky brethren in offering a full schedule of technical seminars and debates, cocktail parties and pop-ups.
Scotchwhisky.com is proud to have been involved in hosting several 90-minute educational sessions this year as well. From Dave Broom and award-winning bartender Ryan Chetiyawardana a presentation on the role of rot in creating flavour; from myself, Jonathan Wingo of Balvenie, Wes Henderson of Angel's Envy and Kevin Hurley of Teeling, a seminar on the secrets of secondary maturation. Summaries of both of the above presentations can be found on our site.

Dewar's Brew: Dewar's​ White Label, Bénédictine, lemon juice, honey syrup and Innis & Gunn Rum Aged Beer

The most insightful of the other Scotch whisky seminars included an exploration of the rise of NAS whisky around the world; an 'ultimate' Lagavulin tasting, which featured a 1948 White Horse containing whisky from Malt Mill, as well as a 37-year-old Lagavulin; and a comparative tasting of three different Scotch blends throughout the decades.
Those looking for more light-hearted Scotch seminars found respite at the MMA2: The Rematch, the return of last year's most popular session, where malt whisky's most vocal ambassadors blindly present each other's drams and (good-naturedly) hurl insults while Broom makes some attempt at mediation, ducking the odd slur thrown his way by the US representatives from William Grant, Diageo and Beam Suntory.
In a world that's becoming increasingly uptight about malts, it's refreshing to observe such jovial banter among its ambassadors, such as Johnnie Mundell of Suntory's unique nosing technique – sampled off the neck of another man.
Complementing the insightful whisky presentations was a diverse schedule of pop-up bars.
Each night Monkey Shoulder hosted a bursting-at-the-seams popular Miami Vice-themed party at Tiki Tolteca, serving up Monkey and Gingers with a side of '90s hip-hop. Elsewhere in the French Quarter, Martini lounge The Bombay Club was transformed into a less chaotic Macallan takeover, where invited guests explored the Speyside distillery's range – both neat and in cocktails – while listening to live jazz.

Friendly fire: MMA2: The Rematch saw ambassadors present each other's whiskies while hurling 'good-natured' insults

Beam Suntory invaded the legendary Arnaud's restaurant with its own take on a 1930s-style hotel, where guests explored the group's whisky range while sipping on Auchentoshan American Oak Boulevardiers.
Tales is not a festival for purists. It's an arena to expand knowledge of spirits and their application in mixed drinks, as well as on their own. While consumers are welcome to attend, and there are plenty of events and seminars to get stuck into – albeit somewhat on the expensive side – Tales provides an opportunity for bartenders around the world to share their skills and experiences, to improve their education and to, ultimately, take their learnings back home and apply them in their own bar. A more informed and talented industry of bartenders there is, the higher the quality of drinks and information passed onto consumers.
Good news for Scotch drinkers unable to get over to New Orleans, as Tales on Tour will be hosted in Edinburgh for the next two years (2-4 April 2017). Think far less humidity coupled with great Scotch chat and an immersive bar experience in one of the UK's hottest (or should that be coldest?) cocktail cities.