Where the Middle East meets the Med, Beirut offers an exotic collision of cultures and faiths all too often overshadowed by its recent troubled history. Luckily, its charm and beauty have managed to endure its difficult past, as Jihane Miller discovers.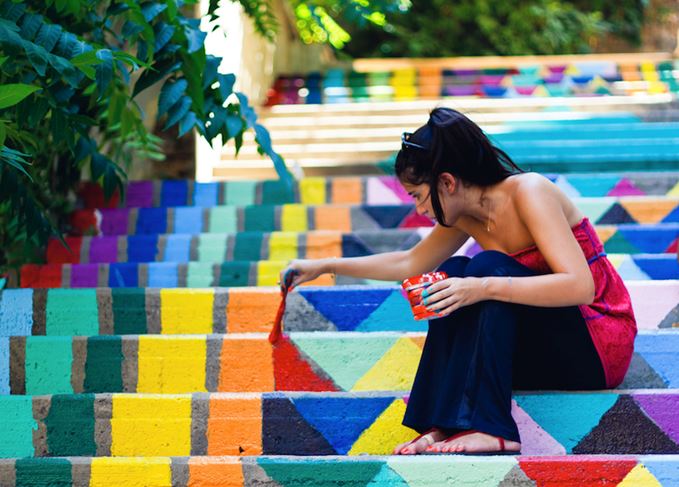 In contrast to other cities built on an equal measure of ancient history and modern vibrancy, Beirut has an edge to it – the result of decades of resilience under the thumb of conflict. The city is awash with cool bars, restaurants and shops and, even though it lumbers under an infrastructure that is tattered and a road 'system' that is death-defying, Beirut's charm is so infectious that visitors rarely leave without the intention to some day return.
DAY 1
Take a stroll along the Corniche and breathe in the fresh sea air. It's a good way to remind yourself how important the Mediterranean influence is to Lebanese culture, food and way of life.
Watch men fish off the rocks, teaching younger generations how to do it. You'll also see games of backgammon being played under beach umbrellas, and plastic chairs on the side of the road.
If you're peckish, this would be a good time to grab an ear of grilled corn from a roadside vendor – a common Middle Eastern/Lebanese snack – along with a cold drink of fresh juice.
Given the devaluation of the Lebanese pound (everyone's a millionaire in Lebanon), US dollars are readily accepted in most places and even in cabs, with change offered in local currency.
Depending on your starting point, you can keep walking until you reach the famous Raouche Sea Rock, also known as Pigeons' Rock, at the city's most westerly point. The two rocks stand like giant sentinels and are a popular pull for weekenders and visitors to the city.

The Raouché neighbourhood is well-known for its cliffside restaurants and cafes that line Avenue de Paris.

From Raouché, jump in a cab down to Zaitunay Bay (Zaitun is the Arabic word for olive), a development built on reclaimed land and completed in 2012.
The pedestrian esplanade was six years in the making and rapidly became a hotspot for eating, housing no fewer than 18 restaurants. There's a mix of chain eateries alongside home grown concepts. Karam Al-Bahr is a good spot for some Arabic food in upscale surroundings.
From the bay, wander across to the Four Seasons for a drink at the Rooftop Bar. From the 26th floor you'll have an unparalleled view of the city, the mountains and the sea. There's a tapas menu if you're peckish and the drinks list is a mix of cocktails, coolers, wine and smoothies.
You'll be well served to take refreshments in the late afternoon as people tend to eat late in Beirut – and you don't want to be sitting in an empty dining room wondering where all the action is.
When it comes to the evening pursuits of drinking, dining and socialising, Beirut has it all, from fine dining establishments to tiny Martini bars.
Unless you're heading somewhere really fancy it's easy to get into places without booking ahead or paying for entry at the door, although it helps to be well dressed.
Gemmayzeh (a street and a district) is artsy, with lots of interesting bars and restaurants. Centrale is a popular choice for its cutting-edge interiors and is a good place to start your evening.
The restaurant is on the ground floor of an historic townhouse, the interior of which has been decked out in modernist, cube-like décor. A lift (with sofas, no less) takes you to the bar, housed in a giant cylindrical space with a retractable roof, offering stunning views of the city. Centrale is well known for its extensive wine list, but the cocktails are fantastic too.
The Angry Monkey is a bar with more of a pub feel to it if you fancy taking it easy on your first night without having to compromise on drinks quality or atmosphere. The interior walls are noticeable for their unabashed display of bullet holes still in place from past conflicts.
End the evening with a nightcap in Behind the Green Door, named after a famous 1970s porn film. There's no signage, only an unmarked green door manned by bouncers at the weekend.
The inside is also a bit '70s in its love of velvet but, luckily, the theme stops there. You can get all kinds of drinks here: play it safe with a Negroni or, if you want to make like the locals, the Dou-Dou is a shot of vodka, olive juice and Tabasco. Any more than four will have you back at your hotel much later than intended…

Angry Monkey is just one of Beirut's buzzing bars you could easily lose an evening to.​

DAY 2
The best way to get a feel for Beirut is to move away from the centre. A cable car runs from Jounieh, a coastal town 16km north of Beirut. 'Retro' would be a nice way to describe the cable car operation as it was built in the mid-'60s but, despite a few creaks during the 15-minute ascent, the journey is a great way to see the city and its coastline.
You'll be deposited at the mountaintop village of Harissa, home to Our Lady of Lebanon, a 13-tonne bronze statue of the Virgin Mary painted entirely in white.
Built in 1907, it was erected in honour of Lebanon's patron saint to its multi-faith citizens. It's a great vantage point over the city and a great spot for photographs.
The statue is flanked by the huge, modern brutalist-style cathedral and the Greek Byzantine St Paul's basilica, which are also worth capturing on camera. Return to sea level the same way you came and head to downtown Beirut for a late lunch.
Le Gray Hotel is well located between Martyrs' Square and the Beirut Souks. Grab an al fresco bite at Gordon's Café on the hotel's street level, then stroll around the regenerated central and downtown districts, some of them rebuilt from the rubble as exact replicas of what was destroyed by warfare.
Grab some dinner at Joe Peña's – one of the few local restaurants serving South American cuisine. In addition to the excellent menu and pitchers of margaritas, Penas benefits from a sizeable terrace with lush tropical landscaping.
After dinner, catch a taxi to Mar Mikhael, an Armenian neighbourhood full of bars, restaurants, cafés and art galleries.
Try Urban Factory for excellent cocktails in gentrified surroundings, Central Station for sophisticated sipping at the long bar that runs the length of the room and Rustique for cocktails in more rustic (surprisingly) surrounds.
Your final call in this neighbourhood should be Anise. It has an old-world feel, replete with traditional tiled floors, floral wallpaper and traditional bartenders' uniforms, and specialises in Lebanon's time-honoured spirit, arak.
This is the place to try regional varieties served in the traditional way – with water, ice and mint. Don't miss the twist on tradition – arak served with sharab el toot – the sweet syrup of Lebanon's mulberries.

Don't leave Beirut without trying its local speciality – arak. Anise in Mar Mikhael has a menu brimming with traditional serves.​

By this time places will be starting to fill up. Head to Iris – it won't be any less crowded, but its location at the top of the An Nahar building is spectacular and the atmosphere is always buzzing. It's a good place to meet people and chat over a few al fresco drinks.
Once you've made a few friends, you shouldn't have any trouble convincing them to head to B018, a nightclub located in a old bomb shelter. The atmosphere of the place is legendary and its pièce de resistance is its retractable roof, allowing you to party under the stars.
You can dance here until 8am if you like but, at whatever point you decide to leave, be sure to stop for mana'eesh – a type of Lebanese flatbread/pizza served with a variety of toppings or fillings – to soak up the excess. Try the lahm bi ajin – a traditional pizza topped with spiced lamb and flavoured with fresh lemon or pomegranate molasses.
GETTING THERE
Airport: Beirut Rafic Hariri Airport (BEY).
Entry: Tourist visas can be acquired on arrival, but check with your passport office before travel for details.
Transport: The easiest way into the city is by airport taxi. Once in the centre, you can easily spot a taxi if it looks like a Mercedes that's on its last legs. Taxi Service is a cab-sharing option, although your Arabic may have to be up to scratch.
WHERE TO STAY
Intercontinental Le Vendome
A Beirut old timer, Le Vendome has hosted celebrities, politicians, and royalty and is still going strong. The hotel's main attraction is its location, almost directly on the Corniche.
The Phoenicia
Another Intercontinental property but on a larger and grander scale, the Phoenicia has a more modern touch. Its poolside bar, Amethyste, is the place for sundowners or a nightcap.
Le Gabriel
Located close to Achrafieh district, Le Gabriel serves well as a business and leisure hotel. Not in the most fashionable part of town, but easier to get a booking in and more reasonably priced.
O Monot
If you're more sleek than stately, the O Monot is the place for you – modern, luxurious and high-gloss with décor that is minimalist and comfortable. Key attraction: the rooftop terrace.
The Albergo
The place for rest in beautiful surroundings. Nestled down a side street of the old quarter and close to Gemmayzeh and Monot, this hotel in a mini-mansion offers peaceful sanctuary from a city that never sleeps.