Edinburgh is cementing itself as a whisky destination with four new distillery projects and the multi-million-pound Johnnie Walker experience, but could the city become Scotland's new whisky tourism capital? Becky Paskin reports.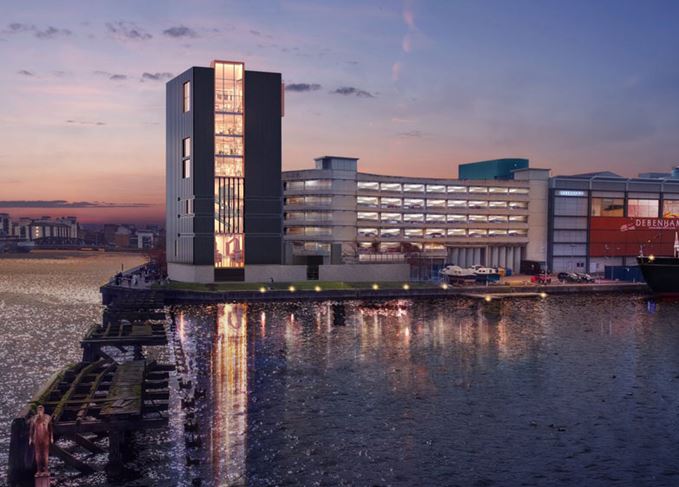 When Edinburgh's last operational malt distillery closed in 1925, whisky tourism was a laughable concept. Distilleries were considered factories, focused on producing spirit in environments not exactly designed to safely accommodate curious members of the public.
Now, over 90 years later, Scotch whisky tourism is at an all-time high. In 2017 there were 1.9 million visits to Scotch distilleries from tourists from all over the world, who spent almost £61 million between them. Whisky producers across Scotland have realised the value of the tourist pound and have invested – and continue to invest – in incorporating world-class visitor facilities at their 'factories'.
Of the 800,000 people visiting Moray Speyside each year, three out of five stop by a distillery for a tour, cup of tea, bite to eat or a browse of the whiskies on sale. The density of distilleries in the region – there are 51 operational sites – coupled with the draw of various outdoor pursuits, visitor attractions and breath-taking scenery, make Speyside a popular destination with international whisky enthusiasts, as well as those unfamiliar with the drink.
But what about Scotland's capital? Edinburgh is the second-most visited city in the UK, attracting over two million overseas visitors each year and yet, despite its rich whisky distilling and blending heritage, for 30 years the Scotch Whisky Experience on Edinburgh's Royal Mile has been the city's only real whisky visitor attraction. Supported by many of the largest Scotch distillers, the centre, which offers an interactive educational tour, an on-site restaurant and whisky shop, has maintained a vital presence for Scotland's largest food and drink export in the country's most-visited city.
Just two distilleries have continued to operate in the city since Glen Sciennes closed in 1925. There's the colossal North British grain distillery, whose aroma of warm Shreddies permeates west Edinburgh's air on a breezy day, but whose gates, in true Willy Wonka fashion, are firmly closed to the public. Meanwhile Glenkinchie, the closest working malt distillery, is a 15-mile drive from the Royal Mile – hardly an easy visit for time-strapped tourists flying into town for a quick weekend getaway.

Attractive qualities: Edinburgh is establishing itself as a major whisky tourism destination

But all that is about to change. Three decades after the Scotch Whisky Experience opened there are now four new distillery projects underway, a major revamp for Glenkinchie in the works plus the impending construction of a multi-storey Johnnie Walker whisky experience, which is by itself expected to boost tourist spend in Edinburgh by around £135m.
With a greater choice of new attractions providing the opportunity for visitors to further their whisky experience, twice the annual footfall of Speyside and countless shops and bars to satisfy a craving, could Edinburgh soon become the epicentre of Scotch whisky tourism?
'Edinburgh has really been the honeypot of tourism for Scotland and now with the growth of whisky tourism it's very exciting,' says Susan Morrison, chief executive of the Scotch Whisky Experience, which welcomed around 400,000 visitors in 2017. To put that in perspective, Edinburgh Castle and the National Museum of Scotland, the top tourist attractions outside of London, both attract over two million visits annually.
'We capture an element of [Edinburgh tourists] but we don't by any means capture all visitors, so the more of us around that do that, the better. There's room for a lot more whisky attractions in the city, which will help us capture more of the visitors that come to Edinburgh than currently we manage to do ourselves here at the top of the Mile.'
Just last week Diageo's multi-million-pound, seven-storey Johnnie Walker whisky experience was given the green light by city planners. Situated within the former House of Fraser store on Princes Street, right in the city centre, the attraction will feature an immersive 'multi-sensory' experience guiding visitors through the art and science of whisky making as well as the 200-year history of the blended Scotch brand. A rooftop bar – which is yet to receive licensing approval – will offer views of Edinburgh Castle and across the city skyline, while a 'significant' ground-level shop will provide tastings and whiskies from the Johnnie Walker and Diageo range.

Whisky wonderland: The Johnnie Walker Experience features seven floors of Scotch

The attraction forms part of a £150m investment by Diageo in improving its Scotch whisky visitor experiences, including at Glenkinchie. Cristina Diezhandino, Diageo global Scotch whisky director, says the group expects the Johnnie Walker Experience to attract the same level of interest as its Guinness Storehouse in Dublin, which welcomes 1.71m visitors each year.
'As the centrepiece of the investment and the future global brand flagship for Johnnie Walker, the visitor experience in central Edinburgh, opening in 2020, will bring to life the story of the brand and its makers and create a unique welcome for millions of whisky fans around the world,' she says.
'By offering such a cutting-edge space – which combines experiences with the diversity and rich heritage of Johnnie Walker – we are offering something new that will excite both whisky lovers and those new to Scotch. We have ambitious plans to make this a truly world-leading attraction.'
In the meantime, the revival of the John Crabbie name, one synonymous with Edinburgh's 19th century blending heritage, is well underway. Brand owner Halewood International began distilling single malt spirit at Chain Pier, a small site at Granton Harbour in December 2018, although plans are to relocate its core single malt production to a larger premises in Leith later this year. The new £7m distillery, named Bonnington, is currently being built on Graham Street, near to John Crabbie's original premises at Yardheads.
The opening of Chain Pier distillery will be swiftly followed by Holyrood this July. Situated in the renovated Engine Shed on St Leonard's Lane, a 15-minute walk from the Royal Mile, Holyrood distillery has been built with the visitor experience at its heart. With an interactive distillery tour, bespoke cask ownership scheme and bright, attractive visitor centre, Holyrood expects to tour 45,000 visitors in its first year, building up to 200,000 by year five.

Immersive experience: Holyrood distillery will guide visitors through the whisky production process

Bill Farrar, sales and marketing director for Holyrood, says demand for a genuine distillery experience in Edinburgh is already high. 'We asked people if they could visit a distillery within 20 minutes of where they were they standing, would they? We don't have the room to take all those people if they were telling the truth.
'Holyrood is very much designed to appeal to a wide cross-section of people rather than just someone who's fanatical about single malt,' he adds. 'There's a really big demand for what we hope to do.'
Meanwhile, the construction on the uniquely designed, vertical Port of Leith distillery on the Firth of Forth is expected to commence imminently. Once completed, the £5m project will be the first Scottish whisky distillery to be arranged vertically, with the production process laid out from top to bottom. That's a major draw for whisky enthusiasts searching for a new distillery experience, although the rooftop bar and restaurant with views across the Firth will no doubt attract a less experienced crowd.
Although tourism spend at Edinburgh's new whisky attractions will no doubt boost the local economy, the impact is expected to be felt beyond the city limits and across the wider Scotch industry as whole.
'If there's more whisky attractions for tourists to visit in Edinburgh that inspire them to go further north, that can only be a great thing for whisky tourism in general,' says Morrison. 'With these new distilleries, Edinburgh will hopefully become a gateway to the rest of the whisky industry.'