As Johnnie Walker and Macallan invest big bucks in new, state-of-the-art visitor experiences, it's clear that whisky tourism is more popular now than ever before. So where are all these people flocking to? Matt Evans charts the most popular whisky attractions in the world.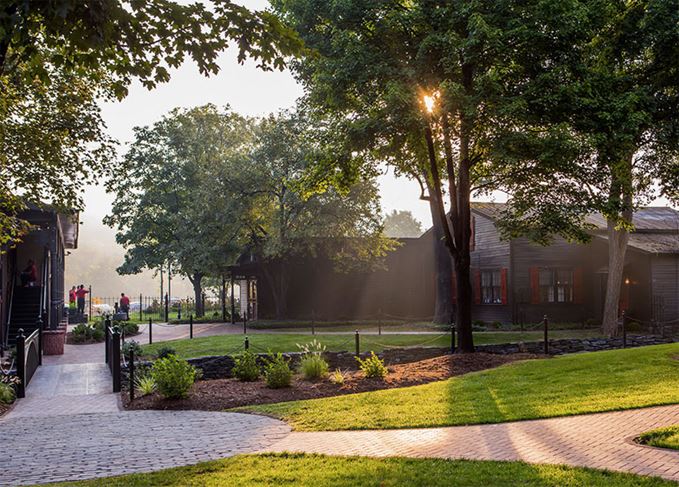 Macallan's new distillery is an architectural marvel. Blending into its rolling landscape like an enormous parody of Tolkien's hobbit-holes, Macallan has spared no expense on creating a five-star visitor experience. However, as project manager Adele Joyce said recently, Macallan has no desire to become 'the Disneyland of Scotch', preferring to maintain its numbers at about 50,000 visitors a year to keep the experience intimate.
But, if Macallan doesn't want to inherit whisky's theme park mantle, there are plenty who would step up. From Diageo's plans for an enormous Johnnie Walker experience to be built in Edinburgh, to the Pitlochry-based Blair Athol, the home of Bell's, which recently installed a circular bar made from the inside of a recycled mash tun, it's clear that whisky tourism is encouraging investment in visitor experiences. More than £500m in the last five years, in fact.
Diageo's 12 Scottish distilleries alone welcomed 440,000 visitors last year, with its most popular attraction, Blair Athol, playing host to 80,000 punters. However, Scotland's busiest distillery in 2017 (according to Glasgow Caledonian University) was Glengoyne, which brought nearly 90,000 people through its doors.
Yet even Glengoyne is nowhere near as bustling as some of the biggest whisky attractions at home and abroad, which reach into seven figures on an annual basis.
So which whisky experiences are enticing thirsty newcomers and committed fans alike? These are the world's most visited distilleries and purpose-built tourist attractions.
1. Kavalan

Whisky landscape: Taiwan's countryside forms the backdrop for the world's most popular distillery


Where: 326, Section 2, Yuan-shan Road, Yuan-Shan, Yi-Lan, Taiwan
Book: kavalanwhisky.com
Annual visitors: 1.23m in 2015
Standing head and shoulders above the rest is Kavalan. On one level, it's no surprise – the Taiwanese distillery has been snapping up award after award for years, with its Solist Fino Sherry Cask named 'best new whisky of the year' by Jim Murray in 2012 and the distillery winning 'Visitor Attraction of the Year' in the World Whisky Awards two years running. But why should you pay a visit?
It helps that the Kavalan production facility is enormous, offering hourly tours, family-friendly nature reserves (a garden featuring hundreds of rare orchids is on-site, while the scenic Taiyangpi Lake is a stone's throw away) and a free tot of whisky to all those who take the tour.
Kavalan also shares a home with Mr Brown, a canned ready-to-drink coffee ubiquitous in Asia and valued by Western coffee geeks as a worthwhile curiosity. It also helps that the air-conditioned distillery offers respite from the blistering Taiwanese heat.
More exciting for whisky devotees, however – and there are a lot of them in Taiwan – is the chance to head to the quiet tasting room and try a selection of Kavalan's Solist range. This small country is the world's sixth-largest export market for Scotch, and whisky is commonplace in business and bar culture alike.
As one of only two Taiwanese distilleries, Kavalan draws in the home crowd thanks to this ravenous enthusiasm, as much as it does those visiting the country. If you're in Taiwan, make the pilgrimage to try some of the world's top-rated whiskies while gazing out onto lush, rolling forests.
2. Kentucky Bourbon Trail

Pure Americana: The Bourbon Trail offers the promise of a great American road trip


Where: Kentucky, US
Book: kybourbontrail.com
Annual visitors: 1.19m in 2017
Following on Kavalan's heels is a joint effort from 23 different distilleries, which should put the Taiwanese brand's mammoth achievement into perspective. Regardless, the Kentucky Bourbon Trail is well worth traversing in its own right, as the combination of some of the world's best whisky and the prospect of your own great American road trip is enough to make an event out of it. Bonus points if you're in a classic American muscle car or, even better, a Harley-Davidson.
Picking up a Bourbon trail 'passport' allows you to hop from distillery to distillery in, around and between Lexington and Louisville. The big dogs are all here, from Jim Beam to Wild Turkey and Evan Williams, but you can also visit lesser-known craft distilleries such as Hartfield and Co for a more intimate Bourbon experience. And, if you finish in Louisville, you can always visit the Pendennis Club, widely purported to be the birthplace of the Old Fashioned.
The passport is recommended, as with so many distilleries and 76 miles of Bourbon country to discover, you'll likely get plenty of use out of it. When it comes to transport, it's more cost-effective to set aside the Harley for a group minibus or a van – at least then you can drink.
3. The Scotch Whisky Experience

Collector's item: The Claive Vidiz collection is a draw for dedicated whisky enthusiasts


Where: The Royal Mile, 354 Castlehill, Edinburgh, Scotland
Book: scotchwhiskyexperience.co.uk
Annual visitors: 378,000 in 2017
For those of us with an insatiable passion for Scotch, it's easy to forget that most visitors to Scotland view whisky as nothing more than a curiosity. Consequently, the Scotch Whisky Experience, situated a few minutes from Edinburgh Castle on the city's famous Royal Mile, tends to be an inoffensive, easily digested first encounter with the spirit.
Comprising an introductory tour of the whisky-making process (neatly combined with a Pirates of the Caribbean-esque barrel ride), a brief talk and a tasting, the Scotch Whisky Experience also plays home to the Diageo Claive Vidiz whisky collection, an impressive 3,384 historic bottles of whisky in an imposing marble and glass vault.
A tightly-run ship situated in the middle of a bustling city, the Scotch Whisky Experience conducts tours in more than 20 languages and plays host to its own restaurant and whisky bar. A slick operation perfect for newcomers.
4. Jameson Distillery Bow St

Irish charm: Bow Street's central Dublin location draws in the crowds


Where: Bow St, Smithfield Village, Dublin 7, Ireland
Book: jamesonwhiskey.com/uk/visit-us/jameson-distillery-bow-st
Annual visitors: 350,000 in 2017
A bit of a misnomer here: Jameson Distillery Bow St is no longer a distillery. Now that production has been moved to Midleton in Co Cork, the original distillery operates as a comprehensive, effective tourist trap.
Much like the Scotch Whisky Experience, Bow St's Dublin location serves it well as Irish whiskey's leading destination for curious visitors, diehard whisky fans and rowdy stag and hen dos.
In addition to tours of the interactive educational displays, Bow St is run like a big, welcoming whisky bar, offering group bookings for cocktail masterclasses, a blend-your-own-whiskey workshop and the opportunity to draw and taste from a Jameson cask – likely the key selling-point for single cask aficionados.
Thanks to these sterling efforts and a welcome Irish tourism boom, Bow St has garnered several accolades, notably a 'Best International Experience' Themed Entertainment Award. In response to its status as the world's most famous Irish whiskey, Jameson has taken great pains to ensure that its flagship experience is world-class.
5. Jack Daniel's distillery

Gentleman Jack: Quintessential Southern hospitality marks the JD experience


Where: 280 Lynchburg Hwy, Lynchburg, TN 37352, US
Book: jackdaniels.com/en-gb/visit-us
Annual visitors: 282,000 in 2017
The ubiquitous, unpretentious nature of Jack Daniel's Tennessee Whiskey has helped ensure that it cracks the top five. Its hometown of Lynchburg is fairly unremarkable and out-of-the-way for most tourists, so the distillery's ability to draw in serious numbers is a testament to the relentless marketing of Jack Daniel's as the lifestyle brand of American whiskey.
The tour itself comes in several flavours, from whistle-stop coach tours that last less than 30 minutes, whiskey in hand, to a leisurely amble around the distillery and storehouses, followed by a two-course meal at the attached Miss Mary Bobo's Boarding House.
All exposed, warped wood and laconic banjo riffs, the entire operation could feel like it was designed by committee to feel as authentically Jack Daniel's as possible, and consequently one might lose a little genuine authenticity. Regardless, the distillery is a testament to the appeal of good old-fashioned Southern hospitality.