On 25 January, people the world over will gather to celebrate the birth of Scotland's national poet Robert Burns. So to mark the occasion, we've collated a selection of Scotch whisky cocktail recipes from some of the world's most esteemed bartenders, designed for both novice and expert cocktail makers alike.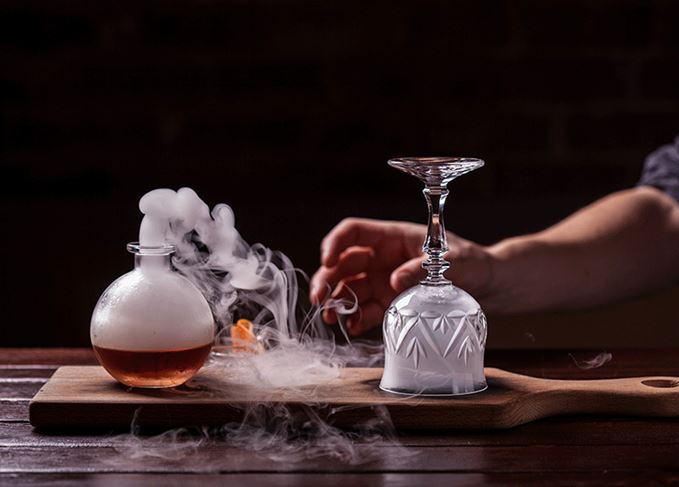 On 25 January each year, poetry fans around the globe gather to celebrate the birthday of Scottish poet Robert Burns.
Born on this date in 1759, it has become a long-standing tradition for friends and family to assemble for a Burns Night supper of haggis and merriment, which wouldn't be complete without a dram, or two, of Scotch whisky.
Burns frequently referenced Scotland's native spirit in his writing, including Tam O'Shanter, Scotch Drink and The Author's Earnest Cry and Prayer, which are often quoted as toasts during Burns Night supper celebrations. And to enhance the celebrations this year, we've sourced a selection of Scotch whisky cocktail ideas from some of the best bartenders in the business.
But if you'd rather leave the cocktail making to the pros, there are one or two Burns Night cocktail offers and events included below that are sure to provide ample enjoyment.
For Rhyme nor Raisin, The Sun Tavern, London, UK
Ingredients:
40ml Glenfiddich 12 Year Old
10ml Raisin-infused amontillado Sherry
20ml Cocchi Torino sweet vermouth
2 dashes The Bitter Truth Pimento Dram
Stir all ingredients together over ice in a mixing glass and strain into a Sour or Nick and Nora glass.


The Smokey Rob Roy by Andy Griffiths, Eau de Vie, Melbourne/Sydney, Australia
Ingredients:
20ml Talisker 10 Year Old
10ml Johnnie Walker Double Black
10ml Cigar-infused Ron Zacapa 23 Year Old rum
30ml Sweet vermouth
2 dashes orange bitters
Stir ingredients over large ice cubes. Strain into a cold glass beaker or small, stylish whisky jug. On a piece of slate/ceramic plate, blowtorch some oak chips until they are smoking. Invert a frozen brandy balloon or coupette and place over the chips to extinguish the embers and smoke the glass. Place the beaker or jug of cocktail on the slate and serve with a whisky-soaked cherry and orange twist.


Classic Penicillin, Oriole, London, UK
Ingredients:
45ml Dewar's 12 Year Old
20ml Ginger liqueur
15ml Honey
Juice of half a lemon
1 Egg white
Shake ingredients until chilled. Serve topped with peated whisky and gingerbread dust.

Rattlesnake by Jesse Vida, BlackTail, New York, US
Ingredients:
15ml Tea-infused Laphroaig
30ml Green Spot Irish whiskey
2 dashes Chocolate Mole bitters
2 dashes Peychaud's bitters
30ml Lemon juice
20ml Fennel root syrup
7ml Dolin Blanc vermouth
7ml Dry vermouth
1 Egg white
Shake all ingredients hard with ice, then pour into a Sour glass. Twist a lemon peel around the glass to add a touch of lemon oil.


(Photo: Kevin Williams)
Hot Bobby, by Bobby Hiddleston, London Cocktail Club, London, UK
Ingredients:
30ml Monkey Shoulder
20ml Martini Rubino
10ml Bénédictine
10ml Honey syrup
3 dashes Angostura bitters
75ml Hot water
Pour all ingredients into a wine glass and top with hot water. Garnish with a lemon wheel with five clove studs.
Golden Goose by Bryan Tetorakis, Polite Provisions, California, US
Ingredients:
60ml Famous Grouse
20ml Nonino Amaro
7ml Giffard banana liqueur
1 dash Scrappy's chocolate bitters
1 dash Angostura aromatic bitters
Grated nutmeg
Stir all ingredients apart from nutmeg in a rocks glass over ice. Garnish with grated nutmeg.

Morning Skye, #LoveScotch Scotchtail Masterclass, The Drift, London, UK
Now, if you'd rather receive a lesson first-hand in how to make some of your favourite whisky cocktails, then why not try your hand at a Scotchtail Masterclass at London venue The Drift? Having partnered with Diageo Reserve for the #LoveScotch pop-up, guests can learn how to put a spin on two or three classic cocktails by swapping in Scotch. Cocktails include the Morning Skye, pictured above, which is a twist on the Espresso Martini and made using Talisker 10 Year Old, espresso and gingerbread syrup. Masterclasses cost £20 per person for two cocktails, or £30 for three.


The Chieftain, The Bon Vivant, Edinburgh, UK
But for whisky fans in Edinburgh looking to let someone else make the cocktails this Burns Night, you may be interested in visiting The Bon Vivant, which has teamed up with Glen Grant to create a Burns' supper-inspired cocktail. The Chieftain is made using an oat-washed Glen Grant 10 Year Old combined with offal stock glaze, salt and pepper air, pickled red onion, turnip cordial and haggis butter crumb. Priced at £9 per cocktail, The Chieftain is a limited edition offering only for Burns Night.