Burns Night on 25 January is an annual celebration of all things Scottish, and our first good excuse for a knees-up post-New Year's Eve. So if you're feeling jaded after returning to work after the holidays, here's Emma Eversham with five of the UK's finest Burns Night Suppers with which to treat yourself.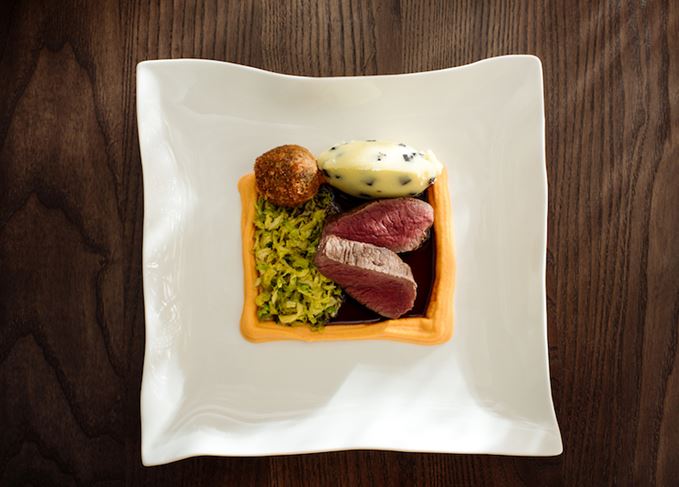 Burns Night is the one night of the year when it's practically law to indulge in Scottish food and a dram (or two) of Scotch whisky.
It's also the time to celebrate the legacy of Robert Burns, Scotland's national bard and a man who wasn't shy about praising whisky in his work – or, indeed, involving himself in whisky politics.
Perhaps you're adventurous enough to organise your own Burns Supper, complete with traditional toasts and even, perhaps, the odd Burns Night cocktail to bring things up to date.
But for those looking to mark the occasion with some top-notch dishes and well-matched whiskies – without having to cook or do the washing-up – here is our selection of Burns Night Suppers being held in restaurants around the UK on 25 January.
Royal Mile Feast

Burns celebration: Tradition and innovation awaits at Wedgwood the Restaurant

The place: Wedgwood the Restaurant, Edinburgh; wedgwoodtherestaurant.co.uk
The whiskies: Bailie Nicol Jarvie 8 Year Old, Old Pulteney 12 Year Old, Glenkinchie 12 Year Old, Wedgwood Whisky, Bunnahabhain 12 Year Old and Macallan Gold.
The supper: The traditional Burns Night star – haggis – makes just a small guest appearance on Wedgwood's Burns Supper menu, as the support act to a loin of Perthshire venison. Served with a glass of the restaurant's very own Wedgwood Whisky and sourced from the Ardnamurchan Estate, the dish is one of six courses designed to celebrate traditional Scottish dishes and ingredients in an innovative way.
Scotch broth with mushroom soda bread, matched with Bailie Nicol Jarvie blended Scotch, kicks off the feast, with Douglas fir-cured salmon, grapefruit, sorrel and rye paired with Old Pulteney to follow.
Sound of Mull scallops, smoked haddock and cullen skink are served with Glenkinchie, before the above mentioned venison dish makes its appearance.
Two desserts follow – cranachan and clootie dumpling with honeycomb and whisky ice cream, both paired with Macallan Gold. Guests also have the option of adding a selection of cheeses paired with Bunnahabhain 12-Year-Old.
Co-owner Lisa Wedgwood says she believes it's important to 'showcase a a wide range of Scotch whisky' to complement the menu, which celebrates the best of Scottish cuisine.
'The whisky flight has a good spread of malts from Speyside, Highlands and Lowlands, and I'm really pleased that people will have the opportunity to taste our very own Wedgwood Whisky,' she adds. 'It has a lovely, smooth, rounded finish which will bring out the sweetness of the Perthshire venison and haggis main course.'
The cost: £55 for six-course meal (£5 supplement for cheese course) and £35 for paired whisky flight.
Canalside Celebration

Founder's Reserve: Three Glenlivet single malts are the focus for the Rotunda's supper

The place: Rotunda Bar & Restaurant, London; rotundabarandrestaurant.co.uk
The whiskies: The Glenlivet Founder's Reserve, 15 Year Old and 18 Year Old.
The supper: A selection of Scottish small plates have been chosen to match three Glenlivet whiskies at Rotunda's canalside bar and restaurant on 25 January.
Following a Hot Toddy on arrival, guests will be served four different dishes: whisky-cured Scottish salmon, potato cake and sour cream; cullen skink; haggis, neeps and tatties with whisky sauce; and that modern Scottish classic the deep-fried Mars bar to round things off.
A Glenlivet ambassador will be on hand to talk through the chosen whiskies to match up to the punchy flavours of the selected dishes – Founder's Reserve, 15 Year Old and 18 Year Old – while also performing the Address to a Haggis.
The cost: £29.50 for four small plates and whiskies.
Scottish Classics in Cornwall

Due south: Head chef Richard Massey used to live on the Isle of Skye

The place: Old Quay House, Fowey Cornwall; theoldquayhouse.com
The whiskies: Bruichladdich The Classic Laddie, Caol Ila 12 Year Old, Haig Club, Glenfiddich 12 Year Old, Glenmorangie Original.
The supper: This quayside restaurant and boutique hotel is really pushing the boat out with this seven-course tasting menu and a range of whiskies to match each dish.
The traditional haggis, neeps and tatties are re-purposed into canapé form to give space to other classic dishes such as kedgeree, which is matched with Bruichladdich's unpeated single malt The Classic Laddie; smoked haddock soup cullen skink, matched with Caol Ila 12 Year Old; and hot smoked salmon and beetroot (served with a dram of Haig Club).
The meat dish – stovies – is accompanied by Glenfiddich 12 Year Old, while traditional Scottish dessert cranachan is served with the creamy and fruity Glenmorangie Original, after a pre-dessert paired with a Rusty Mule cocktail.
Head chef Richard Massey, who moved to Cornwall from the Isle of Skye two years ago, worked with the front-of-house team to find the best whiskies to pair with his dishes.
'The vast varieties of flavours found in whiskies make them ideal for food pairings,' he says. 'The kedgeree, for example, is a strong smoked haddock flavour served with curry, so it needs a light and refreshing whisky to go with it. The Classic Laddie, an unpeated Islay single malt, is the perfect fit.'
'Cranachan, on the other hand, is rich and creamy with toasted oats. We chose the Glenmorangie Original to go with this dish, as the honey and malt flavours in the whisky really elevate the dessert.'
The cost: £55 for seven-course meal and whiskies.
Country Retreat

Sussex luxury: Toast Robbie Burns amid the elegance of Ashdown Park Hotel

The place: Ashdown Park Hotel, East Sussex; ashdownpark.com
The whiskies: Whisky cocktail 'The Nessie', featuring Macallan Gold.
The supper: Guests arriving at this neo-Gothic hotel in the heart of the Ashdown Forest will be treated to music from a traditional Scottish piper and a whisky cocktail named in honour of the Loch Ness monster before sitting down to their Burns Night feast.
'The Nessie' features Macallan Gold mixed with ginger ale, orange liqueur and rose vermouth and, with its 'orange and ginger aroma', seemed like the 'perfect choice' to kick off the evening, according to the hotel's lounge and bar manager Tamas Mehes.
Executive head chef Byron Hayter's menu sticks firmly with tradition: cock-a-leekie soup to start with; followed by neeps, tatties and haggis; then sirloin of beef with fondant potato, wild mushrooms and spinach; and a dessert of cranachan.
The cost: £69 for a whisky cocktail, four-course meal, and coffee and petits fours.
Castlehill Supper

In the room: Three whiskies from Glengoyne feature on Cannonball's Burns menu

The place: Cannonball Restaurant & Bar, Edinburgh; contini.com/cannonball
The whiskies: Glengoyne Cask Strength, Glengoyne 18 Year Old and Glengoyne 15 Year Old.
The supper: With a private basement dining room created in partnership with Glengoyne and named The Glengoyne Room, it is hardly surprising that Edinburgh restaurant Cannonball has chosen three whiskies from the Dumgoyne distillery for its Burns Night event.
However, while a quick decision could be made on distillery, much care and attention has been made to select the ingredients for the dishes on offer and their accompanying whiskies.
Guests can warm up with a starter of Findlay's of Portobello Haggis with East Lothian organic neeps and tatties alongside Glengoyne Cask Strength, before tucking into Gilmours' slow-braised beef cheek with char-grilled fennel, parsnip and horseradish purée and rosemary mash, paired with Glengoyne 18 Year Old.
'Haggis is a bold dish and needs a whisky which will stand up to its meaty, oaty, spicy flavour,' explains Lydia Millar, Cannonball's whisky expert. 'Glengoyne Cask Strength does just that. Its peppery finish matches haggis perfectly, while the tropical fruit flavours match our star anise-pickled turnip and serve to lighten the dish.
'Glengoyne 18 Year Old is luxury in a bottle. The flavours of our earthy beef cheeks and smoked bacon lardons, matched with this rounded, fruity whisky, are the perfect juxtaposition.'
Dessert is the traditional cranachan served with Glengoyne 15 Year Old.
'Glengoyne 15 Year Old is a perfect dessert whisky – rich and complex, packed full of nutty, toffee notes, while still showcasing a youthfulness which will not overpower the delicate blend of flavours in our cranachan,' adds Millar.
The cost: £50 for three-course meal and whiskies.