What better way to compliment, or offend, your guests and friends than with a traditional Scottish toast? With Burns' Night approaching, we asked the whisky industry to name some of their favourites.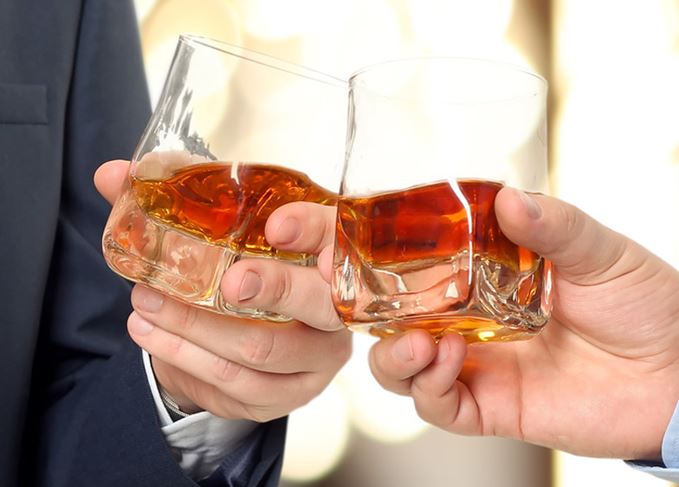 Whisky, kilts and Robert Burns aside, the Scots are most renowned for their rousing – and often lengthy – toasts around the dinner table.
In the company of friends and guests it's customary for the host to perform a traditional toast with a raised glass, although the subject and depth of compliment, or even insult, can vary wildly.
Scottish toasts can be whipped out at any social occasion where a dram is being shared among friends, although the most fitting moment is at a Burns' Night supper – an evening devoted to celebrating the life and lyrics of Scotland's most famous poet.
There is of course an order of service to a traditional Burns' Night supper, but it is the host's prerogative to choose which toasts to present. There is no obligation to favour the work of Burns either – variety is the spice of life after all – and there are a breadth of poets, bards and authors to choose from. Picking the most appropriate passage to suit the room, the audience and style of event is key – avoid insulting elderly in-laws and save the naughty toasts for those with a sense of humour.
Whether you're hosting a Burns' Supper or would like a pithy poem to share with your friends over a dram, there is a toast for everyone.
To make it easier to choose the right one(s) for you, we asked some well-known Scotch whisky personalities to share their favourites, for Burns' Night and beyond.

Ann Miller, global brand ambassador, Chivas Brothers
My preference would be a toast or a Grace before the meal:
Lord keep our pots distilling weel
Lord send the excise man to the de'il
Lord bless our couthy meal
Amen


Ewan Morgan, national director, Diageo Masters of Whisky
There are a few that always get a good response, although people here in the US usually ask for translation for the first:
Here's tae us
Wha's like us
Damn few,
And they're a' deid
Mair's the pity!
– Scottish toast of 19th century origin
May those who live truly be always believed,
And those who deceive us be always deceived.
Here's to the men of all classes,
Who through lasses and glasses
Will make themselves asses!
I drink to the health of another,
And the other I drink to is he
In the hope that he drinks to another,
And the other he drinks to is me.
– Rev Edward Bannerman Ramsay, Reminiscences of Scottish Life and Character


David Stewart, malt master, The Balvenie
Not being that comfortable with speeches, I'd probably keep it brief and maintain a whisky theme. It's hard to beat: 'Freedom an' whisky gang thegither! Take aff your dram!' (Robert Burns).


Richard Paterson, master blender, Whyte & Mackay
There are of course many toasts at a Burns supper but for me the one that captures the sentiments of the night are the lines taken from Burns' most famous poem, Tam O' Shanter:
Inspiring bold John Barleycorn!
What dangers thou canst make us scorn!
Wi'tippeny, we Fear nae evil;
Wi'usquabae, we'll face the devil!


Bill Lumsden, head of whisky creation, The Glenmorangie Co.
My favourite whisky toast is a bit tenuous – and slightly naughty. I like to end with: 'To our wives and girlfriends – may they never meet.'


Georgie Bell, global brand ambassador, Mortlach
The raising of glasses and 'cheers' is a universal language, yet wherever I travel I'm intrigued by the other 'traditional' ways of cheers-ing. Turn it into a game and see how many you can think up while going round the table. This year I'll be in Budapest for Burns' – so Egészségére!


Charles Maclean, whisky expert
Properly conducted the toasts at a Burns supper can save the day, but they must be entertaining otherwise the sated company will become somnolent.
The keynote toast is to 'The Immortal Memory of Robert Burns'. Too often this is mawkish, dreary and too long. The company becomes irritable and restless; they may even start talking among themselves. Keep it short: anecdotes and curiosities are good, as are occasional quotations. But remember that the speech – indeed the whole event – celebrates our national poet: no adverse criticism or snide remarks are allowed.
The Immortal Memory is followed by 'The Toast to the Lasses' and 'The Reply' to this toast. Both these speeches offer opportunities to be rude about the opposite sex; better to be witty, but essential to be amusing.
There is no reason why further toasts should not follow. When King George IV visited Edinburgh in August 1822, forty-seven toasts were pronounced in his honour. Your non-Scots guests may think this excessive. Since toasts are always made standing up, the rounds can continue until nobody can rise to their feet.
However, this is my favourite Burns toast:
Here's a bottle and an honest man –
What would ye wish for mair, man.
Wha kens, before his life may end,
What his share may be o' care, man.
So catch the moments as they fly,
And use them as ye ought, man.
Believe me, happiness is shy,
And comes not aye when sought, man.