As the temperatures soar you may be tempted to reach for that cold white wine or beer, but don't forget whisky can make the perfect summer refreshment too. Beat the heat with these enlivening summer whisky cocktails, as recommended by your friendly neighbourhood bartenders.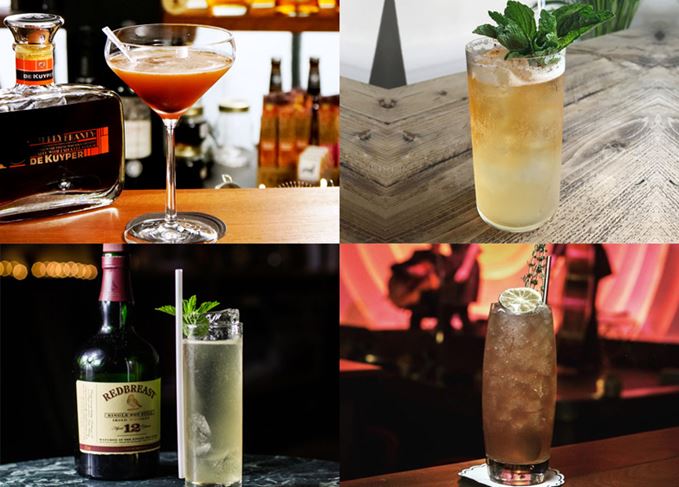 Whisky isn't just for reclining in front of a roaring fire on a cold winter's night. Whether kicking back in the sun at the end of a long day, or hanging out with mates at a barbeque, whisky should be your go-to spirit when the temperatures rise too.
You may not choose to enjoy a rich, heavily Sherried dram as the sun beats down, but pick a light, fruity number, add a little soda and a twist of lemon and you've got yourself a refreshing summer serve.
The world's best bartenders are not afraid to turn to whisky when whipping up summer coolers either, and have provided a selection of easy summer whisky cocktails for you to mix at home to beat the heat. Whether you just fancy a twist on a classic Highball or you're a seasoned mixologist looking for a new challenge, this is the only cocktail menu for you this summer.
Skullcup by Walter Pintus from Waeska, London

Fruity number: The Skullcup marries herbal tea with Dalmore's Sherried flavours


When you first set foot in Waeska, the flagship bar for Fitzrovia's Mandrake hotel, you are greeted by an enormous sculpture hanging over the bar – a porcelain springbok with the feathers of a peacock. As you can imagine, this is the bar for unorthodox combinations.
Walter Pintus, bar manager at Waeska, says: 'The Skullcup is a perfect and versatile warm weather concoction. It brings together wood with a hint of citrus brightness, alongside subtle herbal and fruit notes.'
The recipe does call for a few unusual, albeit easily-acquired ingredients – skullcap, a herbal tea said to reduce muscle tension and feelings of anxiety, and akvavit, a traditional herbal Scandinavian spirit, can both be picked up online.
Ingredients:
30ml Dalmore 15-year-old
30ml berry cordial
30ml skullcap tea
15ml akvavit
10ml lime juice

Method: Pour all ingredients in a tall glass with ice. Stir, garnish with a sprig of mint and serve.


Gaspari Manhattan by Mickael Perron from The Lanesborough Hotel, London

Rosemary's baby: A Mediterranean feel puts a summery twist on a classic cocktail


A five-star central London hotel, The Lanesborough is home to the magnificent Library Bar, where bar manager Mickael Perron reigns supreme. His take on the Manhattan offers a 'Mediterranean twist' thanks to a toasted sprig of rosemary. Can't make it to the Med this summer? Bring the holiday to you.
Ingredients:
50ml Balvenie 14-year-old Caribbean Cask
25ml sweet red vermouth
20ml Benedictine
Three dashes of bitters
Stem of rosemary
Method: Pour the whisky, vermouth and bitters in a mixing glass. Pour the Benedictine into a separate container with a few rosemary leaves.
Toast the rosemary over an open flame and leave it on the side. Add ice to the base drink, stir and add all the other ingredients, including the flaming rosemary stem. Strain into a Martini glass or coupette.


White Water by Mia Johansson from Swift, London

Go bananas: A booze-heavy Caribbean whisky serve is refreshing for a summer's eve


Swift's Mia Johansson has created 'a sipper that will take you to the Caribbean sunset' and claims the White Water is best paired with a good cigar. This may be in part due to its Ardbeg influence, which brings an element of smoke to an otherwise sweet cocktail. Johansson says: 'It's a tropical riff on a smoky Old Fashioned. The Jamaican spices from the falernum, with a bit of cloves, cinnamon and lime peel, makes the White Water a perfect drink for a summery evening cocktail.'
The most unusual ingredient here is velvet falernum, a rum-based Barbados sugar syrup that retails between £10 and £15.
Ingredients:
45ml Compass Box Great King Street
15ml Ardbeg 10 Year Old
10ml velvet falernum
5ml banana liqueur
Three dashes Angostura bitters
Method: Mix all ingredients over ice in an Old Fashioned glass and stir. Garnish with a lime twist.

Rickey by Jaz Arwand from The Worship Street Whistling Shop, London

Mint condition: With 'big, bold' flavours, Redbreast stands up to summer mixing


A cocktail from London's Victorian-inspired Whistling Shop, Jaz Arwand's twist on a classic Rickey offers soda infused with mint to add a cooling touch to an easy summer thirst quencher. 'For a summer bevvie, I picked easy refreshing ingredients and paired to a big, bold, balanced Irish whiskey,' says Arwand. 'The mint soda is simply made by infusing a sprig of mint in a litre of mineral water overnight, and then carbonating it.' Sodastreams at the ready.
Ingredients:
50ml Redbreast 12 Year Old
25ml lemon Juice
20ml sugar syrup
Mint soda to the top
Method: Build in a Highball glass full of ice and stir, garnishing with a sprig of mint.


Forbidden Fruit by Young Kim from Flatiron Room, New York

Tea time: Black tea and pomegranate helps the Forbidden Fruit stand apart from the crowd


Nestled between Sixth and Broadway, Flatiron Room is one of New York's premier whisky bars, playing host to over 1,000 drams alongside live jazz and, of course, some of the best whisky cocktails in the city. Its beverage director Young Kim presents the Forbidden Fruit, an innovative Whisky Cobbler variant.
'We've created a refreshing and thirst-quenching cocktail with black tea, pomegranate liqueur and Bourbon harmonising perfectly, making the Forbidden Fruit the quintessential summer-time cocktail,' says Kim. Pama, the pomegranate liqueur recommended, is stocked by most online retailers and priced around £25.
Ingredients:
40ml Bourbon
15ml Pama
10ml lemon Juice
10ml honey
For the black tea:
40ml black tea
2 sprigs rosemary
2 sprigs thyme
Method: Boil 225ml of water. Turn off the heat and add two bags of black tea and two sprigs of rosemary and thyme.
Leave it to cool. Add all the ingredients in a shaker with ice. Shake vigorously and strain into a Collins glass, garnishing with sprigs of thyme and a slice of lemon.


Silk Road Highball by Harry Brereton from Knight's Bar, London

Smooth as silk: With a little prep, you can have a Silk Road handy for any occasion


Although the menu at Knight's is largely gin-led, head bartender Harry Brereton has whipped up a Scotch cocktail for warmer days.
'This drink is perfect for sipping on a hot summer day, and can be batched in advance so you can make the most of the summer sun. The richness from the Scotch adds complexity and structure matched by the exotic flavours of infused coconut water,' says Brereton. With batched cocktails becoming increasingly common in bars, there's no reason not to have a few bottles of the Silk Road Highball in the fridge ready to go.
Ingredients:
30ml Dewar's 12 Year Old
5ml lime juice
For the infused coconut water:
700ml coconut water
30g sugar, ideally palm sugar
Lime, zested
Cinnamon stick, toasted
Star anise
Method: To make the infused coconut water, bring 700ml of coconut water to the boil with the sugar, cinnamon stick, lime zest and star anise. Simmer until sugar is dissolved, leave to cool and strain.
Fill a Highball glass with ice. Add the infused coconut water, lime juice and whisky. Garnish with a slice of cucumber and serve.


Boogalee by Little Bat Bar, London

Cold brewski: Beer and whisky go hand-in-hand in this refreshing tall drink from Little Bat


Sometimes in the throes of summer, nothing beats a beer with friends. It's the ultimate in comfort drinking, which is a feeling friendly neighbourhood bar Little Bat aims to cultivate. Little Bat's tall, IPA-topped concoction is easily approachable and served with lashings of ice, while a pinch of Cajun seasoning and apricot liqueur provide depth.
Ingredients:
25ml Monkey Shoulder
20ml lemon juice
10ml apricot liqueur
10ml sugar syrup
Pinch of Cajun seasoning
IPA to top
Method: Add all ingredients except the IPA into shaker and strain into a Highball glass over cubed ice. Top with IPA and garnish with a sprig of mint and cajun spice powder.


Blade and Sand by Stroo Despot-Olofsson from Blade Hairclub, London

Blade runner: Blade's take on a classic Blood and Sand features a touch of smoky Ardbeg


The 'hairclub' – equal parts unisex hair salon and bar – is a movement flourishing in London's super-trendy Soho. But it's not just the novelty of buzz cuts and Bourbon that draws the Soho it-crowd to Blade for a spot of hairclubbing: Stroo Despot-Olofsson knows his way around the bar. The Blade and Sand, the hairclub's ice-cold, vibrant slow sipper of a cocktail, is best enjoyed while being pampered, preferably next to a whirring fan on a warm evening.
Ingredients:
25ml Clynelish 14 Year Old
30ml blood orange juice
25ml cherry brandy
25ml sweet vermouth
5ml Ardbeg Uigeadail
Tiny pinch of salt
Dash of Abbott's bitters
Method: Pour all ingredients into a cocktail shaker, add plenty of ice and shake. Strain the cocktail into a chilled Martini glass. Garnish with a maraschino cherry on a cocktail stick and serve.