Whether you're looking to whip up a round of cocktails for an afternoon of barbecue entertaining or something to sip on as the sun sets on a late summer's evening, Ryan Chetiyawardana has picked three whisky tipples that can be easily recreated at home.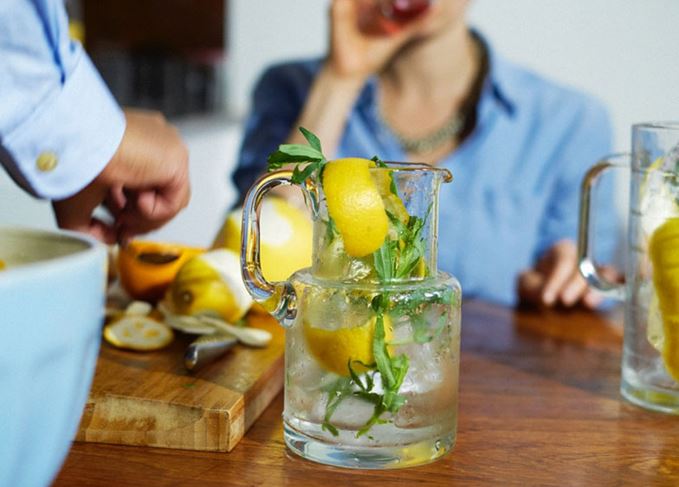 It's been great to see during my travels that Scotch whisky is being featured in summer cocktails. For so long, whisky was reserved for autumnal drinks and winter warmers, with the prestigious 'theatrical' serves of fine restaurants and five-star hotels reinforcing the after-dinner suitability of Scotch.
There have been a few things that have changed this tradition. One is the crumbling stigma surrounding the spirit; consumers, operators and producers alike are relaxing into how to enjoy a dram. Previously, it was just bartenders experimenting with fine whiskies – much to the chagrin of the producer and the monetary dismay of the consumer. But both worlds have evolved –producers now understand that bartenders are treating the product with care and attention, and consumers are enjoying the value and quality of the drink they're getting.
The other change is in the whiskies themselves. Age statements have become less associated with quality, and although I won't wade into NAS here, the ability producers have to display lighter, fruitier and greener profiles has changed. Not to mention the rise of single grain whiskies and the wave of new distilleries with their young products from both here in the UK and abroad.
Now, this isn't to suggest that summery serves are only suited to light or young whiskies. The key to finding a whisky cocktail that works in the sunny weather is to find a profile that fits the setting. Rich Sherry casks and dark and brooding drams don't reflect the need for clean, light flavours, and they dominate the other (lighter, cleaner) flavours on the table. 'Eat the seasons' to me isn't only reflective of the products available, it's a mentality that suggests shaping your food and drinks to fit the mood and the scenarios you find yourself in with friends during this time.
So I find myself reaching for the creamy sweetness of Bourbon casks, fruity grain whiskies and lighter-style blends. I always catch myself suggesting these whisky styles during the warmer months, and the drinks I end up sharing with friends do what I have always loved – they showcase a new side to whisky, contrasting (and bolstering) some of its key flavours.
The Paisley Pattern cocktail is a serve I designed around Compass Box Asyla. Eagle-eyed readers will recall it featuring in my earlier round-up of springtime cocktails, but this is a versatile warm-weather concoction, and if there's a more summery dram than this, I've definitely not found it yet.
It creates such a perfect highball – what I term the 'ultimate garden cocktail' – that I found myself making round after round of them when friends were visiting, forcing me to scale it up to a (proper) pitcher cocktail. It has enough citrus brightness, alongside light herbal and floral notes, that it is the ideal barbecue partner.

Summer Sours: Mr Lyan puts his own spin on the Whisky Sour with his 808 Snap

Whisky Sours have been a cocktail I've managed to adapt to spring, summer, autumn and winter with great effect, but 808 Snap, based on 808 grain whisky, makes it super-simple. The idea was to draw out the fruitiness, the vanilla spice and the creaminess of the whisky through a serve that avoided waste, made it easy to share, and was simple enough for a home or busy bar to produce. Simply blitzed up, it has a sherbet-like bite that is ideal for a summer's day.
Last up is Bottled Sunshine, another group serve, designed to help while away those long summer evenings. We're fortunate with daylight saving that the days at the height of summer go on and on, so having a lighter, easy-to-drink serve for a group of friends is highly recommended.
I've based it on some Bourbon cask Auchentoshan – this triple-distilled Lowlander has lots of greener fruit notes up front and is ideal in summer anyway – and, in this bottled Punch, it's perfect for when friends are over. Simply pour some over ice, top with soda water and garnish with fruits and herbs you have to hand. It gives a lot of flexibility, not only in how easy it is to create a round for friends, but also in its ability to be twisted with whatever fruits are in season at the time.
As with all the best serves, use this as a guide and adapt to your own tastes and what's available. But these drinks have a great focus on the summer moments that I love, and are geared towards the whiskies I tend to find myself reaching for at this time of year.
Grab your favourite bottle and don't be afraid of trying it in new ways. Whisky certainly does have a place in the sun. You'll be surprised by how refreshing (sorry) it is to find a new side to your dram, and what a welcome change from a white spirit that can be.
Summer whisky cocktails: Mr Lyan's Selection
Paisley Pattern Pitcher (from Good Things to Drink with Mr Lyan and Friends, published by Frances Lincoln)
Zest of 3 lemons
3 sprigs tarragon
6 dashes orange bitters
100ml Elderflower cordial
500ml Compass Box Asyla
Chilled soda
Build all ingredients aside from the soda in a pitcher over large pieces of ice, expressing the oils from the lemon peels before adding them to the mix. Stir well, but be careful not to tear the herbs. Top with fresh soda, then pour into hi-balls filled with ice.
808 Snap (serves two)
75ml 808 grain whisky
4 raspberries
1 egg
Half a lemon
3 spoons chocolate sugar (caster sugar mixed 6:1 with chocolate powder)
5 cubes of ice
Crack the egg into a blender, and add all the other ingredients (you don't even need to squeeze the lemon – add the whole half lemon in). Blend well, then strain over cubed ice into two rocks glasses.
Bottled Sunshine
300ml Auchentoshan Valinch
200ml chilled jasmine tea
100ml Merlet crème de poires
100ml Robinson's lemon barley cordial
5ml La Maison Fontaine Absinthe
Mix well in a jug, then pour into a clean wine bottle (750ml) and chill well. To serve, pour 60ml over ice in a hi-ball, top with soda and garnish with a sprig of mint, seasonal fruit and herbs.
This is the final feature in our summer Scotch whisky series, following Dave Broom's piece on summer drams and Martine Nouet's suggestions for pairing whisky with food in warmer weather.