Singer Robert Palmer lit up screens and stages with his pop music videos and performances after spending years honing his talent in rock, blues and soul. The 1980s pop darling was known as much for his slick looks and soulful vocals as for his love of single malt, writes Iain Russell.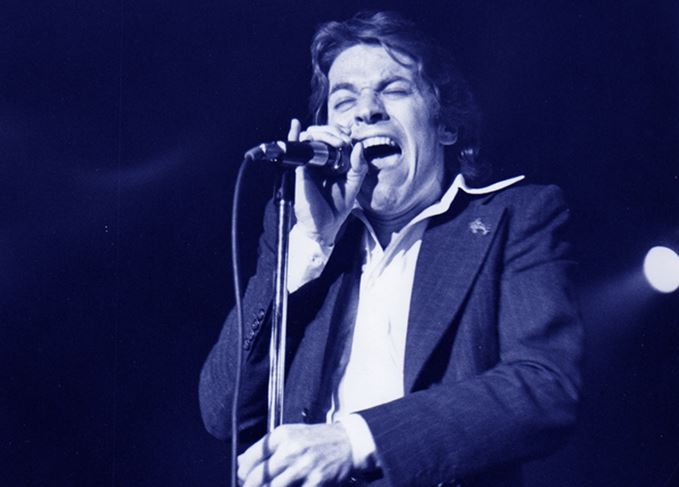 According to his obituary in The Independent, Robert Palmer (1949-2003) was a singer 'best known for his sharp suits and for creating an iconic pop video', who 'attributed his distinctive voice to his chain-smoking and love of malt whisky'.
His heavy smoking and appreciation of single malt was well known, but the obituarist surely damned Palmer with faint praise. He was a pop star of the 1980s and 1990s, whose success came after spending more than a decade 'paying his dues' as a hard-working singer touring with various rock, blues and soul bands.
Born in Yorkshire, Palmer began playing in a band at the age of 15 and later joined rock fusion group Dada. Dada became Vinegar Joe, with Palmer on rhythm guitar and sharing vocals with the dynamic Elkie Brooks. They became known for their electrifying live performances on the UK concert circuit.
Brooks said later that she and the other members of Vinegar Joe used alcohol and, occasionally, cocaine to combat exhaustion on their hectic touring schedules. She subsequently also acquired a taste for Scotch. 'My favourite tipple is Glenmorangie whisky,' she told interviewers after achieving success as a solo artist. Perhaps coincidentally, Palmer also became a fan of single malts.
Vinegar Joe made three albums, but were unable to achieve success as recording artists. When the band split in 1974, Palmer was signed by Island Records and embarked on a solo career, recording and touring in the US.
His output reflected his eclectic musical tastes, ranging from rock, soul and blues, to reggae and jazz. He had his first big hit single in the US in 1979, with Bad Case of Loving You (Doctor, Doctor), and Some Guys Have All the Luck was his first top 20 hit in the UK in 1982. He was briefly a member of the 'supergroup' The Power Station, along with members of Duran Duran and Chic.
Enduring act: Palmer found lasting fame with MTV and his hit song Addicted to Love

Palmer's big break as a solo artist came with the advent of MTV in the early 1980s. His carefully cultivated image as a Bryan Ferry-like sophisticate, immaculately attired in designer suits, and the release of a succession of radio-friendly soft rock singles, were perfectly suited for the pop video age. He became one of the star acts on MTV, and his place in pop music culture was cemented in 1986 by the release of the video for Addicted to Love.
Palmer appears in the video backed by a group of black mini-dressed, red-lipsticked fashion models. The song became a huge hit and won him a Grammy Award for Best Male Rock Vocal performance. However, he was dismissive of his role in the success of what has been called 'arguably the defining video of the 1980s': 'I just showed up and mouthed the words for 15 minutes.'
With success in the 1980s came the legend of Palmer as a chain-smoking whisky drinker. Journalists reported that he would turn up for each round of interviews with a pack of Dunhills and a bottle of single malt, and steadily work his way through both during the day.
Yet there were no tales of wild, drunken excess – Palmer appears to have been courteous and accommodating in all his dealings with the press. Indeed, he remained admirably committed to behaving (and drinking) responsibly while working.
Solo success: Bad Case of Loving You was the first of many soft rock singles from Palmer

'The excesses of rock 'n' roll never really appealed to me,' he told The Telegraph in later years. 'I couldn't see the point of getting up in front of a lot of people when you weren't in control of your wits.'
When Andy Taylor of Duran Duran went to see him before a gig in Japan, he noticed a bottle of single malt on his dressing room table. But Palmer refused to open it – he was worried about the effect drinking would have on his voice and performance if he indulged before going on the stage.
The singer was happy enough to let his hair down after he'd finished his set, though; Taylor says the pair drank the whisky after the concert, and then embarked on a tour of Tokyo's bars and clubs that didn't end until 10.30am the next morning.
Palmer moved to Lugano in Switzerland in 1993, and acquired a much-admired wine cellar. He lived happily there until, at the age of 54, he died suddenly in Paris after suffering a massive heart attack. There were some mutterings that the rock 'n' roll lifestyle might have played a part in his early death, but he had been given a clean bill of health following a check-up just weeks earlier.
It was only after his death that his partner Mary Ambrose acknowledged that Palmer did indeed have a secret addiction. She told The Mail on Sunday that the millionaire singer would leave her alone in bed at night while he indulged in his greatest passion – building model trucks and aeroplanes downstairs.