Glenmorangie distillery
Highland Single Malt Scotch Whisky
The process at Glenmorangie starts with mashing unpeated barley with water from the distillery's Tarlogie Springs – making this one of a small number of hard water sites in Scotland. Although there is no smoke, once a year some chocolate malt is added to the mash for use in the firm's Signet brand – another of the distillery's many innovations.
Fermentation is long, while distillation takes place in the tallest stills in Scotland, all of which retain the same long-necked design of the pair which were brought from John Taylor's gin distillery in 1887. This extra height allows a long interaction to take place between alcohol vapour and copper and, while the new make is decidedly high-toned (the cut points here are quite high), there is still a little note of cereal, adding a dry counterpoint.
The vast majority of Glenmorangie's make is aged in ex-American oak casks, many of which have been made to the distillery's exacting specifications: slow-growth American white oak from north-facing slopes in Missouri, which is then air-dried. The firm's Astar bottling uses 100% of these 'bespoke' casks.
The casks are only used twice, with the second-fill casks all ageing in damp 'dunnage' warehouses to increase oxidative-driven flavours. As the whisky matures, it picks up more lush fruits, some honey and mint, as well as notes of vanilla, crème brûlee and, in the oldest expressions, chocolate.
Some of the mature spirit is then transferred to ex-fortified wine (Port, Sherry) and still wine (Sauternes, Burgundy, Super-Tuscan etc) casks for a period of finishing. Glenmorangie was one of the pioneers of this technique.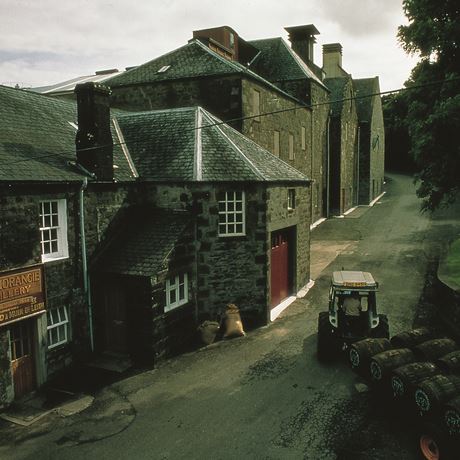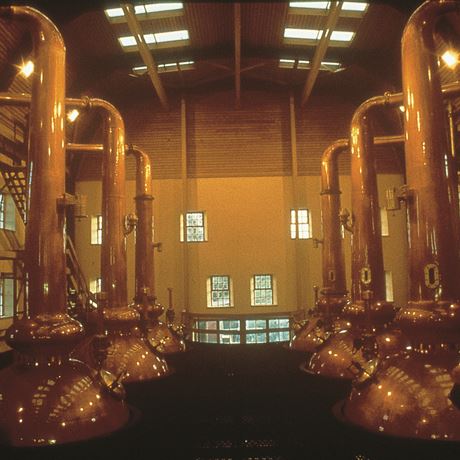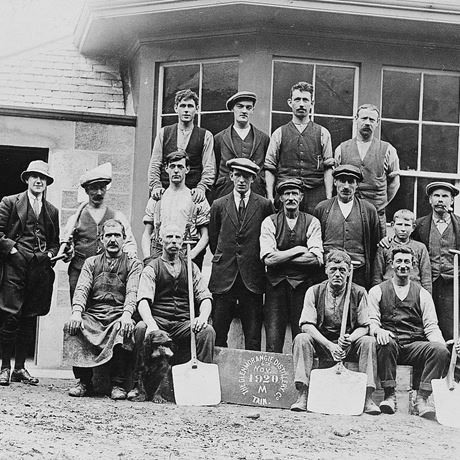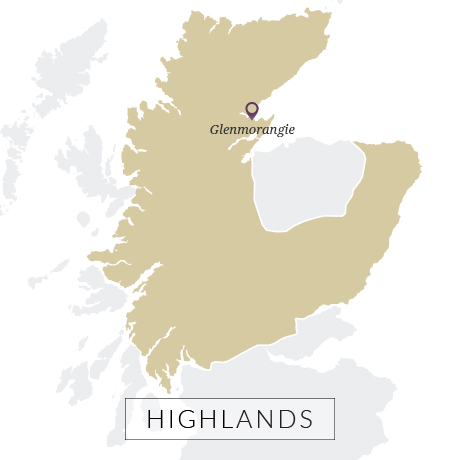 Region

Highland

Production type

Single malt

Distillery Status

Working

Brands produced here

Westport
Glenmorangie History
Situated next to the Dornoch Firth in a series of handsome red sandstone buildings, the Glenmorangie distillery started life as the local brewery for the town of Tain. In 1843, William Matheson converted it to a distillery and it remained in the family until 1887, when it was sold to the Glenmorangie Distillery Co, co-owned by the Maitland brothers and Duncan Cameron.
After the First World War, the business was sold to a partnership between two blending and broking firms, Macdonald & Muir and Durham & Co, soon passing entirely to the former, which used the whisky for blends such as Highland Queen. Although it was bottled in small quantities from the 1920s, a change of strategy in 1959 saw Glenmorangie revived as a single malt that soon became Scotland's biggest seller.
This was not the first time that this had happened, however. Records show that at the end of the 19th century Glenmorangie was being sold at The Savoy and other top-end London hotels, as well as being exported.
Early success in the infant single malt category resulted in two more stills being added to the original pair in 1976, a number which was doubled again in 1990. In 2009, four more were added, along with a larger mash tun and extra washbacks.
Five years previously, French luxury goods firm Louis Vuitton Moët Hennessy (LVMH) had bought the firm (also including Ardbeg) for £300m. More recently, extra warehousing has been built, the result of a decision to mature and vat all the production on-site.
In January 2018, it was announced that a new stillhouse would be built, housing two more of Glenmorangie's distinctive, long-necked stills, plus a new mash tun and washbacks. The new facility will enable more experimental runs, with indications that innovations such as the use of stainless steel condensers will be explored.
Timeline
1843

William Matheson converts the Morangie brewery in Tain into a distillery

1887

The distillery is purchased by the Glenmorangie Distillery Co.

1918

Macdonald & Muir and Durham & Co acquire the Glenmorangie Distillery Co

1976

Two additional two stills are installed

1990

A further four stills are fitted and the old stillhouse is converted into a reception centre and museum

1996

Glenmorangie releases two wood-finished expressions: madeira and sherry

1997

A museum also opens at the site

2004

Glenmorangie Company buys the Scotch Malt Whisky Society; the Macdonalds sell the group to LVMH

2009

Four more stills are added

2018

Plans are unveiled to add another two stills, in a new stillhouse
Owners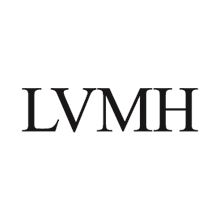 Parent company
Current owner
Previous owners
Macdonald & Muir

1918 - 2004

James Taylor

1887 - 1918

John Matheson & Co

1863 - 1887

William Matheson

1843 - 1863
Contact
Address

Glenmorangie Distillery




Tain




Ross-shire




IV19 1PZ




United Kingdom

Phone

+44 1862 892477

Visitor Opening Hours

Monday

10am to 5pm

Tuesday

10am to 5pm

Wednesday

10am to 5pm

Thursday

10am to 5pm

Friday

10am to 5pm

Saturday

10am to 4pm (June-Sept)

Sunday

Noon to 3pm (June-Sept)