The history of Scotch whisky liqueurs can be traced back to the mid-18th century. Whether enjoyed neat, over ice or mixed in cocktails, the range of expressions available nowadays makes the category highly diverse. Ian Wisniewski reports.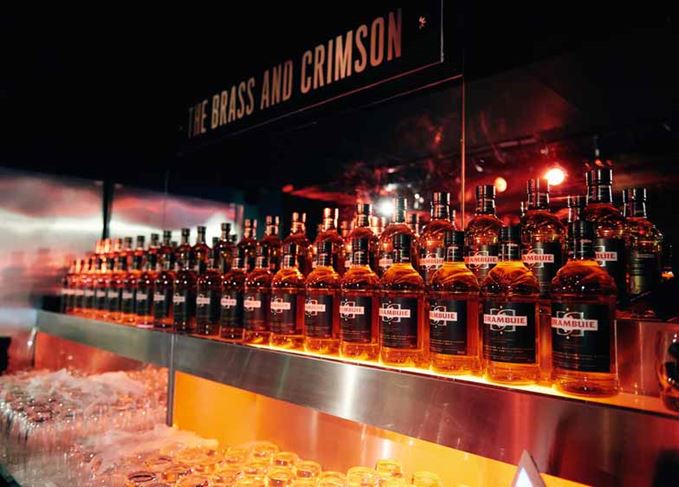 Whether Scotch whisky benefits from any additional ingredients depends on whom you ask. Some people enjoy a broad repertoire that includes Scotch whisky cocktails, while other aficionados forbid anything extraneous – even a drop of water.
But there's a tradition of adding far more than water to Scotch. This is, however, part of a process that transforms it into something else, a speciality in its own right – a Scotch whisky liqueur.
It may seem that Scotch whisky liqueurs evolved as an 'extension' to Scotch whisky. But it's more the other way around, as the earliest forms of malt whisky always included additional ingredients. This was entirely down to practicality, as distillation equipment was originally crude and knowledge of the process was limited.
Consequently, early distillers could only produce a low-strength spirit and, the lower the strength, the greater the level of impurities, which savaged the flavour (and had potentially grave health-related consequences). The only way to make this prototype whisky more palatable was to add ingredients capable of disguising its inadequacies.
The most important addition was honey, the original – and for centuries, the only – way to add sweetness, which tempered the raw and aggressive nature of the spirit. Honey offered other significant advantages, being produced by a diligent workforce that demanded no payment, and in a convenient format that was ready to be stirred into the latest batch of spirit.
As distillation became increasingly sophisticated, spirits could be distilled at progressively higher strengths, which continually improved the quality and character (plus, ageing added further amelioration).
When there was no longer anything to 'hide' in the whisky, ingredients could be added entirely for their own merits – and an approach that started as a necessity became a speciality.
A grandee of the category, Drambuie claims to date from 1746 as the personal liqueur of Prince Charles Edward Stuart (more commonly known as Bonnie Prince Charlie). Its timeline continues with more recent creations, such as Stag's Breath in 1989 and Bruadar in 2004.
Meanwhile, the 'craft' movement has seen numerous smaller-scale distilleries opening in Britain during the past 10 years – and more on the way – producing a wide range of spirits. Whether, and to what extent, this increases the population of Scotch whisky liqueurs remains to be seen.

On the rocks: Drambuie makes a refreshing digestif when poured over ice

The current choice spans various flavour profiles and heritage stories. Liqueur brands (in general) tend to have a great narrative, relating their origins in detail. However, revealing the ingredients is another matter, with recipes subject to varying degrees of secrecy.
One ingredient that is revealed, and which continues its long association with Scotch whisky, is honey. As honeyed notes appear in Scotch whiskies, there is a natural affinity between the two, and honey is used, for example, in Drambuie, Stag's Breath and Bruadar. Only revealing selected ingredients is of course perfectly understandable commercially. And even though consumers like to know what they're drinking, it seems patrons are still prepared to make allowances.
'Consumers are far more accepting of a recipe that uses secret ingredients when it's a historic product, particularly a liqueur and a brand as historic as Drambuie,' says Freddy May, Drambuie's global brand ambassador.
One ingredient that consumers certainly like to know all about is the Scotch whisky itself, as a Scotch whisky liqueur provides an opportunity to enjoy a favourite dram in another format.
'Stroma has been created by the team at Pulteney Distillery in Wick as an extension to our Old Pulteney range. We use the same multi-award-winning Old Pulteney single malt whisky to make Stroma,' says Old Pulteney senior brand manager Margaret Mary Clarke.
Moreover, a fascinating aspect of Scotch is being able to try whiskies from the same distillery at different ages – and Scotch whisky liqueurs can provide a similar opportunity. Beyond the classic Drambuie, there's the option of Drambuie 15, which contains 15-year-old Speyside malts.
An ultimate is Drambuie Jacobite, containing 45-year-old Scotch whiskies. This option has even more to savour visually, being presented in a decanter together with Jacobite-style glasses. In addition, there's also the added allure of exclusivity, as only 150 examples have been released.
Just as the range of Scotch whisky liqueurs is evolving, so too is the concept of adding ingredients to Scotch, but without creating what is technically a liqueur.
'Orangerie is a Scotch whisky infusion using fresh orange zest,' explains John Glaser, founder of Compass Box. 'It's not about trying to cover up the flavour of Scotch whisky, it's about accentuating it, and Scotch whisky is the hero of Orangerie. The flavour is rich, but not as sweet as a liqueur as we don't add sugar, and this approach was inspired by a historic recipe for infusing American whiskey, so there's a precedent.'
What's in a bottle is, of course, the key factor. But the bottle itself also matters as this is the first thing customers will see, and it sets a tone. So does the packaging need to be typically Scottish?
'If a brand tastes good and is well-packaged it doesn't need any of the usual familiar details; clever, subtle allusion to heritage can have a stronger impact on the modern consumer and industry alike as opposed to forcing cliché onto a bottle,' says Julian de Féral, drinks director at Gorgeous Group, a leading hospitality consultancy firm.
Beyond visual appeal, how liqueurs fit into current lifestyle trends is a key focus. Liqueurs have an inherent sense of indulgence, which is a great start, but there's also the question of timing. Traditionally, liqueurs were made to wait patiently until dinner was over before they made a triumphant appearance at the table as a digestif.

Cobbler cocktail: Stroma can be used to add a touch of sweetness to cocktails

Sipping something indulgent while talking into the night is certainly an ideal combination; but if the company isn't great, simply concentrate on what's in the glass rather than who's around the table.
A Scotch whisky liqueur can also be a great comfort in other circumstances. 'If you're out on a cold day, a small amount of something warming from a hip flask is always nice, and this is also quite a ritual. For example, friends going fishing often stop for elevenses, and might have a small glass of Bruadar or something similar,' says Kenny McKay, managing director, Morrison & Mackay.
In addition to a neat serve, there's a simple option of adding ice and seeing how the flavour profile evolves (chilling tends to make the mouthfeel even more luxurious). Moreover, this approach can also extend the appeal beyond cold weather. 'Adding ice can make Bruadar a summery concept. It's drunk on the rocks, for example, as an after-barbecue drink,' adds McKay.
And the possibilities extend much further than ice, with cocktails offering a huge range of choice, and sipping a cocktail naturally creates a sense of occasion. 'Scotch whisky liqueurs have a massive part to play in the continual evolution of cocktail culture, as Scotch whisky liqueurs are all different in terms of flavour, and a bartender can add various ingredients. I'm constantly surprised at how bartenders use Bruadar,' says McKay.
And that raises an important distinction. Cocktails tend to divide into two separate groups: the more complicated recipes which we prefer to be prepared for us by a professional, and those we're happy to make at home, ie requiring a small number of ingredients that already inhabit the cupboard, rather than having to shop for extra bottles only used a drop or dash at a time.
The Rusty Nail is ideal to prepare at home as this only requires two ingredients, Scotch whisky and Drambuie, which also provides a great opportunity to choose a favourite Scotch whisky. It's a drink that developed a following during the 1960s in the cocktail bars of New York, one that has an irresistible sense of style and sophistication, which can be served up by the glass, wherever we are. Proof that these liqueurs should still have a place in every Scotch whisky drinker's repertoire today.