As the temperatures plunge and the afternoons darken, we all crave a little drop of something warming in a hipflask. From Whisky Mac to Penicillin, Alice Lascelles surveys the landscape of wintry drinks.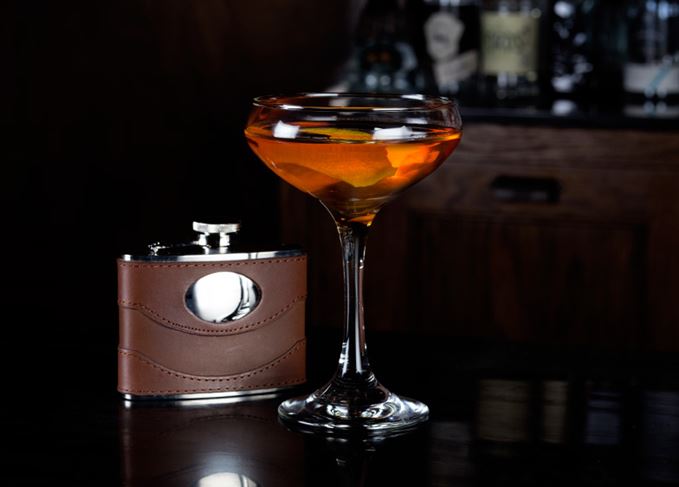 If you've ever sat there, ice tray at the ready, counting down the minutes to six o'clock, then I've got some news for you: cocktails weren't originally sundowners. They were morning drinks.
Eye-openers, fog-cutters, phlegm-drivers and corpse revivers were all classes of matitudinal cocktail in 19th-century America, drunk in the belief that a glass of hard liquor and health-giving bitters before elevenses did you good.
I don't know about cocktails for breakfast, but as winter sets in, there are times when a little nip of something certainly feels medicinal – particularly if it comes from a hipflask.
One blood-warming fortifier that's always good for sipping around the bonfire is the Whisky Mac. The classic recipe is two parts Scotch to one part Stone's Ginger Wine and no ice, but it's a recipe that can easily be pulled around in all kinds of ways depending on your taste (or what you've got available).
For a Whisky Mac with a little more poke, you could cut the ginger wine half-and-half with the fiery King's Ginger Liqueur, or season the ginger with a dash of Bitter Truth Chocolate Bitters or Orange Bitters. A fat orange or lemon twist would also lift it, or try serving it long over ice, topped up with 125ml of cloudy apple juice.
Changing the whisky will also give it a different emphasis – here, Balthazar's Brian Silva replaces traditional blended Scotch with a grain whisky to create something with more silky, vanilla notes (but plenty of fire!). The new Dalwhinnie Winter's Gold would also make a Mac with a more honeyed, 'blonde' feel to it.

The ginger and habanero spice in The Naughty Mac by Brian Silva banishes the blues on winter days.

A BARTENDER SPEAKS
Brian Silva, Bar Manager, Balthazar London
'I'm fond of the Whisky Mac because it's the first drink I made behind a British bar [when he arrived in the UK from Boston in 1989]. I had no idea what it was, but I liked the simplicity of it.
'This time of year it's a nice serve and the ginger hits the spot – it's my kind of drink. I use [grain whisky] Naked Grouse in this update because it mixes really well without getting lost in the recipe. Overall, I find Grouse is the best all-round mixing Scotch – Famous Grouse makes a great Rob Roy.'
NAUGHTY MAC
45ml Naked Grouse
15ml King's Ginger Liqueur
3 or 4 drops Bittermen's Hellfire Habanero Shrub
Method: Serve on the rocks with an orange twist.
Another Scotch cocktail ripe for the hipflask is the Rusty Nail (a drink which, surprisingly, was invented in the mild climes of Hawaii).
A classic Rusty Nail would be something like 3:1 Scotch to Drambuie but, if in doubt, go easy on the liqueur, as this is a drink that can quickly turn to cough medicine, in all the wrong ways. If you can get it, use Drambuie 15, a variant on the core liqueur that uses older whiskies, giving it a bit more depth and complexity.
My fortifier of choice, though, would be the Sazerac, a cocktail which started life in a pharmacy in 1830s New Orleans, after owner Antoine Peychaud began dispensing his eponymous bitters laced with a bump of brandy (the absinthe and sugar came later).
Today, Sazeracs are generally made with rye or Bourbon (or a mix of whiskey and Cognac), but an easy-sipping blend like Monkey Shoulder would make a pretty good Sazerac too: stir 50ml Monkey Shoulder, two dashes Peychaud Bitters, one dash Angostura bitters, 5ml sugar syrup and 2.5ml absinthe with ice and strain into a glass (or, indeed, a hipflask).

Kick your cold into 2016 with a fortifying Penicillin.

While we're on the topic of medicinal drinks, we should also mention the Penicillin. Created in 2005 by Sam Ross, bartender at the late, great, Milk and Honey in New York, this cross between a toddy and a whisky sour uses peated Scotch to great effect and has become something of an underground classic.
Shake 15ml honey water (made by dissolving 15ml honey in 5ml water), 35ml peaty Islay malt, 25ml blended Scotch, 5ml King's Ginger Liqueur and 20ml lemon juice with ice and strain into an ice-filled rocks glass. Garnish with a slice of stem ginger. If you cannae be arsed using two whiskies, Johnnie Walker Black works very well too.
Alice Lascelles is the author of Ten Cocktails: The Art of Convivial Drinking (Saltyard 2015).