Springbank's batch bottlings of 21-year-old single malt are much celebrated and sought-after, but 2016 brought a new departure: the release of 13 single cask single malts, all destined for different countries. All 13 were brought together for a highly anticipated tasting in Dornoch – and Thijs Klaverstijn was there.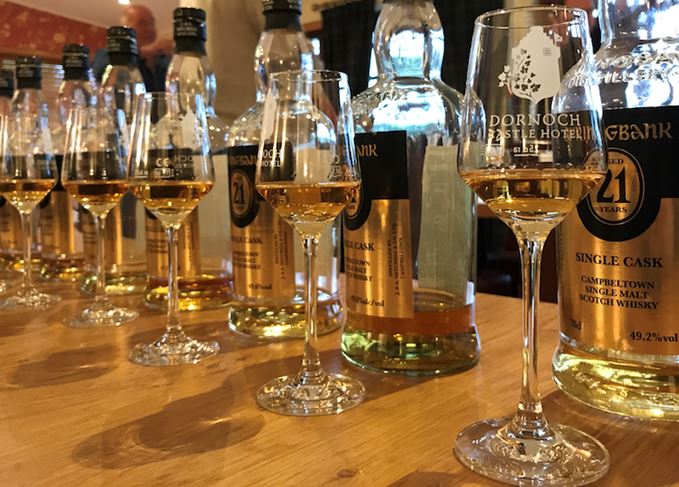 Last year, a total of 13 single casks of 21-year-old Springbank were released at the same time, all of them destined for different countries, from the United States to Taiwan, and from the Netherlands to China. Springbank sales and marketing director Ranald Watson and his team just figured it was something cool and interesting to do.
Some time after the launch, Watson was surprised to learn that someone made the effort to track down each and every one of the 13 single casks. 'We never thought anyone would collect them all, let alone do a tasting with them,' he says.
They thought wrong. David Knopfler, a Canadian-American whisky enthusiast living in North Carolina, heard about the releases and recognised a challenge. With the help of old friends (and by making some new ones along the way), he collected all 13 Springbanks, including bottles from Japan, Germany, Denmark and Switzerland.
Impressed, Phil Thompson of the Dornoch Castle Hotel contacted Knopfler. Would he like to do a tasting event with his newly-acquired set? The reply was a decisive yes – and it didn't take long before the tasting was fully booked.
A 21-year-old age statement was never part of the Campbeltown distillery's core range. Instead, a new batch was brought to market every few years, with versions from the 1990s and early 2000s highly sought-after. Back then, it wasn't uncommon for much older stock to be included in the vatting.
When it came time to decide what to do for the 2016 edition of Springbank 21-year-old, it was a very practical reason that ultimately turned out to be the deciding factor. The packaging for the regular 21-year-old release wasn't available, so Watson chose another route.

Team photo: The 13 bottlings of Springbank 21 Year Old, all destined for different countries

'We thought we'd do something completely different,' he recalls. 'We enjoy doing small and variable bottlings, so we pushed it a little further this time, and we opted for a series of single cask releases instead of one vatting of multiple casks.'
Pretty early on, it was decided to do only oloroso Sherry casks. Why not throw in some Bourbon cask releases as well? According to Watson, some distributors might be upset if they heard about other markets getting Sherry casks. 'Although I don't necessarily agree, plenty of people still think Sherry casks are better,' he explains.
That left 20 or so casks from 1995 to choose from, mostly hogsheads, but some butts as well. People from the distillery and the sales team got involved, and the selection process took an unusual turn. The sales people responsible for the different Springbank markets were left to battle over who got which cask.
Watson says: 'Usually we correspond with the different distributors and importers, and they are involved more in picking and choosing single cask releases for their country. This time we did it a little different. It was probably the longest part of the entire process.'
Things returned back to normal in 2017, as Springbank released a regular limited edition 21-year-old. But that doesn't mean that they won't release a series of single casks again in the future.
'I thought it worked really well', says Watson. 'We'd probably do it a bit different, though, and maybe would throw in some Bourbon casks as well. For now there are no concrete plans but, like I said, we quite like to do small and variable things.'

Sherry only: The 2016 release was made up of all Sherry casks, including hogsheads and butts

In late November, the dining room of the Dornoch Castle Hotel was filled with a few dozen people from all over Europe and beyond, anxiously awaiting an event that might easily have been labelled an experiment. A whisky-themed game of spot the difference. Thirteen single casks, all with the same age, similar cask types and from the same distillery.
Some of the 13 single casks of 21-year-old Springbank were sister casks, but not all.
However, considering the production regime used at Springbank, they were most likely produced at a similar time.
The Campbeltown distillery malts barley for a considerable period each year, while distillation takes place for a limited amount of time annually. All of the 13 releases have a very similar alcohol percentage, which suggests that the casks matured in similar circumstances too.
Almost all of the whiskies were matured in first-fill oloroso casks (hogsheads and butts), so tasting them side-by-side was an opportunity for a unique insight into the influence of casks, often only reserved for master distillers and blenders. It is often said that each cask of whisky is unique – but what similarities and differences can be detected?
SPRINGBANK 21-YEAR-OLD, 2016 RELEASE: SELECTED TASTING NOTES
Springbank 21 Years Old, Netherlands (48% abv)
Very mature and well-rounded, this oloroso hogshead netted 336 bottles. There's subtle fruits (fresh peaches and plum jam), but also galia melon. Moderate level of peat, briny. The palate shows rich spices and a complex earthiness, with restrained, herbal peat, before some wax and furniture polish at the end.
Springbank 21 Years Old, Germany (47.5% abv)
Tropical fruits, like mango and pineapple, pop up from the glass. Whispers of brine and almonds. The palate has a syrupy quality that makes it very appealing. Notes of cherries, leather and wood dust, ending on medicinal peat and a slight bitterness. A total of 324 bottles were filled from this oloroso hogshead.

Repeat performance?: Springbank might repeat the single cask exercise in the future

Springbank 21 Years Old, UK (49.6% abv)
This cask was considered the best of all 13 releases by Springbank staff, and therefore chosen for its biggest market. Matured in an oloroso Sherry butt, it produced 702 bottles. The nose displays coastal notes and aniseed, as well as light yellow fruits. Fairly sooty. The palate is very oily and coastal. Complex peatiness, ginger and ending on soft stone fruits.
Springbank 21 Years Old, France (47.9% abv)
Another oloroso hoghead, this time good for 336 bottles. Aromas of burlap and a dunnage warehouse. Very earthy, probably more so than most. Soft peat and brine highlight the palate, as well as decisive notes of dark chocolate and sweet cappuccino.
Springbank 21 Years Old, Rest of the World (49.2% abv)
One oloroso butt was bottled and divided up among a flurry of countries, including New Zealand, Canada and Italy. Briny and farmy, with vanilla custard and hints of gunpowder. It is the only cask with this sulphur note, both on the nose and on the palate. There's some tobacco and wax, as well as a sweetness that balances out a drier note.
Springbank 21 Years Old, Taiwan (47.5% abv)
The winner during the tasting by quite a margin, as 25 out of 32 people pinpointed this as their favourite. This release from an oloroso hogshead is quite concentrated, with plenty of herbal peat and earthy notes, but also soft notes of chocolate, spices and leather. This was one of the more active casks. The palate gives us wood spice, subtle peat and quite some room for sweetness. Lingers on plums, brine and Earl Grey tea.