Some collectors are passionate about Port Ellen, or simply can't resist a rare Highland Park. But others, such as Phil Thompson of the Dornoch Castle Hotel, have shunned the specialist route in favour of acquiring an assorted mix of old whisky expressions from different distilleries and bottlers. Bowmore, Macallan, Glen Mhor, Laphroaig, Glen Grant – Angus MacRaild takes a look inside the Dornoch distillery co-founder's collection.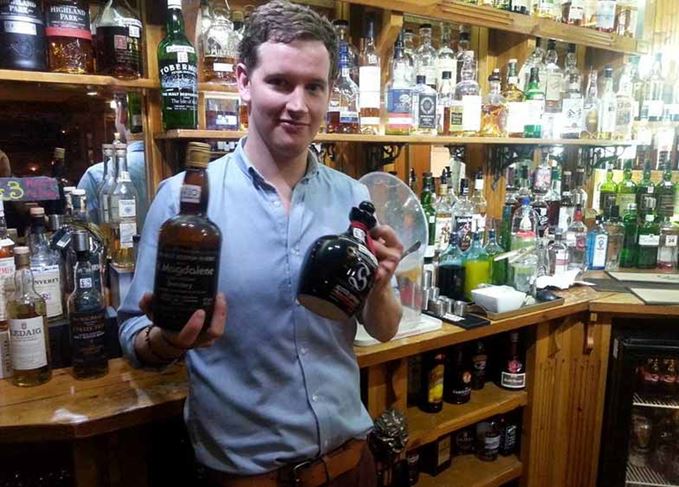 Who are you and what do you do?
'I am Phil Thompson and I currently run the Dornoch Castle Hotel and whisky bar in Dornoch, Sutherland, along with my family: Colin, Ros and Simon. Simon and I have also started the Dornoch distillery, which is a wholly crowdfunded microdistillery based in a 19th-century fire station in the grounds of Dornoch Castle Hotel.'
How did you come to love whisky?
'My first memorable experience of whisky was tasting a Macallan 1975 anniversary malt on the gantry at Dornoch Castle around 2000/2001 – I remember tasting this particular whisky and noticing it held more appeal than anything else we had in the bar (around 30 standard bottles). There is no way I could describe any particulars of flavour and aroma, I just knew it was different and I liked it.
'I studied audio engineering, but would return to work in the whisky bar during holidays. I found that there would be new bottles on the gantry every time I returned – which of course I would taste to give myself a frame of reference to help me convey the product to the customer.
'When Simon finished university, he started running the whisky bar, and this is when the collection really began to take shape and become more interesting. He would order many bottles from Gordon & MacPhail: old Macallan, Glen Grant, Rosebank, Port Ellen, Brora etc. It was around then that I started becoming obsessive.'
How did you transition from just enjoying whisky to collecting it as well?
'I think that it is a natural progression when you manage a bar. You buy stock, hold stock for the future, buy more bottles than you really need to ensure you have the good bottles – I guess we became accidental collectors.
'There are a few moments that really stand out in my whisky life. One is Simon's obsessive collecting of the Edradour "Straight from the Cask" wine finish series. I have no idea why he decided to do this – I guess it is human nature; hold for the future in case of an apocalyptic situation where there is no whisky left and we are forced to consume the "Chardonnay Cask" again.
'I think the main changing-point was the discovery of "old bottles" – it was a real "eureka" moment. I mean, I had tasted many old vintages and great bottles, but when you taste a 1970s Bowmore Deluxe for the first time, it is a truly erotic moment. My first thoughts were: "Why the fuck does Bowmore not taste like this now? I need more."'
Was there a deliberate decision not to focus on one specific distillery or brand?
'It certainly was not a deliberate decision; our collecting was accidental and just part of owning a whisky bar. We just happened to buy thinking about the future, which is something we still do. Simon and I always think that if we own our whisky bar in 10-20 years, we will have to have good juice to drink, be able to charge fair prices and have a good variety of distilleries and vintages.'
You're one of the younger collectors. Do rising prices and increasing scarcity dishearten you?
'Yes, very much so. I find it so difficult to find good bottles at fair prices. I look at buying from the perspective of a business. I need to know that when we open the bottle we are able to offer it for a fair price to the customer. As we are not traditional collectors, we do not get totally hung up on one bottle and pay whatever it takes.
'As we have been buying at auctions for quite some years, I do sometimes find it highly amusing and slightly sad when I see some of the prices being paid for distinctly average whisky. I recently met someone who lives locally to me who boasted that he had spent over £40,000 on whisky in two years. My reaction was: "Wow, you must be a real whisky lover, come round to the bar and we can taste some good juice."
'Turns out he has absolutely no interest in whisky. He was buying cases of Caribbean Cask Balvenie "just in case they stop making it". I found it quite sad. I think there will be a lot of people who will get seriously burnt when the edges of this inflated whisky world start to crumble.'

The price is right: Thompson has a growing selection of fairly-priced Cadenhead whiskies

You're soon to be a distiller as well. Do you find business interests conflict with your personal collecting?
'Perhaps... I mean, it might be a good thing that I sometimes look at bottles from a business perspective. Sometimes I suppose it stops me buying at the inflated prices; however, there have been times where I have really regretted not buying great bottles because I had my business hat on.'
You and your brother Simon are very much a partnership in business. Is that also the case when it comes to collecting?
'Absolutely. There are some bottles we own separately, but essentially our collection is held jointly.'
A lot has been said about how Scotch whisky has changed. Has this influenced how, what and why you collect?
'Absolutely. I feel that the streamlining of production and emphasis on yield has led to massive changes in production procedures, which of course has led to changes in house styles for many distilleries. My interest is in tasting the styles of decades past, comparing them to the modern equivalent and attempting to deduce where/why/how certain characteristics and styles were lost, and others gained.
'I tend to source bottles for our bar/collection which are likely to be interesting and offer the customer something unique and surprising. To be honest, I find the house styles of many modern distilleries to be boring; this is why we look for and open the older bottles. They are not always necessarily better than the modern counterpart, but they are always more interesting – this is what I enjoy.'
Has the experience of collecting influenced your planned direction with the distillery?
'We feel very lucky to have consumed so many interesting and beautiful whiskies. The truly spectacular drams have led to many late-night conversations on how such styles were achieved.
'Simon and I are very interested in experimenting with certain aspects of production to try and produce our interpretation of "old-style" whisky. Thankfully, we currently have no bank debt or shareholders. Once we have fulfilled our commitments to our crowdfunders, we are not answerable to any party with a large financial input. We can afford to have (relatively) low yields, experiment with different yeasts, fermentation times, etc.
'I think there are many people in the industry who would love to be able to produce their philosophies, but when you are answerable to shareholders whose interest is in a monetary return, it becomes very difficult to do what you truly believe in. It is a shame so many great minds are sometimes forced to focus on yield over quality.'

Best of the bunch: Thompsons favourite whiskies include a 30-year-old Bowmore

As a collector, what bottlings/brands/distilleries attract your interest now?
'I am interested in good whisky at fair prices, which is becoming difficult to find. I tend to buy more on the secondary market, but I have been buying a lot of Cadenhead's bottlings lately. Mark Watt has been doing an amazing job selecting wonderful casks and keeping the prices very fair.'
What would be your holy grail bottle?
'I think an old closed malt distillery bottling such as Stromness, Dalintober, maybe Gerston...'
What are the prize bottles in your collection?
'Bowmore 30-year-old, bottled 1994 and one of three bottled for the 30th anniversary of the Scottish Licensed Trade News (SLTN). Glen Mhor 1937, vatted into a stoneware flagon in 1959. Berry's Very Old Scotch Whisky, a dumpy bottle from circa 1890/1900. And another stoneware flagon I acquired at auction, this one containing Glenlivet from around the 1940s. All of these bottles are, or will be, opened.'
What would be your perfect everyday-drinking dram?
'In a perfect world, probably Bonfanti Laphroaig. I found the most recent Gordon & MacPhail Scapa 2001 to be particularly delicious – not massively intellectual, just a glass of easy-drinking fruit juice. I am also very impressed with the Balvenie "Single Barrel" 12-year-old/15-year-old – they are always great and the price is quite fair.'
What about the best you've ever tasted?
'A few come to mind: Old Orkney Relics, Glen Mhor 1937, Bonfanti Laphroaig, Bowmore 1955 40-year-old, Highland Park 10-year-old bottled late 1940s, Port Ellen 12-year-old for the Queen's visit in 1980. So many amazing whiskies, I think I have been spoilt. No favourites, just amazing memories with great friends. That is what whisky should be about, whether you are drinking a £10,000 bottle or a Speyburn 10-year-old in Drumnadrochit High Street.'
What's been the greatest whisky experience of your life so far?
'The Islay Odyssey we organised in 2015 was pretty special; it was a great way to celebrate amazing whisky with great friends. I hope we can continue organising these gatherings – Pre-War Whisky Tour #2, anyone?'