American single malt is on the rise, but with so much choice already available, where does a whisky lover start? From US-Scotch mashups to peated American malts, Jake Emen breaks out 10 exciting bottles to try now.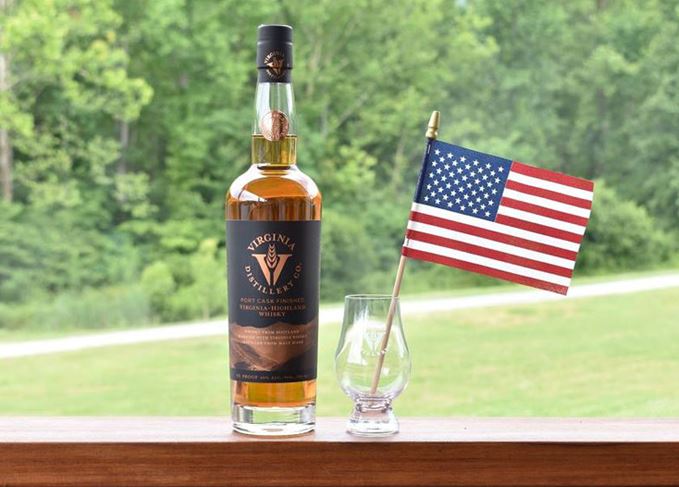 To much of the world America may be best known for its Bourbon and rye, but there's a steadily growing number of distilleries now making American single malt. It's one of the fastest-growing American whiskey categories, yet is still unrecognised by the US federal government. Despite the lack of an official definition bound by law, distillers across the country are producing their own interpretation of single malt whiskey in what's generally considered a fusion of Scottish and American distilling practices.
Many adhere to a – currently unofficial – definition established by the American Single Malt Commission, which calls for whiskey to be made at a single US distillery from a 100% malted barley mash, distilled in pot or column stills. New or used wooden barrels – not just made of oak – can be used, allowing for some pretty imaginative creations.
From malt matured in Japanese-style plum liqueur casks, to whiskey made from wood chip-smoked malt, there's a huge variety of American single malts to be found, many of which draw on their locality an heritage for flavour inspiration. Not sure where to start? Here are 10 exciting American single malt whiskies, from California to Texas, that represent the category's broad range of styles and flavours.

Stryker Smoked Single Malt

Made by: Andalusia Whiskey Co, Blanco, Texas
Stryker Smoked Single Malt made by Texas's Andalusia Whiskey Company took home best of category honours for American single malts from the 2018 American Distilling Institute (ADI) spirits competition. While Andalusia makes a peated malt dubbed Revenant, Stryker stays true to its locale and draws inspiration from Texas barbeque by using a combination of oak, mesquite, and apple wood smoke to dry the barley. The smoke combined with its 50% abv strength provides a potent punch without overpowering.

Copperworks

Made by: Copperworks Distilling, Seattle, Washington
The newest release from Washington's Copperworks Distilling has been matured for nearly three years in full-size, new charred barrels. Those barrels work quickly and effectively on the whiskey, while the distillery also draws upon the region's brewing roots for its mashbills. This release consists of two separate malt mashbill recipes – one a five-malt recipe, and one a pale malt recipe. Copperworks also nabbed recent honours from ADI, being named the 2018 Distillery of the Year.

McCarthy's

Made by: Clear Creek Distillery, Portland, Oregon
Founded in 1985, Clear Creek Distillery was one of the very first American craft distilleries of the modern age, and McCarthy's Oregon Single Malt was correspondingly at the forefront of the American single malt movement. Now owned by Hood River Distillers, McCarthy's is getting some more firepower behind its production. Currently matured for three years in Oregon oak and bottled at 42.5% abv, it's non-chill filtered and stands as a well-balanced, peated single malt.

Westward

Made by: House Spirits Distillery, Portland, Oregon
Portland's House Spirits Distillery has been steadfastly putting away stock in recent years, and its efforts have paid off. Westward Whiskey is now widely available, and is matured for approximately five years. It's always released as a small batch product and is blended from only a handful of barrels. The flavour profile resides chiefly in the domain of sweet, chocolaty notes, heavily influenced by the new, charred oak barrels.

Colkegan

Made by: Santa Fe Spirits, Santa Fe, New Mexico
Sante Fe Spirits was perhaps the first American distillery to turn to that all-American flavour of mesquite for its whiskey. Its Colkegan Single Malt, named for distillery owner Colin Keegan, uses a combination of 30% mesquite-smoked barley alongside 70% un-smoked malted barley. At 7,000ft elevation, Santa Fe Spirits also utilises a unique maturation system with a climate-controlled warehouse – not for temperature consistency, but rather for consistent major temperature changes.

Baller

Made by: St. George Spirits, Alameda, California
Designed essentially as an American take on a Japanese single malt, St. George's Baller more than holds up as a neat sipper, but is also approachable enough to use in a Highball. The whiskey is aged for about two and a half years before undergoing six months of finishing in barrels which had been used for the distillery's Japanese-style plum liqueur. If it's ever possible, also be sure to snag one of the distillery's limited edition Lot releases. This is where blender Dave Smith really has his fun, incorporating all types of different casks and stocks of different ages for wildly flavourful whiskeys. The 18th annual release is due out later this year, so St. George has been doing this whole American single malt thing for a while now.

Stranahan's Diamond Peak

Made by: Stranahan's Distillery, Denver, Colorado
Stranahan's Rocky Mountain Single Malt was another early entrant to the world of American single malts. The portfolio has been expanded in the past few years and now includes Diamond Peak, a single malt whiskey matured for a minimum of five years and aged in new, heavy-charred American oak barrels. It's a small batch product with some variation from one release to the next, though always bottled at 47% abv and cut down to proof with Rocky Mountain water, in the distillery's tradition. Good luck trying to nab a bottle of the distillery's highly-touted annual Snowflake release – revellers line up all night in the cold of December in Colorado for a chance to score a bottle first-come, first-serve style in the morning.

The Notch 12 Year Old

Made by: Triple Eight Distillery, Nantucket, Massachusetts
Twelve years is often considered as something of a magical maturation gateway age for Scotch. Generations of drinkers have learned that '12 years old' on the bottle is a statement they can trust while perusing the liquor store. Well, say hello to a 12-year-old American single malt, The Notch 12 Year Old, from Nantucket's Triple Eight Distillery. Maturing the whiskey in an array of different cask types and allowing Nantucket's maritime climate to patiently toil away on them has worked wonders. Bottled at 48% abv and toting a heap of awards and accolades, it's one not to miss. If you can't score that, the 10-year-old will more than suffice.

Virginia Distillery Port Cask Finished Virginia-Highland Whisky

Made by: Virginia Distillery Company, Lovingston, Virginia
Virginia Distillery Company has one of the prettiest still houses in the country, but she's more than just a looker. The distillery follows an unconventional blending protocol by sourcing four-to-eight-year-old Highland single malt, and blending it with its self-distilled juice before a marrying and finishing process. The brand's current flagship is the Port Cask Finished, and it's cobbled together with the assistance of blending mastermind Nancy Fraley. Another bottle from the producer worth trying is its annual autumn Cider Cask release, while they've also released Chardonnay and beer cask-finished whiskies. The distillery's entirely self-distilled single malt, now dubbed Courage & Conviction, is slated for a spring 2020 release.

Westland Garryana

Made by: Westland Distillery, Seattle, Washington
Garryana is the annual limited edition release from Westland Distillery in its Native Oak series, the third of which is out this fall. And it's the best one yet. Already a sultry stunner incorporating unique flavour notes from the garryana oak – fruit jammy with dark chocolate – this year's whiskey is amplified even further, with a richly chocolate-forward profile with cacao nibs and chocolate-covered raspberries. It's a testament to the distillery's efforts making not only American single malt, but American single malt that uniquely speaks to its sense of place. Elsewhere from the distillery, its core portfolio includes three expressions: American Oak, Peated, and Sherry Wood.

And the rest…
The category is bursting at the seams, and as more distilleries continue to hone their craft and are able to mature their whiskies for longer periods of time, the choice is only going to get better. The above 10 bottles should keep you busy in the meantime, but when you simply can't resist another dozen or so, check out offerings from: Alley 6 Craft Distillery, Balcones Distilling, Cedar Ridge Distillery, Copper Fox Distillery, Corsair Distillery, Deerhammer Distilling Company, FEW Spirits, Hamilton Distillers, Hillrock Distillery, Peach Street Distillers, Sons of Liberty Spirits, Spirits of St. Louis, and Tuthilltown Spirits.