Israel may seem an unlikely place to nurture a burgeoning whisky industry, yet a handful of distilleries are now producing single malt influenced by their environment, from the arid dryness of Golan Heights to the coastal humidity of Tel Aviv. Jake Emen reports.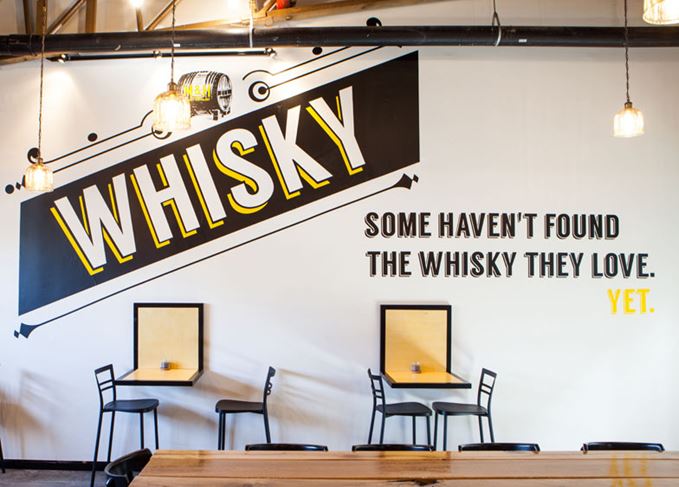 In today's global whisky environment, distilleries in places as different as Sweden and Taiwan are able to produce a whisky with its own unique geographical, environmental and cultural influence. So how do you produce a whisky that's tailor-made to the unlikely area of Israel? The first thing you do is pick a great name. Enter Milk & Honey, Israel's first whisky distillery.
Milk & Honey didn't suddenly appear in the desert overnight though, as if it was biblical manna. No, a thirst for whisky needed to develop beforehand, along with an interest in Israeli-made products of all types. Cocktail bars have sprouted up serving specialty spirits and high-end craft libations. The craft beer scene has taken root, and there are hundreds of Israeli wineries. There are even devoted whisky bars, such as The Whiskey Bar & Museum and its line-up of 1,000 bottles. And so yes, now there are distilleries too.
'The whisky market in Israel is in consistent growth, especially the single malt section, with more and more brands being imported,' says Tomer Goren. He's more than a casual observer of such trends, he's the head distiller at Milk & Honey, which is located in the beautiful coastal city of Tel Aviv.
The thought process was then, if so much whisky was beginning to be brought into Israel, why not actually make whisky in Israel as well? 'I wanted to make whisky at home and then I understood that it is actually possible to open a distillery in Israel,' says Gal Kalkshtein, the distillery owner. 'I checked a little bit about why there was no whisky distillery in Israel, and I understood that it's because nobody wanted to invest in a business with ROI of 15 years. Yet I am young, and I wanted to take the risk.'

New crowd: The Whiskey Bar & Museum serves a growing demand for whisky in Israel

Planning for the distillery began in earnest in 2012, with distillation beginning at the current site in 2015. Visit now and you'll find a welcoming visitor centre and all the sights and smells you're accustomed to finding at a craft distillery located anywhere else in the world – barrels patiently toiling away in the back, copper pots on show in the front and guests tasting at the bar.
While Milk & Honey is recognised as the first Israeli whisky distillery, it's no longer the only one. Half a dozen others are either open or in the planning stages, including Edre'i distillery, Golan Heights, Jerusalem Distilling Company, Pelter (which released its first three-year-old single malt in 2017), and Legends.
There also aren't yet legal definitions in Israel for what a whisky can or cannot be, so distilleries thus far generally lean into Scotch standards for their protocol. That's why early, limited releases from the distillery have been labelled as 'young single malt' (a limited edition, three-year-old malt distilled at a temporary location was sold at auction in 2017), while the first commercially-available, fully-matured whisky from Milk & Honey, will be a three-year-old single malt, set to hit the market in 2019. Yes, that's fully-matured at three years of age, thanks to Israel's heat and humidity.
'Ageing whisky in Israel is a bit different [than in Scotland],' a distillery tour guide explains. 'It's very hot and very humid.' The distillery therefore turned to the master of such maturation matters, the late Dr Jim Swan. 'Jim really took an interest in Israel and in us,' he says.
'Dr. Jim Swan contributed to this amazing project from day one, and was involved in all aspects of the distillery's building, especially in its early stages,' Goren explains. 'Jim was well known for his knowledge of distilling and producing whisky in a hot climate. He helped develop the recipe and defined the architecture of the pot stills and the mash tun; he handpicked our first selection of barrels. His contribution to the distillery was crucial and will accompany us and our products throughout our development in the future.'

Wood matters: Milk & Honey's single malt whisky is matured in a variety of carefully-selected casks

Heat and humidity combine for rapid flavour extraction from casks, resulting in a sped up maturation process albeit with a hefty angel's share. Therefore that three-year-old whisky won't be allowed to get much older than that, but such a short maturation window then places a premium on the casks. 'One of the things we're proudest about is our wood management,' Kalkshtein says.
A warehouse tasting session will reveal that Milk & Honey has sourced an intriguing variety of casks, including Laphroaig and Ardbeg barrels, along with Jamaican rum, red wine, Sherry and STR casks, the latter a mainstay of another one of Dr. Swan's many overseas prodigies, Kavalan in Taiwan. STR stands for shave, toast, re-char, and the process essentially strives to create an impact akin to a fresh, new Bourbon barrel.
At Edre'i distillery, founder Yechiel Luterman is striving to make something that's a true testament to the land and the country. 'There's the promise of looking back years from now, taking pride in the knowledge that I'd have created something authentically Israeli,' he says. It's a passion for him in particular, not only as a single malt devotee, but as someone who made aliyah by immigrating to Israel, in this case from Canada. 'Counting Edre'i amongst the first Israeli distilleries is a privilege and an honour,' Luterman says.
He's even pursuing his own in-house malting programme using Israeli-grown barley. 'I wanted my whisky to be made from barley grown in the Land of Israel,' Luterman says. 'This meant that I'd have to malt my own barley since there aren't any commercial malt houses of any size here.'

Cognac influence: Pelter distillery, established in 2013, produces whisky, brandy and arak using a French alembic still

He studied malting in Canada, and also spent eight years working in Israeli wine production, learning about flavour development and its ties to the land. 'I added all of these factors together, thought about the distinct uniqueness which would follow and it conjured up an image of a perfect, beautiful storm I just had to chase – we're talking terroir single malt in every way,' Luterman says.
For a tiny country, Israel offers extreme climate variance, so while Tel Aviv's seaside climate is humid, Edre'i finds itself in the extreme dryness of the Golan Heights. That's not the only potential climate difference found within Israel, and back at Milk & Honey, a range of experiments are in the works in an attempt to capitalise on the country's unique environs.
'We currently have a few barrels near the Dead Sea,' Kalkshtein says. That's where the elevation is the lowest on the planet, at approximately -400 metres, creating a who-knows-what kind of impact on maturing whisky in terms of air pressure, temperature, the utter dryness of the surrounding desert, the salinity in the air and so forth.
Israeli whisky may have started with a name, but take the time for a closer look and you'll see whisky being made with great care, and showing intrinsic ties to its place of origin. You'll see a small but growing cadre of producers eager to show the rest of the world that Israel is more than the land of milk and honey – it's a burgeoning region for the water of life.