It's been five months since the death of distilling consultant Dr Jim Swan, a legend in the Scotch whisky industry who left his mark on countless projects across Scotland. However his legacy also lives on all over the world, including in Taiwan where he helped establish the country's first whisky distillery. Martine Nouet visited Kavalan and spoke to master blender Ian Chang about Dr Swan's indelible impact on the project.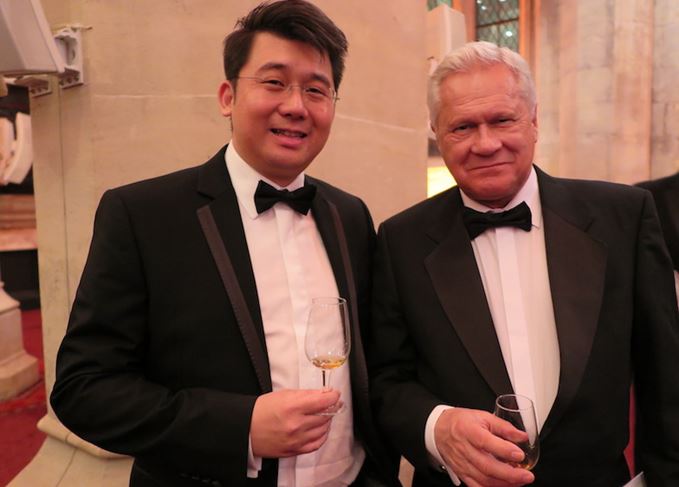 Kavalan has been making headlines again, winning a second successive International Spirits Challenge (ISC) Trophy, for its Solist ex-Bourbon single cask. Since its opening in 2006, the Taiwanese distillery has amassed an impressive 220 gold medals in different competitions all over the world.
At the same ISC awards ceremony, the late Dr Jim Swan ­– Kavalan's technical consultant, who died in February 2017 – was awarded the ISC Lifetime Achievement award. Universally respected for his expertise and appreciated for his human qualities, he had helped build Taiwan's first whisky distillery from scratch.
Right from the beginning, a strong bond was established between Kavalan and Scotch whisky. TT Lee – CEO of King Car Group, the food and beverage conglomerate which owns the Kavalan distillery – wanted to develop a whisky to echo The Glenlivet, one of his favourite single malts.
Dr Swan was instrumental in establishing this Kavalan style, making key decisions at all stages of the whisky-making process, including fermentation, distillation and maturation. Adapting his expertise to the Taiwanese environment and climate, alongside master blender and close colleague Ian Chang, he drove the young distillery towards the decorated status it enjoys today.
Chang graduated from Reading University in the UK with a degree in food technology, flavours and aroma and still visits the UK every month, holding regular meetings with people in the Scotch whisky industry. But if his first name suggests he may have Scottish heritage himself, it is an assumption he is quick to dispel. 'Not at all,' he explains with a smile. 'I am called Yulan, but my mates found my name hard to pronounce, so they called me Ian.'
When I visited Kavalan a few weeks ago, I felt how deeply Chang missed Dr Swan, not only as an expert but also as a friend and mentor. 'There is a movie called The Karate Kid,' explains Chang. 'The relationship between Dr Jim Swan and I was just like the actors Ralph Macchio and Pat Morita in the movie. For me, Jim was a genuine mentor.'

Taiwanese triumph: Dr Swan was intrinsic to the establishment of the country's first whisky distillery

How important was Dr Swan's role in building up Kavalan's spirit character?
'Going back to the beginning, when Mr TT Lee wanted to have his own distillery, he wanted the characteristics of Kavalan whisky to be rich in sub-tropical fruitiness and floral fragrance. Therefore, Dr Swan and the team set this as their goal and carried out extensive research into everything required, from the climate and the water resource in Yilan [County, home of Kavalan distillery], to whisky's raw materials of malted barley and yeast, as well as the supply of quality casks, and even the adoption of customised whisky-making facilities working within the parameters according to Yilan's environmental conditions.'
How did you work with him?
'In the early days, Dr Swan visited us six times a year and I worked with him intensively for 10 days each time to solve all the problems and queries we had. During this time, Dr Swan and I were permanent fixtures in the distillery and the maturation warehouse, checking through our many experimental whisky samples.
'Together with Dr Swan, I visited cask suppliers all around the world every year to make sure we could obtain high-quality casks and also to learn the background of each supplier. In addition, we attended seminars to learn from and meet people from the industry.
'In the last two years [he came] twice a year. He visited us for Kavalan's 10th birthday celebration and the inauguration of the second distillery and maturation warehouse in December last year.'

Local character: Conditions in Taiwan have a notable impact on Kavalan's spirit

How did Kavalan forge its own identity, and what impact have local factors had on that?
'[Its identity] is mainly the result of maturation in a sub-tropical climate and the type of yeasts we use in fermentation. This has become part of the character of Taiwanese whisky, shaped by Kavalan distillery which, as the first distillery, has pioneered whisky in Taiwan.
'The heat of Taiwan's sub-tropical climate and the humidity in Yilan speed up the chemical reactions between the oak barrel and the new make spirit, which shortens the maturation process and also enhances the flavours of Kavalan whisky.
'The local water from Snow Mountain is especially pure and sweet. This gives Kavalan its signature with a cream mouthfeel. Yilan also happens to be the first place in Taiwan hit by the Siberian winds in winter, which favours the oxidation in our maturation process.
'All this shapes – balanced with smoothness – Kavalan's complexity.'
How much does Kavalan owe to Scotch whisky?
'Dr Swan is from Scotland and this is the main reason we adopted traditional Scotch whisky-producing processes. We certainly owe him a huge debt.
'Thanks to Dr Swan, we have many good friends in the industry, such as Jim Beveridge (Diageo), Richard Paterson (Whyte & Mackay), Shinji Fukuyo (Suntory) and Bill Lumsden (Glenmorangie), just to name a few.'
Is there any field that Dr Swan wanted to explore with you that he did not have to do?
'Yes, we are still working on some secret experiments about whisky maturation under sub-tropical climates, which Dr Swan and the team were working on together.'
Such is the legacy left by Dr Swan at Kavalan that Chang says it's possible that the distillery might launch an expression to commemorate his efforts there over the past 10 years.
'When we started making whisky in Taiwan, no-one had done this before, and it seemed an impossible venture. Luckily, we had the help of the best expert in the industry.
'By refusing to give up, Kavalan has become recognised for its fine whisky, which we owe to Dr Swan. I'd like to dedicate this 2017 ISC Trophy to Dr Swan.'