Building a new whisky distillery is daunting enough – but then you have to wait at least three years, and often much longer, before you can sell a bottle. What do you do in the meantime? There are plenty of options, as Gavin D Smith discovers.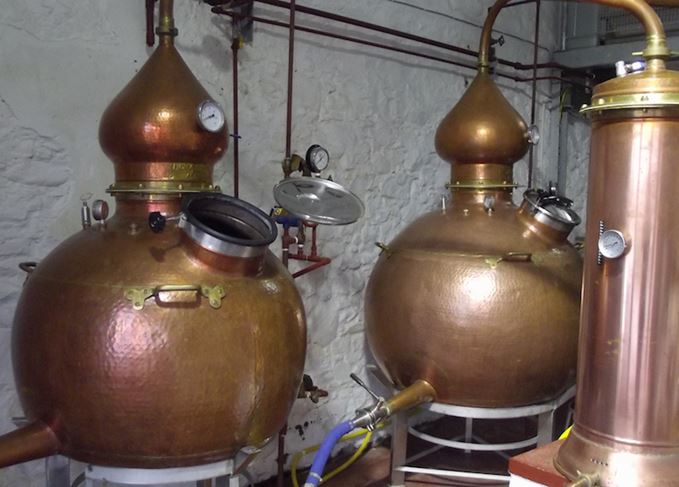 If you make something, there's usually a relatively short space of time between production and payment. Not so Scotch whisky. Distil today, and you have to wait at least three years before you can sell it.
So it follows that, if you establish a new whisky distillery, you need deep pockets or a strategy to earn revenue while the spirit slowly matures into The Real Thing. What are your options?
WHISKY FUTURES
Probably the most common way of earning early income involves selling 'futures', in the form of casks of spirit, pioneered by Isle of Arran Distillers back in the 1990s.
Among recent start-ups, the Glasgow Distillery Co is offering 50-, 100- or 200-litre casks of new make spirit through its 1770 Club. In south-west Scotland, Annandale Distillery has both peated and unpeated 200-litre casks of new make for sale.
For the truly dedicated and hugely wealthy consumer, Annandale supremo Prof David Thomson is also willing to sell Cask Number One, filled on 15 November 2014, with a cool £1m price tag.
Meanwhile, in Perthshire, Tony Reeman-Clark of Strathearn distillery, which commenced production in 2013, reports an encouraging level of uptake for cask sales.
'We are filling some Sherry, Port and Merlot casks,' he notes, 'and we will do whatever a customer wants, including the level of toasting on casks, and in future we will distil batches of peated spirit. We will even alter the lyne arm from descending to ascending if that's the style of spirit required.'

Still waiting: it's at least three years before start-ups like Wolfburn can sell their first whisky

Along with cask sales, some distilleries are offering individual bottle futures, including the Isle of Harris Distillery, with its One Nine One Six venture. There are – apparently – 1,916 people living on the Isle of Harris, hence a release of that number of bottles of 'The Hearach' single malt, due in 2019.
Kingsbarns distillery in Fife has created a Founders' Club, the members of which will receive one of the first bottles of Kingsbarns single malt, named Founders' Club Reserve and to be bottled in mid-2018.
Membership includes a welcome pack and five bottles of Kingsbarns single malt, according to Karen Stewart, director of marketing for owner Wemyss Malts.
GIN AND VODKA
Given the minimum three years it takes to produce legal Scotch whisky, it is hardly surprising that many new distilleries are making gin and vodka to give them immediate cash flow: Glasgow distillery is marketing Glasgow Gin, Harris distillery is offering Isle of Harris Gin and Strathearn has created Heather Rose Gin and Oaked Highland Gin, along with a 'Classic' example of the genre.
Meanwhile, the first product launched in 2014 by Arbikie distillery, near Montrose in Angus, was a vodka made from potatoes grown on the Stirling family's 2,000-acre estate. Gin and whisky have followed.
NEW MAKE SPIRIT
Traditionally, whisky-makers were loath to let anyone outside the business sample spirit straight from the still. After all, it really represented just the first stage of a lengthy process that would lead to a single malt whisky.
Now, however, operators of youthful distilleries are falling over themselves to sell their new make spirit to the public, seeing it as a valuable revenue raiser and a way of gaining early brand loyalty.
Kingsbarns is offering 20cl bottles of new spirit at the 'filling strength' of 63.5% abv, while Annandale retails Rascally Liquor New Make Malt Spirit and Rascally Liquor Peated Malt Spirit.
Fellow Fife distillery Eden Mill is even more adventurous, bottling three styles of new make, each made from a different type – or types – of malt, ahead of its first Scotch whisky releases from 2017.
INDEPENDENT BOTTLERS
The impetus behind developing new distilleries has sometimes been to provide independent bottlers with long-term supplies of whisky for bottling and reciprocal trading within the industry. Thus Kingsbarns distillery is owned by Wemyss Malts, while Ardnamurchan is in the hands of Adelphi.
'Due to the demand generated for private casks, we have limited the availability of trade fillings this year,' explains Adelphi sales and marketing director Alex Bruce.
'However, we have completed our first filling on a part-cash, part-reciprocal trading for mature stock basis, with the latter being very useful for Adelphi's independent bottling arm and the profit of the company as a whole. I plan to continue this option going forward with a small number of distillers and independent bottlers.'

Old and new: Ballindalloch distillery is housed in a 19th-century farmstead

VISITORS WELCOME?
Both Kingsbarns and Ardnamurchan have visitor centres as a key part of their activities, but not all start-up distilleries embrace this concept so readily: for instance, Glasgow distillery – located in a one-time wine warehouse within a transport group's compound close to the M8 motorway – does not even advertise its presence with a sign.
Up on the northern coast of Caithness, Wolfburn enjoys a similar level of anonymity in three industrial units on the outskirts of Thurso. It was established in 2013 by a group of ex-pat Caithness businessmen solely to make and mature spirit, and public access was never part of the business plan.
'We are geared to selling the first spirit in 2016,' says Wolfburn's David Smith. 'We will do one vatting and fill 500 bottles and put the bottles in nice presentation boxes as a limited release.
'We will then do a general release of the whisky, also in 2016, and the price won't be over the top. You won't find us charging £120 for a five-year-old!'
Possibly the most individualistic approach to creating a distillery, however, has come from the Macpherson-Grant family, which owns the Ballindalloch Estate, near Aberlour, in the heart of Speyside.
The family has lived in Ballindalloch Castle since 1546, and claims that its whisky venture – established in 2014 in a converted 19th-century farmstead – is Scotland's first 'single estate' distillery, with all barley used in whisky-making grown on the Macpherson-Grants' Home Farm.
'Ballindalloch is really just another facet of the sporting and agricultural estate, rather than an out-and-out distilling business,' says distillery host Brian Robinson.
'It's a small, old-style distillery, making a heavy Speyside character of spirit, using worm tubs for condensing purposes, rather than modern "shell-and-tube" condensers. We're aiming for something quite robust, which will make an ideal after-dinner malt, and should suit ex-Sherry wood well.'
He adds: 'No spirit will be released as new-make, or at three years and one day old. We're in no hurry to release it, and we may wait for eight or 10 years, or even longer, until it comes onto the market. It will only be sampled while it is young at the distillery "for discussion", as it were.'
And, when it comes to welcoming visitors, Ballindalloch takes a very selective approach. 'The principal public tour costs £35 per person and lasts for two and a half hours,' explains Robinson, 'so we are getting people who are serious about their whisky, and the experience we offer them reflects the overall estate and its values.'
Scotland's young distilleries, it seems, have business models as diverse and varied as the styles of new make spirit they are producing. There's much to look forward to in the coming years.