Newly-opened Isle of Arran distillery Lagg has released a trio of heavily-peated distillery-exclusive bottlings, all of which have been produced at its sister site in Lochranza.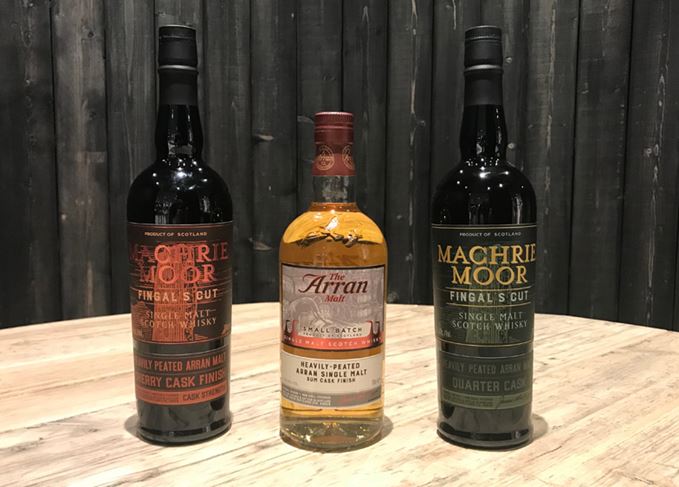 The bottlings consist of two whiskies from Isle of Arran Distillers' Machrie Moor range – one finished in quarter casks and one aged in Sherry casks – and a rum cask-finished whisky bottled under its Arran Malt label.
Graham Omand, distillery manager at Lagg, said: 'These heavy, peaty malts happened to be coming through from the distillery in Lochranza at the right time for the Lagg opening.
'Lagg will be producing a peaty spirit, so it was really fortuitous that those were ready to go.'
Priced at £59.99, Machrie Moor Fingal's Cut Sherry Cask Finish has been aged in first-fill ex-Bourbon casks from Buffalo Trace distillery for around eight years, before being transferred to ex-Sherry casks for 'an additional six months-to-one year's maturation'.
Its sister bottling, Fingal's Cut Quarter Cask Finish, was also matured in first-fill ex-Bourbon casks for around eight years before undergoing secondary maturation in smaller quarter casks, priced at £44.99.
Named after the Isle of Arran's Machrie Moor, home to the historic site known as Fingal's Cauldron Seat, the Quarter Cask Finish has been bottled at 46% abv, while the Sherry Cask Finish has been bottled at a cask strength of 54.4% abv.
The Arran Malt Rum Cask Finish expression also underwent eight years of maturation in first-fill ex-Bourbon casks before being finished in ex-rum casks.
Priced at £64.99, the Rum Cask Finish has been bottled at 57.2% abv.

Arran malt: The bottlings are available at Lagg, which has opened its doors to the public

Lagg distillery opened to the public on 12 June, while the distillery's first casks of maturing spirit were filled in April 2019.
Although its spirit won't be fully mature until 2022, the distillery is offering 20cl bottles of its new make as a 'spirit drink' at the distillery visitor centre, in addition to selling casks of its maturing whisky.
In addition to purchasing the exclusive bottlings, visitors can also tour the new facility, dine in the distillery's restaurant and order cocktails from the bar, which overlooks Campbeltown and the island of Ailsa Craig from Arran's south coast.