As the prized Islay single malt celebrates its 200th birthday, we enlist the help of two historical guides to unpick the unique charm of Lagavulin distillery. Richard Woodard reports.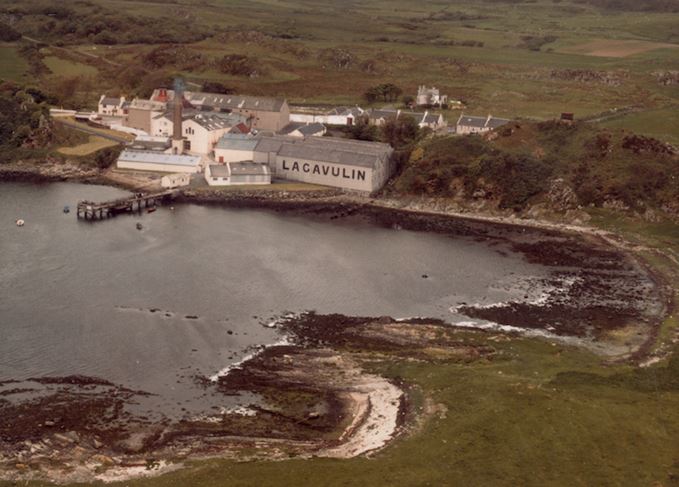 BEGINNINGS
'Lagavulin, or "The Mill Hollow", is one of the oldest places of habitation in the island, and its situation on the margin of the sea, together with its picturesque surroundings, combine to make it one of the most desirable locations upon the island, so justly designated the Queen of the Hebrides.'
It seems only right to begin with the words of Alfred Barnard, pioneering Victorian whisky writer and traveller, and the inspiration behind the bottling of a limited edition 8-year-old single malt to mark the distillery's bicentenary.
These words come not from Barnard's most famous book, The Whisky Distilleries of the United Kingdom, but from a smaller work commissioned by Lagavulin owner Mackie & Co, How to Blend Scotch Whisky, which includes a profile of the distillery.
We might set alongside them a line or two from Dr Nick Morgan, head of whisky outreach at Diageo, modern-day owner of Lagavulin, and a historian who has delved deeper than most into the distillery's past.
'In my own personal view – and I have a lot of heart for Lagavulin – it transcends Islay. It transcends the west coast and it almost transcends Scotland. It's down to the place, the people and the liquid, whether it's the 16-year-old, the new 8-year-old or the older ones. There is magic dust in Lagavulin.'
The Lagavulin story begins, as so often in tales of Scotch whisky, with smuggling and illegality.
'Lagavulin is the oldest distillery on Islay, the business having been actually commenced by a smuggling fraternity as early as the year 1742.'
At first glance, this Barnard reference is worrisome. Why are we celebrating Lagavulin's bicentenary now when it really occurred during the Second World War? But the 1742 date (used on many early Lagavulin labels, by the way) refers to the reputed commencement of illicit distillation in about 10 separate bothies in the bay.
Lagavulin only went legit in 1816, when the various enterprises were combined into not one, but initially two distilleries, operating side by side and owned by the same family, the Johnstons. The second plant, confusingly named Ardmore, ceased production shortly afterwards.

EARLY RENOWN
'First we must say that the salubrity of atmosphere, good water, and the finest quality of malt have much to do with the production of Lagavulin whisky… Lagavulin has a high reputation both at home and abroad; as a single whisky its reputation is unique, and it is one of the few Highland whiskies that can be drunk alone.'
Barnard's words date from the late Victorian era, but Lagavulin's high renown was evident some decades earlier, according to Dr Morgan's research. 'The thing that Lagavulin had is a reputation that far exceeded that of almost any other single malt in Scotland,' he claims, citing a host of references in short stories, novellas and newspaper serialisations.
'These were Victorian times, and people who didn't talk about drinking a great deal,' Dr Morgan points out. 'Writing about the Highlands seems to have given people permission to write about drinking. And when they write about drinking, people seem to have been drinking Lagavulin.'
Nor was this purely a British phenomenon: as well as Thomas Black's famous words from The Strange Horse of Sunabhal, reprinted on the Lagavulin label, prolific American writer Sylvanus Cobb Jr namechecked Lagavulin in Victorian times, and there were references in British colonial newspapers.

THE PETER MACKIE ERA
'We cannot but conclude this notice without adding that we never saw a distillery so orderly managed, nor workmen more industrious; the work of every department goes on like clockwork, and every employé seems to know and do his duty.'
Barnard visited Lagavulin in Peter Mackie's day – indeed, in his company – and, while Lagavulin already had a strong reputation when Mackie first came to the distillery in 1878, his status as one of the leading figures of the late Victorian Scotch whisky boom helped cement its reputation.
'When Lagavulin comes under the control of Peter Mackie, he clearly wants to celebrate the fame of his distilleries, as well as creating the White Horse blend,' says Dr Morgan.
The Lagavulin/White Horse association, made manifest by the painted equine emblem on the roof of the distillery, remains to this day: while most of Lagavulin's production is destined for bottling as a single malt, it is still part of the White Horse blend.
But the reputation of 'restless Peter' is coloured by some of his actions. Irked by the loss of the agency for neighbouring Laphroaig, he built a painstaking replica distillery within Lagavulin, using his knowledge of its operations and even poaching someone from the distillery two miles down the road to seal the deal.
But Malt Mill, as this early micro-distillery became known, didn't produce Laphroaig. Or Lagavulin, for that matter. 'It was used in a couple of Mackie blends, particularly Ancient Scotch,' says Dr Morgan, who found in the latter 'a very unusual phenolic character, very different to Lagavulin'.
Used for blending and never – as far as we know – bottled as a single malt, Malt Mill ceased operations in 1962 and remains one of the more enigmatic 'lost' distilleries, epitomising the elusive nature of distillery character. It is also, as Dr Morgan says, 'a tribute to Peter Mackie's bloodymindedness'.
But Mackie's reputation as an eccentric is only part of the story, Dr Morgan believes. 'That doesn't do him justice. He set up the first lab for whisky quality, and he was obsessed with whisky quality and consistency.' And Lagavulin reaped the rewards.

MODERN FAME
'…our guide presented us with a glass of ten years old whisky, matured in a sherry cask, very mellow and well-flavoured, which possessed an exquisite aromatic odour. Lagavulin is generally drunk throughout the island and is much prized by the inhabitants… Lagavulin whisky is sold largely in Scotland, England and the chief foreign markets, and is in such demand that the orders exceed the output, which reaches 100,000 gallons annually.'
Lagavulin today, while dwarfed by bigger brands such as Glenfiddich and The Glenlivet, is a stalwart single malt, a global favourite that was part of the sextet that formed the initial Classic Malts line-up. But why Lagavulin and not, for instance, Caol Ila?
'Quality and reputation,' responds Dr Morgan. 'In the discussions that went into choosing the Classic Malts there were two or three factors in play. One would be quality and reputation – which is quite amorphous, but we all know which distilleries are famous and which aren't.
'Then attractiveness: could you take visitors there? It would never have been Caol Ila.'
The deliberations fell short, however, on the matter of supply. 'The people who made the decision obviously hadn't read Alfred Barnard, who said demand always exceeds supply,' says Dr Morgan. 'Nor had they read the numbers about capacity and available stock.'
Tying Lagavulin to a 16-year-old age statement didn't help either – and the distillery has remained on allocation for much of its recent past. 'They never imagined that we would be selling 100,000 cases or whatever it is,' says Dr Morgan.
In fact, 'they' wondered if anyone would want to drink Lagavulin at all. Delving back further into the 1980s when, in Dr Morgan's words, 'people were starting to agitate over the evident success of Glenfiddich and Glenmorangie', The Ascot Cellar collection (a Classic Malts precursor) included a 12-year-old Lagavulin – but only reluctantly.
'The old established DCL hands didn't believe that people would drink Talisker, Lagavulin or Caol Ila,' recalls Dr Morgan. 'They thought all these things were far too challenging.'

CONCLUSIONS
'[A] quaint and singular distillery, curious not alone for its antiquity but for the historical interest attached to it.'
In the end, a number of factors conspire to give a much-loved distillery like Lagavulin its special status: the liquid, without doubt, but also the place, the people and the history. And, in more practical and prosaic terms, its usefulness as both blending component and stand-alone single malt.
To Dr Morgan, this is the key to why Lagavulin (and Caol Ila) survived the cull of the early 1980s when Port Ellen didn't.
'The DCL committee would have looked at a number of issues – the cost of alcohol insofar as they were able, the water supply (which wasn't very good at Port Ellen), but the key was the recommendations of the blending committees,' he says.
'They said which whiskies they wanted and which they didn't need. Caol Ila and Lagavulin were very important. But, if you'd asked people about Port Ellen even in the 1990s, nobody would have given a fig for it, and apparently it wasn't a particularly pleasant place to work.'
And so, 200 years on from legal establishment, and considerably longer since distillation began at its location, Lagavulin remains, its buildings huddled into the dramatic landscape of the Kildalton coast, 'in a romantic situation', as Barnard himself put it.
The exigencies of the location make expansion problematic, although by no means impossible. Lagavulin is to some extent, to quote Dr Morgan, 'trapped in its own history', although he is swift to add: 'I'm sure if you really wanted to, you could go in and knock down the stillhouse and double its size.
'But you'd have to be nuts.'