Blended Scotch whisky is all about quality, balance and consistency, but consistency over what timescale? A tasting of White Horse from the 1930s to the 1970s provided some illumination and raised some intriguing issues. Richard Woodard was lucky enough to be there.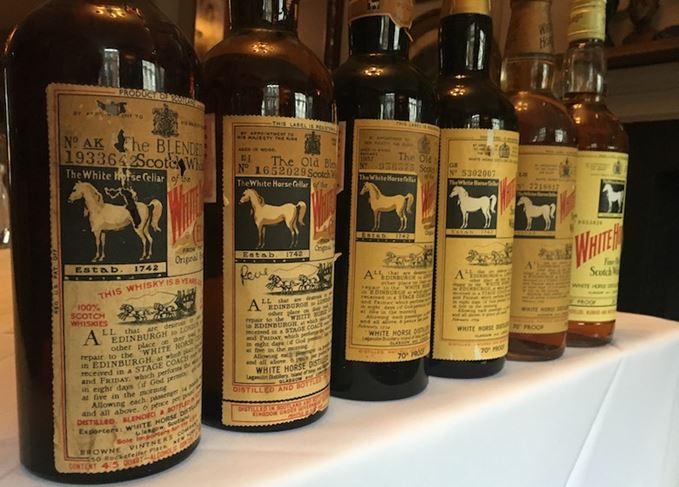 What do we demand from blended Scotch whiskies? Beyond the simple pleasure of drinking them, and putting aside the wrong-headed 'inferior to malts' prejudice, probably a defined style, balance and consistency.
But consistency over what timescale? It's not unreasonable to expect your favoured brand to maintain a similar flavour from one bottle to the next, but where does that expectation end? After a few months? A year? What about several decades?
Spirits entrepreneur Marcin Miller and Diageo head of whisky outreach Dr Nick Morgan are both collectors, and lovers, of White Horse. Both confess that an obsession with Lagavulin, the Islay malt most readily associated with the blend, lies at the heart of their passion. In Dr Morgan's case, a fascination with 'Restless' Peter Mackie, the creator of White Horse, provides fuel for the fire.
The pair combined their passion – and some carefully chosen examples from their respective collections – in a tasting of six White Horse bottlings, spanning four decades. In a supremely generous act, they invited 11 friends and whisky acquaintances along to share the results.
Tastings of whiskies bottled decades ago are rollercoaster affairs, and this one touched some impressive heights, and plumbed some intriguingly subterranean depths. But even when it was bad – three of the six whiskies had serious 'issues' – it never ceased to be fascinating.
The secret may be the closure. A pre-1945 springcap was fastened tight as a drum (and took some time to remove). The whisky revealed was a triumph, with integrated, confident smoke, butterscotch moving into darker caramel and coffee bean; and all the serenity of great age.

Tight as a drum: The pre-war bottle's intact closure helped to preserve the contents

The aluminium capsule of pre-1955 bottle number two's patented KNS (Kork-N-Seal) closure had been breached – providing the most plausible explanation for its seriously funky, cabbage-water character. Only on the palate did White Horse's characteristic smoke and buttery flavour come through. A bit.
Closure concerns then became a familiar theme: bottle number three, from 1957, hid notes of smoke and sulphur behind an unappealing sprouty exterior that only expanded with time. Its Bakelite closure contained a crumbling cork interior, giving ample scope for contamination.
As we moved into the '60s (1962), things improved, but only marginally. Still that cooked veg note, but taking a bit of a back seat now to rounded caramel and some fresher fruit flavours – and the beguiling sweetness that also underscored the pre-war bottling.
The intact screwcaps of the 1969 and 1979 bottlings were viewed with relief – and the whiskies they contained regained the high ground of bottle number one. Sherried notes of polished wood, dried fruit and spice, all in varying degrees of balance with that unifying White Horse thread of fine, integrated smoke.
Great whiskies prompt as many questions as answers. What went into these bottles? Some Lagavulin, of course, but also – in all likelihood and depending on their age – Craigellachie, Cragganmore and, tantalisingly, Malt Mill: Peter Mackie's angry Laphroaig facsimile, built on the Lagavulin site. As for grain – maybe Port Dundas, located next-door to White Horse's bottling hall?
Further questioning on the historical context. Leaving aside spoilage from compromised closures, was there a slight lack of depth on the 1950s examples – and was that a reflection of the times?

Tattered glory: The label may be worn, but the pre-war whisky inside was a marvel

After the Second World War, explained Dr Morgan, there were profound changes in the way that Scotch whisky was made. New excise laws permitted producers to mash, ferment and distil concurrently, allowing them effectively to treble their production overnight – meaning that equipment could be run harder, with a potentially negative impact on spirit quality.
The last whisky of the flight, from 1979, told a different story. Bottled on the cusp of the 'whisky loch' period of chronic oversupply, it was, as one taster noted, the beginning of the era of 'Holy fuck, we've got all this whisky and we don't know what to do with it, so we'll put it into blends'. By the mid-1980s, White Horse often contained whiskies aged for 12-15 years.
Six whiskies with the same name: all different, all sharing a common character, all reinforcing the ideal of blended Scotch. So: was there quality, balance and consistency? Yes, there was, but it was also shaped by the practices and pressures of the conditions under which these whiskies were bottled, the efficiency of the closures used and the storage conditions in the years that followed.
Blended Scotch whisky doesn't – can't – remain identical through the ages. Instead, within certain parameters, it retains its own, distinct identity, while at the same time telling the story of the times in which it was made, becoming in the process a liquid chronicle of whisky history.