Drew McKenzie Smith spent most of his life cooking for the rich and famous, unaware of his ancestral home's connections to early Scottish distillers. He tells Gavin Smith about the day he decided to leave the kitchen and build a distillery at Lindores Abbey.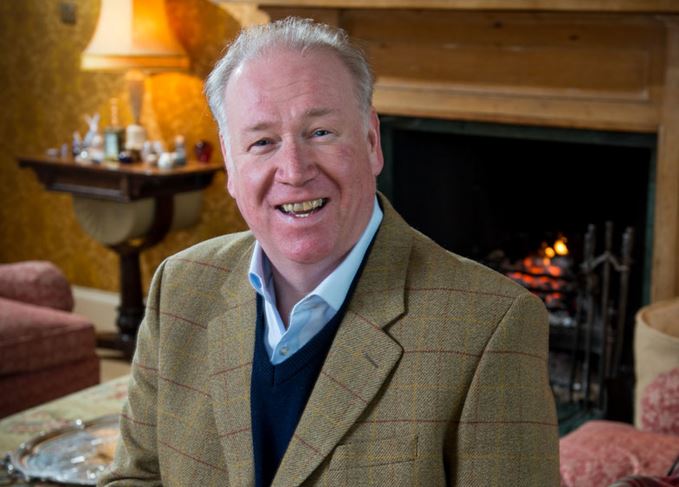 'My father was from Aberdeen and my mother from Fife, but I was actually born in Sussex, and we lived at Barkham Manor where my father had a herd of pedigree Aberdeen Angus cattle. Barkham is now a vineyard. Dad was a stockbroker and I went to a lovely wee prep school before being hauled up to Scotland to attend Strathallan [public school in Perthshire], which was a bit of a culture shock for such a soft southern boy.
'Lindores Abbey was always the family home though, and we moved back up to Scotland when I was about 10. Having the abbey in our back garden made it a pretty special place to grow up, though looking back now it was probably not quite right that my brother and I rode our motorbikes all around it.
'My great-grandfather had bought the Lindores Abbey farm in 1913 and my grandfather gifted it to my mum when she got married. It's a huge thing for me to think that through the distillery we can keep the abbey in the family for another 100 years and, perhaps more importantly, preserve the abbey ruins for future generations of whisky lovers, enabling them to make their own pilgrimage to the spiritual home of Scotch whisky.
'Dad went on to buy Ardoe House Hotel, just outside Aberdeen. He used to go there when he was a young loon and I think it was a bit of a childhood dream. The best thing (for me anyway) was that it also had a mile and a half of fishing on the River Dee and I did various jobs at the hotel from bottlewasher up to ghillie.
'Much later, I went back into hotels, after my wife Helen and I decided to leave London and move to the Lake District. Helen had been working as a classic car dealer and myself at Christie's the auctioneers, but in the Lake District I learned classical French cooking using the freshest ingredients at The Punchbowl in Crosthwaite – arguably the first "gastro pub". It was run by Steven Docherty, who had been head chef at London's Le Gavroche.
'While I was learning my new trade in the kitchen, Helen had made a similarly bold move and phoned up the owner of the newly opened The Samling at Dove Nest, a super place overlooking Lake Windermere, and one of the first exclusive-use properties in the UK.
'The Samling was super posh and I left the Punchbowl to become head chef. It was a great time and we had Tom Cruise and Nicole Kidman with us for weeks on end while they were in the UK filming Eyes Wide Shut. So, we began a career in the high-end hospitality industry that has carried on pretty much up until starting the distillery, where Helen oversees the visitor experience and I still make the soup.
'I first got the idea for the distillery around 20 years ago, when Helen and I were running Myres Castle, an exclusive-use property in Fife. After finishing a busy evening service, I sat down at the computer (I don't think laptops even existed then) and I was looking at a website called Connoisseur Scotland, which was dedicated to the finer things in Scottish life, one of them naturally being whisky. I was just scrolling through when the words 'Lindores Abbey' sprang out at me, it was the first I had heard of Friar John Cor and the Exchequer Rolls of 1494.
'I then looked up various whisky websites and read the same thing and even though it was after midnight I thought I'd put a finger in the air (metaphorically) and look up whisky societies. The first one that came up was 'An Quaich,' a Canadian whisky society and I pinged them a wee message saying I was thinking of setting up a small visitor experience at Lindores, that there was no thought of a distillery at this point, and what did they think? A day later I received a reply that was so effusive and encouraging that I thought I'd give it a go. The rest, as they say, is history.
'In terms of creating the distillery there have been many highs and a couple of lows, though the lows were all utility related. We were very fortunate, and greatly touched, that we did not receive a single objection to the distillery.

New life: Lindores Abbey distillery is helping to regenerate the small Fife town of Newburgh

'Newburgh is a small community and we are already the largest employer in the town, so bringing economic benefit to my home town means a lot to me, as does preserving the medieval abbey ruins. We can never rebuild it, but we can halt its decline, and that is why we have formed the Preservation Society, where members can join us in our endeavours.
'A real highlight of the project was when Helen and I sat down for a dram in the half-complete Legacy bar after a very hectic day; it really felt as though all the hard work over the years was paying off and this was what it had all been about. The moment was somewhat diminished, however, when Helen's mobile went off. It was her mother who lives down south and was watching our live cam and seemed surprised that we had time to be sitting about drinking.
'On my first trip to Islay I had the great pleasure of sharing a few Kilchoman drams with Anthony Wills and the late Dr Jim Swan. Anthony has been very generous with his time and advice over the years and I'd known Jim for a long time before he came on board at Lindores. It was an honour to know him, and I also had the absolute privilege of sharing some Kavalan Solist with the great man.
'Not long ago, I was told that there was a Japanese gentleman in the distillery, and if I had a moment would I go and have a quick chat. I'm not a whisky geek, but even I recognised Japanese whisky legend Ichiro Akuto, and it was super to show him around. While I say I'm not a geek, I not only asked him to sign my bottle of The Floor Malted from Chichibu, but we then shared a dram in the still room at Lindores.
'Sharing a dram (or two) of his award winning 1494-1994 blend with Richard Paterson on the day of Lindores' official opening was another very special moment for all sorts of reasons. After all, it was the opening of our distillery and I was with the man himself, but also, I had been staring at my unopened bottle for the last 20-plus years wondering what it would taste like. I can report that it was absolutely stunning.'