As celebrations for his 50th year in the whisky business draw to a close, Richard Paterson, Dalmore's inimitable master blender, reflects on a lifetime of innovation, eccentricity and insults, and why he's still best-known as 'that guy who throws whisky on the floor'. He speaks to Becky Paskin.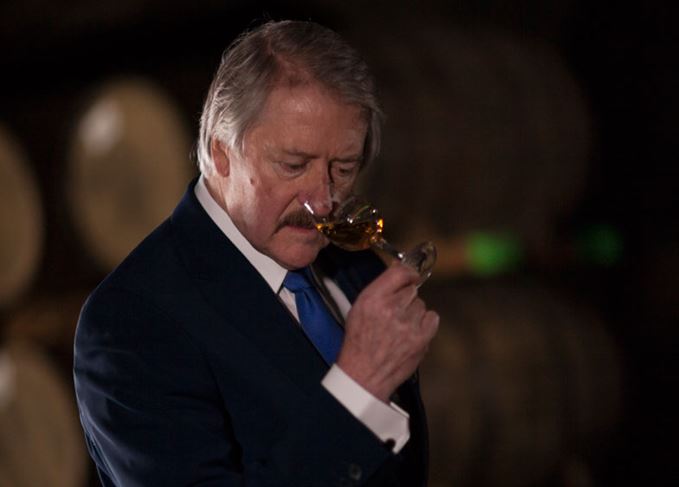 He's one of the world's most revered whisky blenders, yet when Whyte & Mackay's Richard Paterson creates a new expression, he first turns to a psychic birthday book.
'It tells you a person's character based on the day they were born,' he explains. 'It tells you who shares their birthday, what their tarot cards are, their positives and weaknesses, and that allows you to build up something when you make a whisky.'
It sounds a little far-fetched for this traditional, dapper Glaswegian gentleman to be consulting a psychic tarot text. Nevertheless, the all-seeing birthday book has been summoned on many an occasion, most recently for Paterson's creation of a new blended malt in memory of Polar explorer Ernest Shackleton.
'When we created the Shackleton we looked at his birthday (15 February 1874), and saw his character was very much into working as a team. He had a soft and hard side to him, so the whisky has been purely built on his character.'
In a way, Paterson's fondness for people and their personal tales is not so surprising at all; stories are what make him tick. The master blender, master showman and whisky educator has been imbuing presentations, speeches and even his own biography with analogies, historic legends and cautionary tales for decades, peppering them with endless facts and anecdotes. Even our interview comes with its own dose of Paterson Prose.
So what characteristics does the book list for those born on 31 January, Paterson's birthday? 'It's not right for everybody, but the majority of times it hits the mark,' he tells me before emailing over a scan of his page. It reads: 'Those born on January 31 are individuals who wish to be heard'.
Uncanny. Paterson is arguably the most famous face in Scotch whisky. His unconventional – and sometimes controversial – teaching methods, and reputation as 'The Nose', have made him the most watched whisky personality on YouTube, and the only Scotch producer to be invited to do a Reddit AMA (Ask Me Anything). Although the man behind the Dalmore, Jura, Fettercairn and Tamnavulin malts, and the Whyte & Mackay blend, has received several lifetime achievement awards, trophies and medals, Paterson is still known by the masses as 'that guy who throws whisky on the floor'.

Showing off: Paterson grabs attention by throwing expensive whiskies on the floor, all in the name of education

His attention-grabbing approach to education isn't always revered by the industry, but Paterson has no regrets: 'I like to think that although I present as a showman, it's not really a show – it's actually 100% passion. As long as it's remembered in the right way, and people walk away learning something for the first time, I'll be happy.'
Drenching carpets in whisky, threatening death if a glass is held 'incorrectly' and pulling party poppers as unsuspecting consumers taste whisky, are all techniques Paterson developed at a time when wine hogged the limelight. His ambition was to give a little of that airtime over to whisky.
'I suppose Richard the showman emerged in the '70s. Back then the reaction was always "oh, here's a bloody whisky guy, what's he going to teach me? I'm here for the wine." But they looked at whisky for the first time, and they changed their minds.'
For the past 12 months The Paterson Show has been on a world tour, visiting Europe, Asia and America in honour of its star's 50th year in the whisky industry. At the centre of the celebration is the launch of The Dalmore 50 Year Old, a £50,000 single malt containing whiskies dating back to 1966. 'It epitomises the care and attention that goes into producing a single malt,' Paterson explains. 'I like to think it's the kind of care and attention I've given to my 50 years in the whisky industry.'
The Dalmore 50 is a milestone whisky for Paterson, but the blender is no stranger to working with malts matured for extended periods. Vintage expressions from the Highland distillery have included 40- to 62-year-old malts, while in 2010 Dalmore Trinitas 64-year-old became the most expensive whisky ever sold at £100,000 per bottle (it's since been usurped by an Imperial decanter (six litres) of Macallan M, which sold for US$628,000 (£381,620) at Sotheby's in Hong Kong in 2014).

Milestone malt: The Dalmore 50 was blended using whiskies dating back to 1966

You could say Paterson is something of an expert at nurturing elderly whiskies, a position he understands to be rare. 'I must stress to you, because a lot of people get misconceptions here, when we talk about malts aged over 25 years, these are rare gems,' he says. 'Not every whisky distillery has these, and the ones that don't have them get jealous and become bitchy at me, and that's the reality, because a lot of them have used [their stocks] up.'
Paterson began his career in the hospitality business, teaching himself about wine while working a seasonal job as a lift attendant at the Atholl Hotel in Pitlochry. Now that knowledge is put to good use – he's one of the pioneers of wine and Sherry cask maturation, and is as passionate about Port and Pinotage as he is malt and grain. 'It doesn't matter if it's Champagne, Burgundy or Bordeaux, I have to know about it,' he says.
I've known Paterson for several years, and for all the times we've spoken – in interviews and over a cup of tea – I've never seen his eyes light up as much as when he's talking about wine and wood.
'The seed was probably planted when I was young, when I went into a warehouse with my father and I saw the silhouettes of the casks, but couldn't see the whisky. They were maturing; I could smell it.' His father Gus ran the family whisky broker WR Paterson & Co., but however strong his first impression of the angels' share, Paterson wasn't wholly sold on following in his father's footsteps with a career in whisky. That changed when at the age of 17 he was pushed into interviewing for a role as an office boy with Glasgow blender and merchant A. Gillies & Co. 'A lot of people said "you just got this job because of your father, you know nothing". Now that was a real insult.'

Facing the past: Paterson has long lived in the shadow of his father's – and his own – expectations

Paterson knew that to prove himself he had to go above and beyond his peers, even if just to fit in. He set about teaching himself as much about whisky and wine as possible, although the task wasn't so easy in the late 1960s. 'At that time there were no books on wine, nothing like you guys have now.'
His early dedication to education is evident in his acclaimed knowledge today, as well as the many awards in his and Whyte & Mackay's trophy cabinet. However Paterson, despite the poise and performance, still carries those early taunts with him.
'Even today I'm still that boy,' he says. 'I think it's the determination to prove to my dad that I've achieved something. But I still don't feel like I've achieved it, you see.'
His father passed away in 1994, just months before Paterson received the Spirit of Scotland award from the International Wine & Spirit Competition. 'He had worked hard to build up the whisky industry and therefore I always wanted to show him what I had done,' Paterson muses.
What would your father make of your achievements if he could see you today? 'I think he would be proud, but he would also think "you're selling that kind of whisky for that kind of money? You must be off your head!" He'd probably have a fright in his gravestone if he knew some of the prices that we were doing.'
The price of whisky has soared since Gus Paterson traded stocks from his Glasgow warehouses, just as single malts have emerged as a growth driver for the industry. When Paterson started out at A. Gillies & Co. back in 1966, his future, as far as he saw it, would always be in blends. It's the mainstay of Whyte & Mackay's portfolio, but the popularity of malts hasn't won any favouritism from Paterson.
'I'd like to see the growth of single malts continue on, but it really hurts me a wee bit to see the bad feedback that blended whiskies sometimes get,' he says. 'After all it still accounts for 90% of the market. The same expertise goes into making a blend as a single malt, so they deserve the same respect. It's the same with grain whisky – thanks to Haig Club they've risen dramatically, but there's still little sensitivity about them.'
As yet only Cameronbridge (the distillery behind Haig Club) and Girvan have put themselves behind a single grain bottling. With Invergordon in the Whyte & Mackay portfolio, will Paterson top off his 50-year career by ticking another Scotch category off his list? 'Yeah, providing we've got the right age, and I'm talking 15-20-years-old.'
Grain whisky aside, Paterson agrees the rise of single malts has been one of the most significant developments in Scotch whisky in the last 50 years, yet innovation will continue to evolve as consumers become 'more demanding'.
'The consumer is getting far more daring, and is prepared to look at single malts that have a different edge or finish. Because of that all of us are working hard to please them. Whether it be finishes or in Glenmorangie's case with Bill Lumsden's use of chocolate barley.
'There's going to be even more pressure with all the small boutique distilleries opening – about 30 in Scotland, and another 30 in Ireland and another 1,000 in America. All these guys are struggling to get that difference and they are becoming even more experimental. We've got that to contend with but you've still got to hold onto your traditions without letting it become staid.'

Nurturing talent: Gregg Glass is being primed to take over the reins from Paterson

With innovation at the forefront of Paterson's mind, but with the celebration of his 70th birthday impending, Whyte & Mackay turned to appointing an understudy – his eventual successor – from one of the industry's most forward-thinking companies. Gregg Glass, former whisky maker at Compass Box, joined Paterson in December 2016.
'We had to think about the future in the same way as William Grant did with David Stewart and Brian Kinsman. Gregg comes from the Dalmore area, and has a background with an innovative whisky company. Compass Box is quite a small company and therefore they've had to get their products right. They've had to be aggressive and have an edge over the competition. That was our main attraction to him.'
With Glass lined up as his successor, and a solid 50 years under his belt, is retirement finally beckoning Paterson? It's a question he's asked frequently.
'I'd like to do 50 years with Whyte & Mackay first, so I still have three years yet. It won't be a quick fix – it will be when I feel it's right. The company will be in safe hands but it has to be in hands that know exactly what they're doing. You get a lot of pressure in this role, and I'm not putting Gregg in that position until I know he's fully familiar with every aspect.'
Paterson's 50th anniversary with Whyte & Mackay will arrive in September 2020, just eight months after his 71st birthday. With so much to celebrate, the next few years may see an encore for the Paterson World Tour, perhaps even a new Dalmore expression blended with the aid of the birthday book to compliment his personality?
The entry for those born on 31 January really is uncanny: 'It is not only their looks, bearing or sense of style that attracts others but rather the beauty of their creations… Still, they often get the idea that they are not really being appreciated for themselves, for what they value most inside.'
Paterson's undeniable passion for his job, for whisky and the industry is clear, but perhaps not so transparent is a determination to prove his worth. Why, when he's achieved more than most dare to hope? Was it the pressure of filling his father's shoes or satisfying increasing demands from consumers, or simply because it is really written in the stars?
'I suppose I always just wanted to show that I didn't just get that job because of my father,' he says, 'and I've never rested on that.'