A former bartender in New York, California-born Cory Mason has made vodka in Massachusetts, rum in Scotland and gin in Surrey. The co-founder and master distiller of TOAD (The Oxford Artisan Distillery) talks to Richard Woodard about his love of rye and the true nature of 'craft'.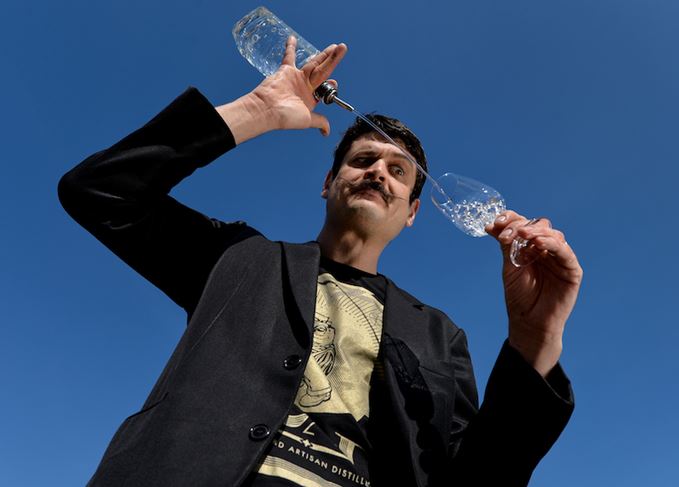 'The heart of what we are is a craft distillery, with really unique, really interesting grains. We're using an archaeobotanist [John Letts] and ancient grains; it's organic, it's sustainable. We mill it, mash it, ferment it, distil it and that's the business.
'The majority of what we make is rye whisky, using rye grain. We have three gins, including one with the Oxford Botanic Garden, and one with the Ashmolean Museum, and a vodka.
'If we make something that tastes good, we're not going to get hung up too much on it being old enough to be called whisky, although it will be aged for longer. We use small experimental casks with different char levels. We've got rye in new American oak, Madeira, Port.
'Our core whisky is 70% rye, 20% wheat and the rest a mix of malted barley and malted rye. Eighty percent of what we're doing is our mashbill in a new American cask – that's the core brand. We filled 70 casks in 2018, and we'll double that in 2019.
'With the stills, I wanted something that represented the distilling heritage, using John's grain that's medieval and heritage – that kind of steam-pump heritage look. That led me to steam engines.

Cosmopolitan set-up: TOAD's still designs come via Haiti and South Devon Railway

'My brother was working in Haiti after the earthquake and was sending me bottles of Haitian moonshine. He told me how he had to trek through the train tracks to find this repurposed steam engine boiler turned into a still.
'So I called South Devon Railway. I told them what we wanted, and there was just silence on the other end of the phone. Then they said: "Ok, we use arsenic in the copper now, and I don't think you want that." But we got there in the end.
'It's a short still to produce a big, robust flavour, but there's a bubble plate in the cap and ways of getting reflux. I was looking for versatility. Instead of being jacketed, we have a massive coil inside. You get the reaction of toasting bread.
'Those amino acids and complex sugars give us butterscotch and coffee flavours. It cooks the grain and breaks it up there. Every couple of weeks, I have to get into the still with bent knives and scrape it all off.
'Rye has a visceral level of personality: it has a personality in the product, it has a personality in the person that enjoys rye. It's the dirty stepchild of whisky. If you go into a bar and ask what rye do you have, the bartender will give you that look. Rye is a special club and has been for some time. Now it's getting to be a bigger club.

Liquid lessons: Mason previously made booze in Massachusetts, Scotland and Surrey

'In 2001, I went to New York on a whim and took a train to Harlem. I stumbled into the restaurant and bar industry in a really full-on fashion. Before being legally able to drink, I was bartending at a bar called Cafe DeVille in East Village.
'I worked with [cocktail guru] Dave Wondrich in about 2002 in the Meatpacking District, and met the guys at [legendary NY bar] Employees Only, and worked there for a while, then started my own space in Brooklyn – an underground music venue, bootlegging operation and speakeasy.
'When you have kids, things change. In around 2008 I met my wife. We started a non-profit in Brooklyn doing community gardens. We had a kid in Brooklyn, but I was working till five in the morning; we were living in an industrial loft, which is really cool, but the area was totally dodgy, and the police were pulling dead junkies out of our community gardens.

Tough job: Mason has to regularly scrape rye residue off the inside of TOAD's stills

'When you're in your 20s, that urban life is super-cool, but when you have a kid, you kind of take a look at it and think: that's not sustainable. We went to an island in Canada to regroup, and then I started working with craft distilleries in the US.
'I worked with Berkshire Mountain Distillers [in Massachusetts] making really cool vodka, gin, rum and whisky. But I had a lot of questions working legally as a distiller for the first time – about why things were made the way they were – and they didn't really have any answers.
'So, one drunken night, I searched for "best distillery school in the world" on the internet, and the only masters programme I could find was Heriot-Watt in Edinburgh. I told them I didn't have much in the way of undergrad stuff, but Dave Wondrich wrote me this amazing recommendation letter, saying: "If there's one person out there who should be making booze, it's Cory."
'The school wrote back saying: "We'd love to have you." I graduated with honours and helped to start up [Scottish rum distillery] Dark Matter and Silent Pool gin.

Cereal thriller: Mason believes grains help create the personality of a distillery

'Coming to TOAD was about the opportunity to do things in the way that I wanted. I had this opportunity to do something from scratch, where we get to work with farmers and build our own stills – something you don't get the opportunity to do when you're doing a gin.
'My opinion on where flavour comes from has changed a lot as I've been distilling. Pure rye tastes very much different from what I thought it would. Taking out the wheat and the barley really shows the flavour influence it has on these other grains.
'Whether these flavours are due to the malting process and the cooking process we use, or it's from the raw grain – that's kind of debatable. It all goes to creating the personality of a distillery and the personality of a product.
'We started this knowing that we had to sell gin and vodka; we'll end the next five to 10 years selling whisky. If we had £10 million, we would set up a beautiful distillery on one of our farms and we would be making 600-700 casks of our whisky a year.
'"Craft artisan heritage distillery". Take your pick of the words that mean nothing! The hard part is quantifying it and making it mean something: operating stills by hand, using local cask makers, local farmers, ancient heritage grains.'