Dariusz Plazewski's Bimber distillery in West London is about to release its first English single malt. The founder and distiller tells Matt Evans about his moonshining roots, his old-school whisky approach and why he believes water has no impact on flavour.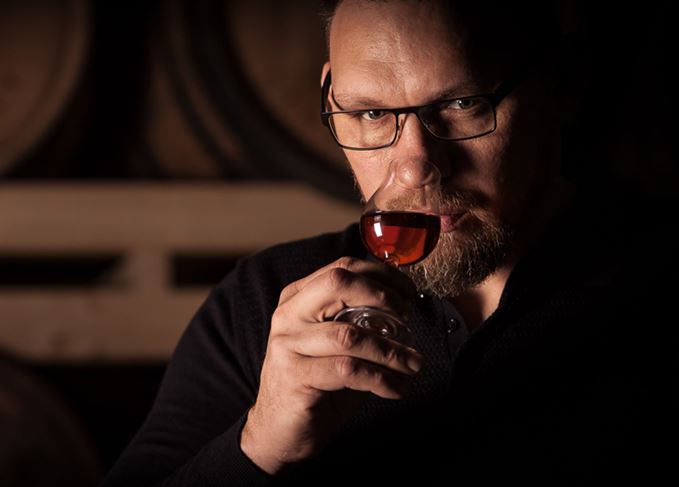 'The way I learned to create moonshine was with the human senses. In my family, everything was done without the use of modern equipment. Instead, we used the old-fashioned ways based on touch, smell and taste – and that's part of what we're doing at Bimber, making something in the old-fashioned way.
'My whisky-making story starts a long time ago. I'm a third-generation distiller and I learned the art of distilling from my grandfather and my father. When I came to the UK from Poland, I focused on studying and business, but it had always been my passion to follow in their footsteps and set up a distillery. In 2015 I decided I just wanted to go for it, pressed the big red button and began setting up Bimber.
'The distillery's style is inspired by the craft whisky movement; we care about the production process and we're using the old, hands-on methods because of that. We start with our single farm barley, which is 100% floor-malted. Every single little touch in our distillery is tweaked to our specification.
'Take our mill, for example. The mill is specifically built to crush the grain to open it, rather than shred the husk, because we want as little flour as possible. With less flour, we get a clearer wort, which means we end up with a whisky that's lighter. This is designed together with a long fermentation process [seven days] to create a fruity, light character.

London calling: Plazewski's English single malt has been made with custom equipment


'The biggest contributors to our flavours are mashing and fermentation. We actually designed our own washbacks, made by our in-house cooper from American white oak. They're very traditional, open-top washbacks made with oak that's already been toasted. Why would we buy it anywhere when we could make it ourselves? I knew what I wanted from the beginning, so we made what we needed.
'Wooden washbacks also work better than stainless steel because it's a natural environment. We don't clean our washbacks with any chemicals, we leave them a little bit dirty, so we have the bacteria and yeast left over inside which helps the fermentation and the whisky's profile.
'We're running a social media competition [to get drinkers to open their bottles of Bimber the First] because we really want people to drink it rather than collect it. It's the first single malt from our distillery. I think it is an amazing whisky and people need to see that what we create is quite unique.
'I am a whisky drinker and I'm trying to collect, but it's difficult because I open every single bottle I have. In my collection, all the bottles are open. I'm always too curious about what's inside the bottle itself, which is what our competition's all about.
'I don't think [whisky flipping] is harming the industry itself. I actually think the opposite: it's very interesting that the market for whisky is growing in that way. However, I do think it's sad if you can't buy something because the price has been driven so high, especially when it comes to special or limited editions. It means you'll never know how the whisky tastes. For me, that is disappointing.

First strike: A competition will encourage people to open their bottles of Bimber the First


'What will English whisky look like in a few years? It's a tricky question. To be honest, the answer is: we don't know yet. It's a great new growth category, but I see it splitting at the moment and moving in different directions. Some distilleries are moving towards very "craft" small batch single malts, while other sectors are experimenting with grains like rye. So I think multiple categories will start to develop within English whisky. But I would like to see English whisky become new and unique, not just copying what's come before.
'At the moment, I think the category is too young for legal classification. It should be allowed to get older and new distilleries should be allowed to open before action can be taken. It's still early days and we need a few more years – and a few more distilleries – before we can look to create a category like Scotch or Irish in order to protect it.
'I have two controversial whisky opinions. The first one is the impact of water on the production of whisky; it's just a myth. All distilleries need a lot of water for the production and cooling processes, so distilleries naturally get built near water sources. But all water that gets added to whisky needs to be filtered first. Very pure water doesn't affect flavour.
'The second is that a whisky doesn't have to be old to be good. Whiskies don't have to be aged for a long time to be considered drinkable – there are plenty of old, bad whiskies out there.
'What do I do when I'm not making whisky? I like to unwind with a dram or two, of course. I love spending time with a good glass of whisky. I especially like pairing it with food, sharing it with friends and truly enjoying the sensations.'