Ten contestants from six countries are competing in a three-day survival course hosted by single malt Ardbeg on the isle of Islay – dubbed 'the world's most daring whisky challenge'.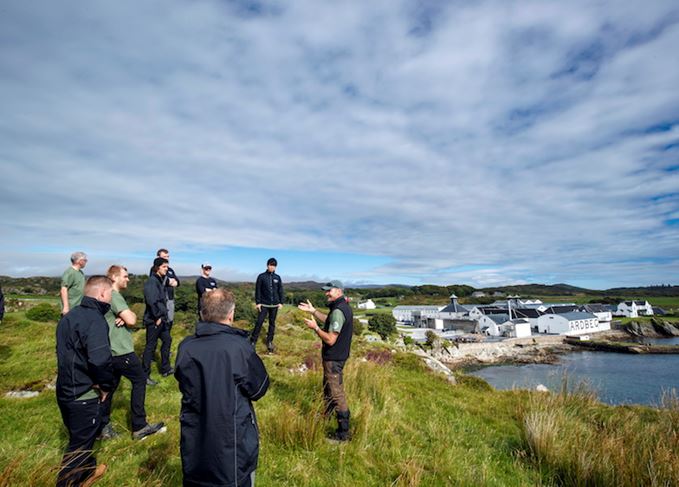 The three-day Ultimate Ardbeg Ardventurer challenge, which concludes today (8 September), sees 10 contestants – fans of Ardbeg, journalists, commentators and bloggers – vying for the title of Ultimate Ardbeg Ardventurer.
Led by distillery manager Mickey Heads and survival expert Monty Halls, they have faced a number of 'intrepid' challenges on Islay, armed only with essential supplies and a ration pack inspired by the flavours of Ardbeg.
The pack includes: a bottle of Ardbeg 10-year-old, a bar of soap, a line of tarry rope, a tin of sardines, iodine, lime, peat, Vicks VapoRub (menthol), cheese, smoky bacon, black pepper, chocolate, aniseed, almonds and matches.
The challenge began with an apprenticeship at the Ardbeg distillery before a hike to the distillery's water source, Loch Uigeadail – carrying a 12kg pack – and a day cutting peat.
Finally, the contestants row a cask of whisky along Islay's coast – all the while being ranked by Heads and Halls for 'Ardbeggian' qualities of endurance and resourcefulness.
'It'll be fascinating to see how each Ardventurer will react to the wild, untamed nature of Islay,' said Heads.
'We'll be watching for the contestant who best embodies Ardbeg's qualities throughout the challenge. Only they will be named the Ultimate Ardbeg Ardventurer.'
People will be able to book their own, individually tailored Ardventurer experience from 9 September, with prices starting at £12,000.