The Glenlivet is launching the second whisky as part of its 50-year-old single malt series The Glenlivet Winchester Collection, and offering fans the chance to lay down the future 2016 vintage.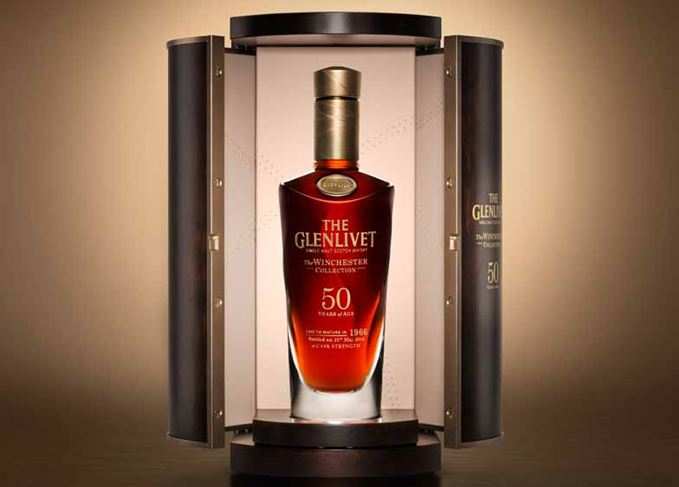 Due to launch in October, The Glenlivet Winchester Collection Vintage 1966 has been aged in ex-Sherry casks and was bottled on 25 May 2016 at cask strength 48.9% abv. Only 100 bottles will be made available globally, priced at US$25,000 (approximately £19,000) per bottle.
The whisky was first put in cask by former The Glenlivet master distiller Robert Arthur and is being released under current incumbent Alan Winchester, after whom the series is named.
Brodie Nairn, of studio Glasstorm, was commissioned to design the hand-blown glass bottle, while silversmith Richard Fox was appointed to create the gold stopper, finished with a quartz Cairngorm stone. The bottle is presented in a cherry wood cabinet designed by John Galvin.
Winchester's 'master distiller' bottle of Vintage 1966 will be auctioned at Christie's on 21 October, along with the chance to lay down the 2016 vintage, which will be released in 50 years' time.
Winchester said: 'I'm proud to be auctioning my own personal bottle and a bottle of future Vintage 2016 to be enjoyed in 50 years' time.
'This will mark yet another moment of history in the making and I'm so pleased that the proceeds of the auction will go towards investing in the future success of talented and innovative British craftspeople.'
All profits from the auction will be donated to the British Crafts Council, which was founded in 1971 and works to support 'contemporary craft' in the UK through exhibitions and publications.
The launch of The Glenlivet Winchester Collection Vintage 1966 follows the inaugural Winchester Collection release in 2014, The Glenlivet Winchester Collection 1964.