The Glenlivet has launched the third expression in its high-end Winchester Collection, a 50-year-old 1967 vintage produced in collaboration with award-winning designer Bethan Gray.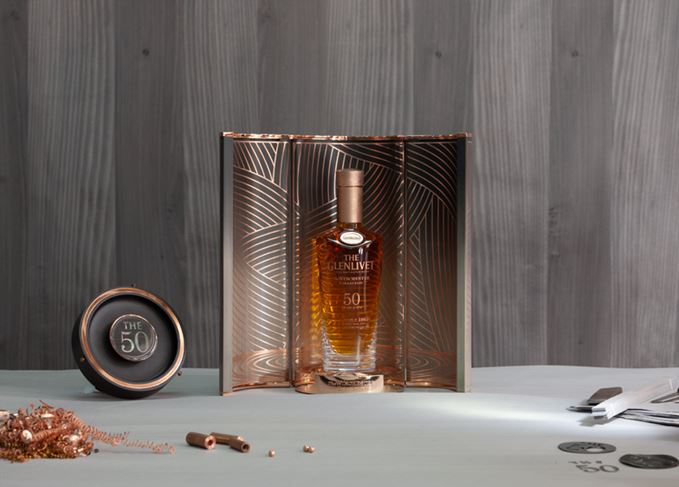 Just 150 bottles of The Glenlivet Winchester Collection Vintage 1967 have been made, with each bottle priced at around US$25,000.
The whisky will be available to purchase from today (8 March) at UK specialist retailers, with a global release to follow in the coming months.
The expression is named after Glenlivet master distiller Alan Winchester, who has worked in Scotch whisky for over 40 years.
The single malt has been matured for at least 50 years in a mixture of American oak barrels, hogshead and butts, before being non-chill-filtered and bottled at a cask strength of 48% abv.
It is described as having 'notes of apricot jam and sweet ripe peaches, and a hint of toasted almonds' on the nose, and 'fondant orange and milk chocolate flavours' on the palate.
'The launch of Vintage 1967 is a momentous occasion for The Glenlivet, and a particularly proud one for me personally,' said Alan Winchester.
'To have my name associated with one of the finest single malts that money can buy is an honour – what a fantastic way to celebrate more than 40 years in the Scotch whisky industry.'

Milestone malt: The 50-year-old also marks Alan Winchester's 40+ years in Scotch whisky

Designer Bethan Gray collaborated with Winchester to design the bottle and case, which are said to have been inspired by the landscape of Cairngorms National Park where the distillery is situated.
The bottles were hand-made by glassblower Brodie Nairn with an ombré colour effect that 'mimics the ageing process of the liquid inside'.
Each bottle has also been engraved and hand-painted with a Dhow pattern said to reflect 'the layers of mist that gather in the surrounding valleys' around The Glenlivet distillery.
Vintage 1967 comes enclosed in a birds-eye maple case with curved solid copper overlays that reflect the distillery's charred barrels and copper stills.
Each case is inlaid with mother-of-pearl to represent the local and rare freshwater pearl mussel shells that are indigenous to the Spey River.
Bethan Gray, winner of Elle Decoration Magazine's 2013 British Designer of the Year award, said that alongside the distillery's landscape, inspiration for the collaboration came from her family ties to the area, as her grandfather worked as a forester for Cairngorms National Park around 20 miles from the distillery.
'Everything I do is about collaborating with people to tell stories through craft, so it was a real honour to work with Alan Winchester to create this incredibly special bottle of Scotch whisky,' she said.
The Winchester Collection is The Glenlivet's 50-year-old single malt series, which launched its first expression in 2014 with The Glenlivet Winchester Collection 1964.
The second release in the series, The Glenlivet Winchester Collection Vintage 1966, also had a focus on craftsmanship.
Alan Winchester donated his personal bottle of Vintage 1966 to auction for charity, with proceeds donated to the British Crafts Council to support 'contemporary craft' in the UK.