A bottle of 26-year-old GlenDronach Scotch whisky signed by President-elect Donald Trump sold for £6,000 at auction, smashing its £2,500-3,500 pre-auction estimate.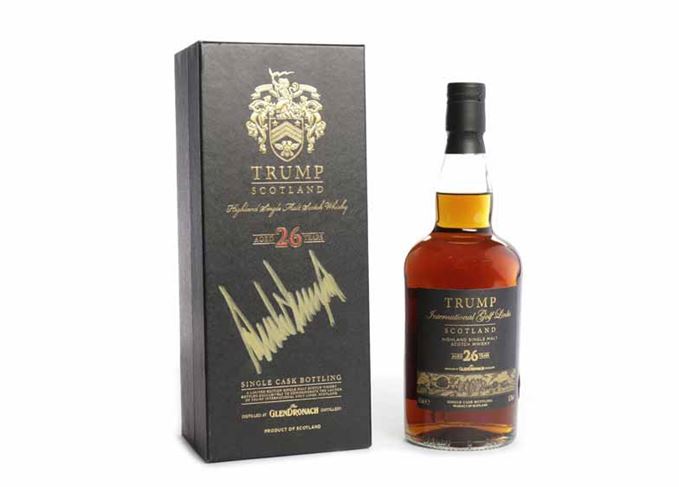 Bottled in 2012 to mark the opening of Trump International Golf Links in Aberdeenshire, the limited edition GlenDronach bottling was forecast to fetch between £2,500 and £3,500 at an auction held last Friday by McTear's Auctioneers in Glasgow.
Distilled in 1985 and aged in a Sherry cask, the whisky was of high interest to online, phone and in-room bidders, who were all outbid by a Canadian buyer willing to pay £6,000 for the bottle.
Laurie Black, McTear's whisky expert, said: 'There was a huge amount of interest in the bottle and we were delighted with the final price, which was several times more than previous Trump bottles have sold for.'
Last month, another bottle of the limited edition GlenDronach 26-year-old, also signed by Trump, sold on Whisky.Auction for £1,550, while another failed to sell after attracting a bid of £1,800 – below the £2,000 reserve price.
Other whiskies auctioned by McTear's on Friday included a 52-year-old Macallan 1950 which sold for £10,000, and a bottle of Black Bowmore 1964 which sold for £5,200 – slightly below its £5,500 estimate.
A Millennium Collection of Springbank whiskies, comprising full-size and miniature bottles of 25-, 30-, 35-, 40-, 45- and 50-year-old single malts, sold for £10,000, not quite reaching its £11,000 estimate.
Another Macallan, aged 18 years old, fetched £1,500. The money will be donated to the Earl Mountbatten Hospice in Newport on the Isle of Wight, which looked after the mother of the seller, who worked as a chef at Macallan for 30 years.
Black added: 'The prices achieved on the day reinforce the view that rare and collectable whisky continues to be a strong investment opportunity.'