BenRiach distillery has launched a 10-year-old triple distilled single malt as part of its core range in global travel retail.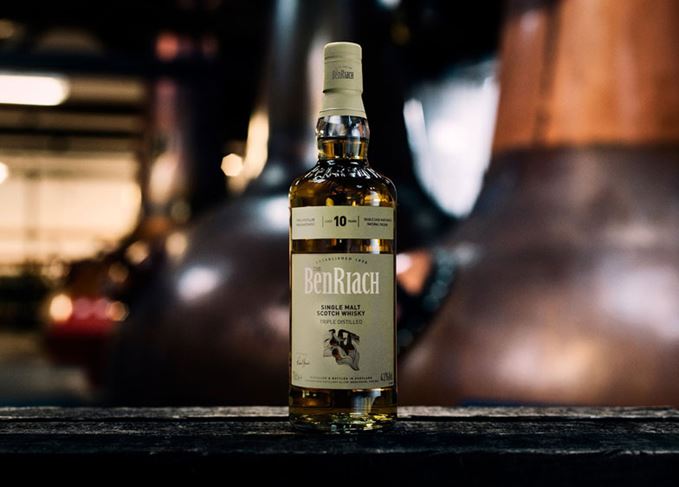 While the existing range of BenRiach whiskies are all double-distilled, the new expression has been run through the Speyside distillery's stills three times, resulting in a 'lighter, fruitier' whisky.
The expression has been created using some of the first triple-distilled whisky to run at BenRiach since the site reopened in 2004.
It has been matured in first-fill American oak and ex-PX Sherry casks, before being bottled at 43% abv, and is said to have notes of crisp green apple, pear tarte tatain and sweet floral barley.
Rachel Barrie, master blender for BenRiach, said: 'Two decades ago the BenRiach distillery team started to experiment with small batches of triple distilled whisky, even when most single malt Scotch whiskies are distilled twice.
'I have the wonderful task of bringing out this experimental nature through some of the most interesting casks in Speyside.'
This is not the first time BenRiach has produced a triple-distilled malt whisky. The distillery had previously produced triple distilled spirit under Seagrams ownership during the 1990s, before it was mothballed in 2002.
In 2010, under the new ownership of Billy Walker's BenRiach Distillery Company, a batch of 1998 triple distilled malt was used in a global travel retail exclusive 12-year-old bottling named Horizons.
Today the distillery produces just 25,000 litres of triple distilled whisky each year during the final week of the distilling season.
Priced at £64 per bottle, BenRiach Triple Distilled 10 Year Old will be available from select airports worldwide from May, alongside existing classic and peated BenRiach quarter cask expressions.