Glasgow distillery will launch the 2019 edition of its 1770 single malt next month as the first expression in the brand's Signature Range, before introducing peated and triple-distilled whiskies over the next year.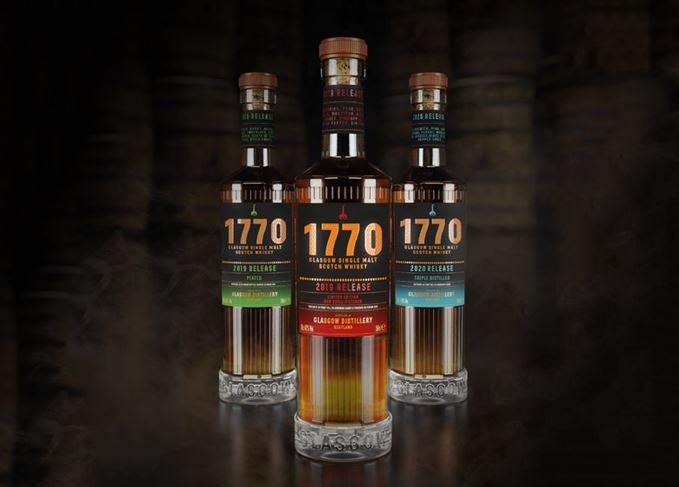 The 2019 Release of the distillery's 1770 Single Malt is an unpeated expression matured in first-fill ex-Bourbon barrels and finished in virgin oak casks, before being bottled at 46% abv.
It follows last year's limited 2018 Release, which was launched as a limited run of only 5,000 bottles and sold via ballot to commemorate the first whisky produced in Glasgow in over 100 years.
Liam Hughes, CEO and co-founder of Glasgow distillery, said: 'The ballot for release number one was heavily oversubscribed, so we are delighted to be able to bring the 2019 Release to the market.'
The whisky is said to evoke flavours of 'pear, toffee, vanilla and marzipan', with additional notes of 'pineapple, pepper and liquorice'.
Pre-orders are now open for the 2019 Release, priced at £49 per 50cl bottle, which will ship around the UK and internationally from April.Glasgow distillery has also unveiled two further expressions which will join the 1770 Signature Range over the next 12 months.
The 1770 Peated, which is scheduled for release later this year, is being matured in ex-Sherry butts and finished in virgin oak before being bottled at 46% abv. It's said to contain 'smoky, chocolate, dried fruit' notes with 'hints of pepper'.

Flexible operation: The distillery produces three styles of single malt whisky, as well as gin

Glasgow distillery will also launch a 1770 Triple Distilled expression in 'early 2020'.
Matured in first-fill ex-Bourbon casks, the whisky will also be bottled at 46% abv and is said to carry 'floral, butterscotch and biscuit' notes.
Both future releases will be launched as initial limited batches of 'around' 5,000 bottles, before being added to the Signature range in larger numbers going forward.
Hughes added: 'Innovation is very important to us, and the announcement of the 1770 Signature Range is no different.
'We're proud to be one of a select few distilleries in Scotland to have three different styles of single malt as part of their core whisky offering.
'Individually unique and collectively brilliant, the full range of 1770 Whisky will provide consumers with an understanding of what we are about at Glasgow distillery – creating handcrafted premium products to enjoy.'
Glasgow distillery was founded in 2012 in the city's Hillingdon Business Park, and began producing single malt spirit in early 2015.
The distillery is already undergoing an expansion to increase its distilling capacity to 500,000 litres of spirit per year.