The first whisky produced at Eden Mill distillery in St Andrews has earned £7,100 at auction, fetching a record price for the first release from a new distillery.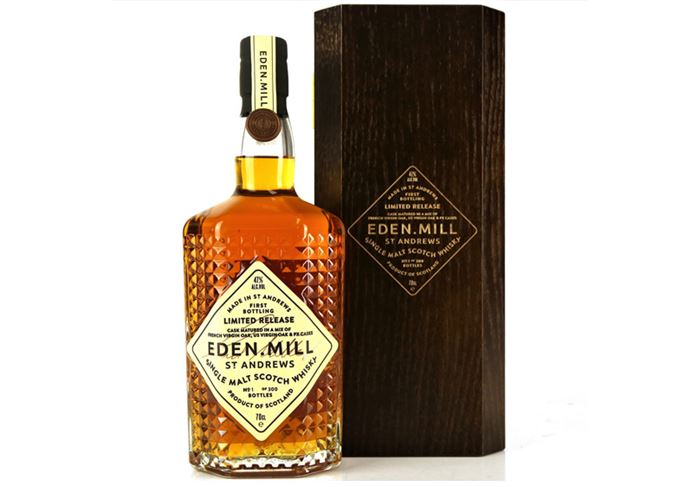 The first 10 bottles of Eden Mill's Limited Release First Bottling, a three-year-old single malt bottled at 47% abv, were sold online via Whisky Auctioneer this week.
While the bottles achieved hammer prices of between £1,100-£1,800, bottle #001 broke the record previously held by Strathearn distillery's Inaugural Single Cask, which went for £4,150 at auction in December 2016.
Paul Miller, co-founder of Eden Mill, said: 'The whisky is a marriage of spirit matured in American and French virgin oak quarter casks and an ex-Pedro Ximénez Sherry hogshead since 2014, and we're hugely proud of it.'
Each 'bespoke' bottle from the Limited Release First Bottling has been blown in Croatia and housed in an oak presentation box, handcrafted and engraved in Scotland.
Sean McGlone, managing director of Whisky Auctioneer, said: 'Eden Mill is a distillery with an already strong reputation and connection to a distilling heritage.
'The fantastic product Eden Mill have bottled helped us achieve a record breaking sale for their first 10 bottles of single malt.'
Although the first 200 bottles from the collection were auctioned or gifted to Eden Mill employees, the remaining 100 bottles go on sale today, priced at £500.
'The Limited Release offers whisky connoisseurs the chance to secure historic bottles containing the first drops of spirit distilled in St Andrews since the Seggie distillery closed in 1860,' said Miller.
Those interested in purchasing should email [email protected].
As well as the First Bottling, Eden Mill also released its Hip Flask Series last month, comprised of whiskies with different mash bills and cask types, sold in 20cl bottles.